Update: Norwegian Frigate Heavily Listed, Minor Leak Detected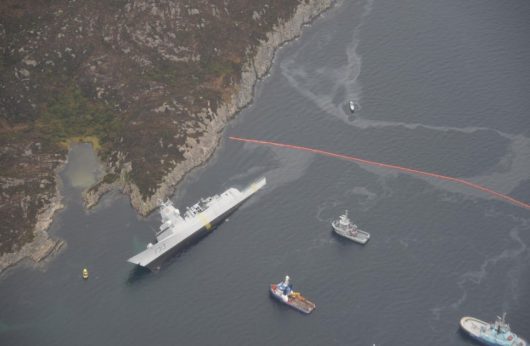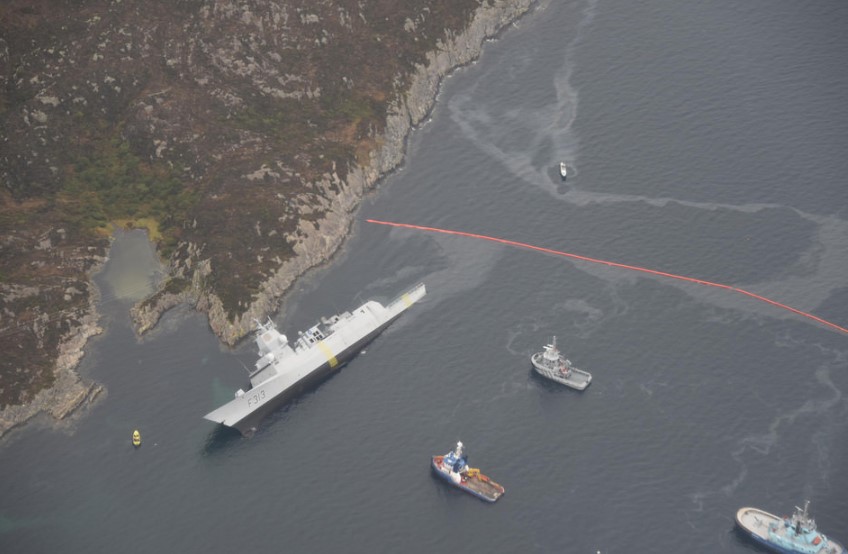 Norwegian frigate HNoMS Helge Ingstad, which collided with Sola TS oil tanker at the Sture terminal in Øygarden, Norway, on November 8, has developed a heavy list and continues to take on water.
"Due to the damage to the frigate it was moved to a safe place and the crew was evacuated in a professional manner," Allied Maritime Command of NATO said.
The collision occurred while the frigate was sailing inner Fjords for navigation training after the naval exercise Trident Juncture 2018.
To remind, 137 people have been evacuated from the vessel and eight sustained minor injuries in the collision.
The navy ship suffered a large gash below the waterline and its helicopter tank is said to have been punctured. The vessel's helicopter deck is submerged based on the latest footage from the Norwegian Coast Guard.
Several anti pollution ships are dispatched to the scene and a containment boom has been placed to curb pollution from the vessel.
A minor spill has been detected on the spot, which is believed to be helicopter fuel. According to the Norwegian Coast Guard, the amount of leakage is not considered to be actionable as the thin layer of helicopter fuel is expected to evaporate and dissolve naturally.
The Norwegian Navy said it was close dialogue with the Norwegian Coastal Authority regarding the further rescue work, including the recovery plan and curbing of potential environmental impact from the vessel.
There were 23 people on board the oil tanker Sola TS when the collision occurred and there were no reported injuries. The Norwegian Coast Guard said that the ship did not sustain damages below the waterline and that it was planned to move to the dock.
The Maltese-flagged Aframax, built in 2017, is part of Tsakos Energy Navigation's fleet. The ship is underway using engine, based on the Marine Traffic's data, its destination being Sture, Norway.
Norwegian energy giant Equinor said that operations were resumed at the Sture terminal and the Kollsnes plant on Thursday afternoon after being shut down in connection with the collision early Thursday morning.
North Sea installations affected by the shut-down of the two onshore plants are gradually starting up again.
The shutdown and evacuation of personnel were performed as a precautionary measure, Equinor said.
The Accident Investigation Board Norway has launched an investigation into the cause of the collision.
World Maritime News Staff; Image and Video Courtesy: Kystverket