Update: Two Dead, Several Injured after Explosion at Chittagong Shipbreaking Yard
Two workers died and several others have been severely injured in an explosion at a Chittagong shipbreaking yard in Bangladesh.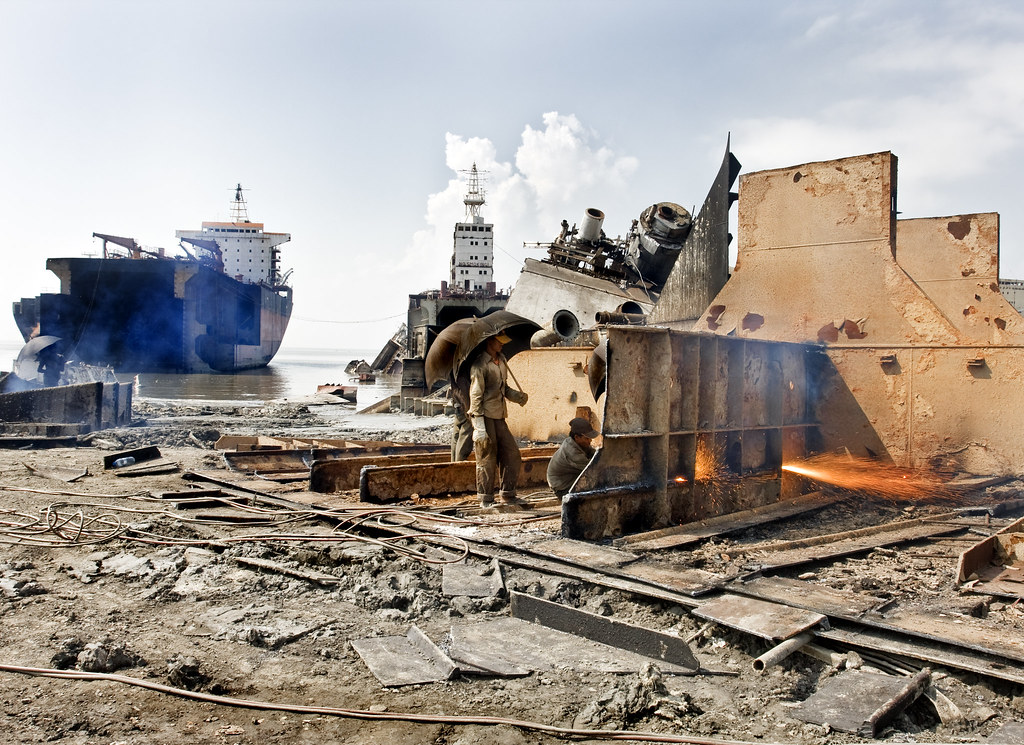 The incident occurred in the morning hours of May 15, 2019, while the workers were dismantling the 105,800 dwt crude oil tanker Bunga Kelana 4 at Mahinur Ship Breaking yard, also known as Premium Trade Corporation.
The flames spread from abandoned waste oil located close to the engine room where workers were torch-cutting steel parts, according to NGO Shipbreaking Platform.
"Six workers sustained burn injuries when the fire broke out at the pump room of a scrap ship around 8:30 am," Zahirul Islam from Chittagong Medical College Hospital (CMCH) police camp was cited by United News of Bangladesh (UNB) as saying.
He added that the six injured men were brought to the hospital. One of them, identified as Mohammod Rubel, 25 years old cutter man, was declared dead on his way to the hospital.
The five remaining workers, aged 19-30, suffered severe burn injuries and the condition of one of them is extremely critical, the NGO added.
Several hours after the explosion, Hamidul Islam's dead body was found on the ship.
Local sources reported that several workers might still be missing.
Video footage from the accident shows that there was no emergency response equipment available at the yard. Barefoot workers without protective gear are seen carrying the injured.
Yesterday a loud blast shook the #Bangladesh #shipbreaking area ► https://t.co/JtcDYYOLgS | This is how severe burn injuries were "treated" on site. pic.twitter.com/uhsNwh6NMr

— NGO Shipbreaking Platform (@NGOShipbreaking) May 16, 2019
Huge explosion at #Chittagong #shipbreaking area. Two workers missing. Several severe burn injuries. Further updates will follow. pic.twitter.com/2VHRjzyvvQ

— NGO Shipbreaking Platform (@NGOShipbreaking) May 15, 2019
Bangladesh Occupational Safety, Health and Environment Foundation (OSHE), member of the NGO Shipbreaking Platform, reports that the death of a worker, Tara Miya, was covered up in the same yard just a few days ago.
"The conditions at Mahinur Ship Breaking are shocking and unfortunately telling of the overall appalling working conditions at the Bangladeshi shipbreaking yards. Workers are exposed to enormous risks because there is no infrastructure available on the beach to ensure safe working conditions and rapid emergency response," Muhammed Ali Shahin from NGO Shipbreaking Platform member organization YPSA, commented.
Despite dire conditions at Bangladeshi beaching yards, shipowners continue to sell their vessels there in order to get higher prices for their vessels.
Bunga Kelana 4 was beached at the yard six month ago. It was owned by Malaysian shipping company AET Tankers, a subsidiary of MISC. In 2018, AET Tankers sold four vessels for scrapping on the beaches of South Asia. Three ended up in Bangladesh while one was beached in India.
Before its final voyage, the tanker changed its name to Kelana 4, and its Malaysian flag was swapped to that of Comoros.
"These are clear indicators that the vessel was brought to the beaching yard with the help of a scrap-dealer known as cash buyer," NGO Shipbreaking Platform said.
The incident follows the one in February this year which claimed the lives of two workers in Chittagong. The two men were working at Shagorika Ship Breaking Yard when a fire broke out on a tanker that was being dismantled.
"It is high time for the Bangladesh government to regulate their shipbreaking industry and put a halt to the systematic violations of national labour and environmental protection laws," Ingvild Jenssen, Director of the NGO Shipbreaking Platform, pointed out.
"This latest tragic explosion adds to the shipping industry's appalling toll on human lives and should act as a wake-up call for the financiers and customers of shipping to demand recycling practices off the beach and in line with the standards set by international waste laws and labour conventions", she added.
In 2018, a total of 744 large ocean-going commercial vessels were sold to the scrap yards. Out of these, 518 were broken down on South Asia beaches, accounting for a record-breaking 90.4% of the gross tonnage dismantled globally, according to data provided by NGO Shipbreaking Platform.
---
Note: The article has been amended since initial publishing as one more body has been recovered after the explosion. Additionally, the article now contains the name of the ship and several quotes.