URI-led Consortium to Operate New Oceanographic Vessel
The National Science Foundation (NSF) has selected the East Coast Oceanographic Consortium, led by the University of Rhode Island's Graduate School of Oceanography, to operate a new oceanographic research ship, which will replace R/V Endeavor.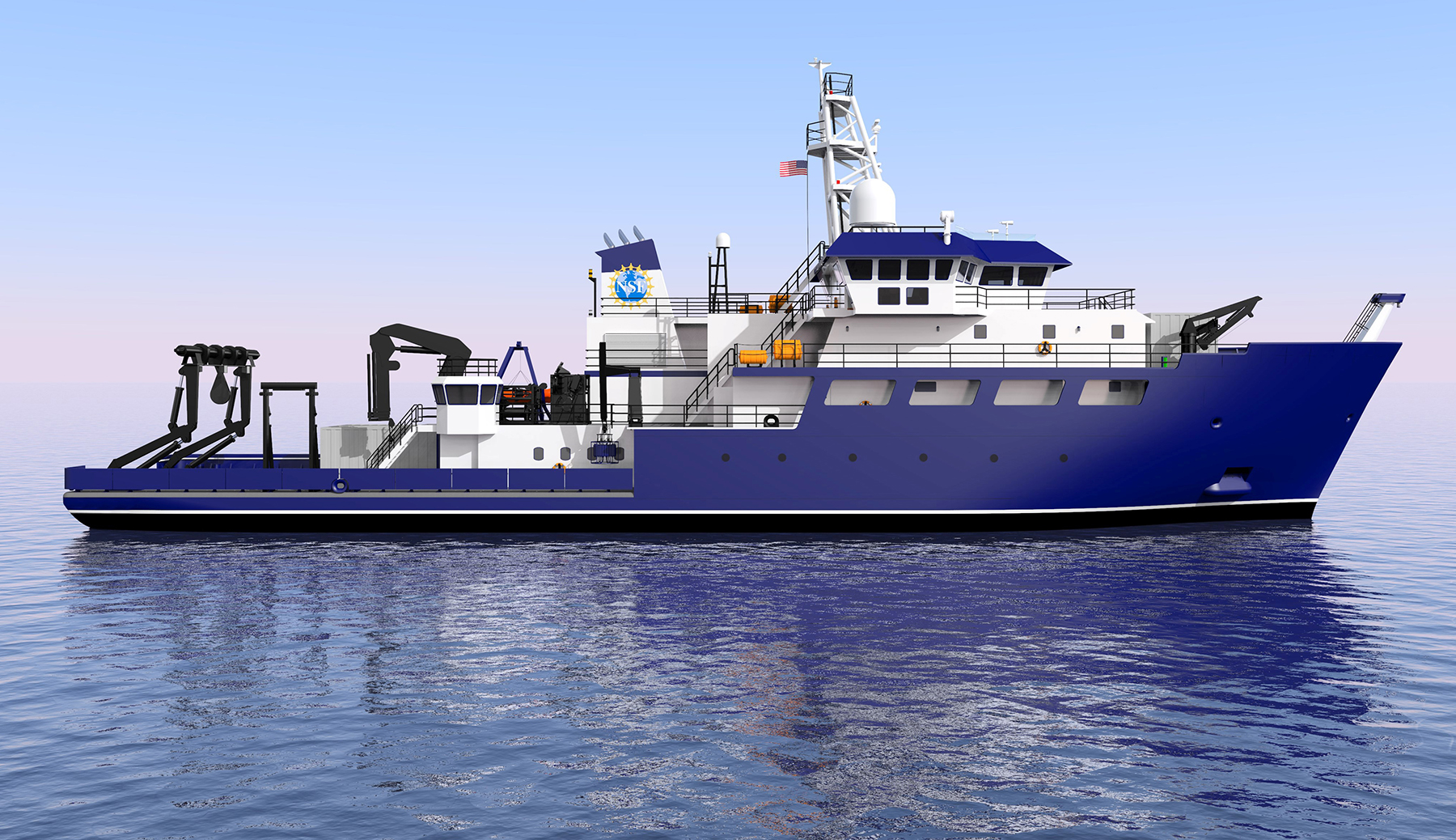 Owned by NSF and valued at over $100 million, the vessel will be constructed in Louisiana, delivered to Rhode Island in 2021 and home-ported at URI's Narragansett Bay Campus.
"No doubt the new vessel will help researchers, educators, students and the public gain a richer understanding of our planet and stimulate exploration that will lead to discoveries we can't yet imagine," said URI president David M. Dooley.
"This is tremendous news for the Consortium members, URI, and the state of Rhode Island," said Bruce Corliss, dean of the Graduate School of Oceanography. "This new ship and our consortium will provide cutting edge technology and exciting new opportunities for research, education and outreach in ocean science and exploration."
The East Coast Oceanographic Consortium, whose members include URI, the Woods Hole Oceanographic Institution and the University of New Hampshire School of Marine Science and Ocean Engineering — along with 12 associate members — submitted a proposal in April to operate one of three new NSF research vessels that will enhance and update the nation's Academic Research Fleet.
The new vessel will support scientific studies such as the tracking of ocean currents and fish migration, seafloor surveys in earth-quake prone regions of the world, conservation of marine mammals or the food-web dynamics in the deep ocean. In addition, the ship will offer educational opportunities to teachers and students from high school through the graduate level, as well as outreach to the general public.
In 2017 NSF awarded the first of the three new research vessels to Oregon State University, which is overseeing design and construction of all three ships. Naval architecture and engineering consultant Glosten Associates is developing the ship design, with input from oceanographers from throughout the U.S. The ships will be built at Gulf Island Shipyards in Houma, La.
The new ship, 199 feet long and 41 feet wide, will include a dynamic positioning system that enables ships to remain in one exact spot for long periods and will allow operation of remote operated vehicles. The ship will carry a crew of 13 and up to 16 scientists and have a cruising range of 5,400 nautical miles.
NSF and other federal sponsors, including NOAA and the Office of Naval Research, are likely to continue annual funding of approximately $5 million to URI to operate the vessel.
The URI vessel will replace R/V Endeavor, a 185-foot ship that URI has operated for more than 40 years and is nearing the end of its useful life.
"As a floating laboratory and classroom, Endeavor has been a tremendous facility for the University and for the state and has raised URI and GSO's profile internationally," said Corliss. "Endeavor has made important contributions to the state's economy, and the work conducted aboard the ship has advanced our understanding of oceanographic processes. We are pleased to continue this legacy over the next 40 years with the new vessel."