Offshore Energy 2019: It's a wrap!
This was the live blog of Offshore Energy Exhibition and Conference (OEEC) 2019 taking place on 8 & 9 October. Europe's leading gathering of the entire offshore energy industry. Read all the highlights of these days. We are looking forward to welcoming you next year on (26), 27 & 28 October 2020.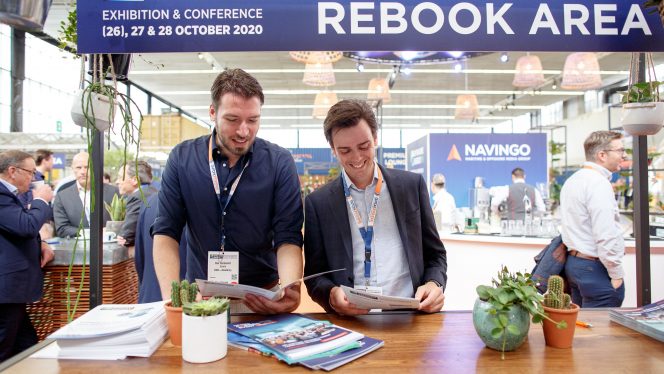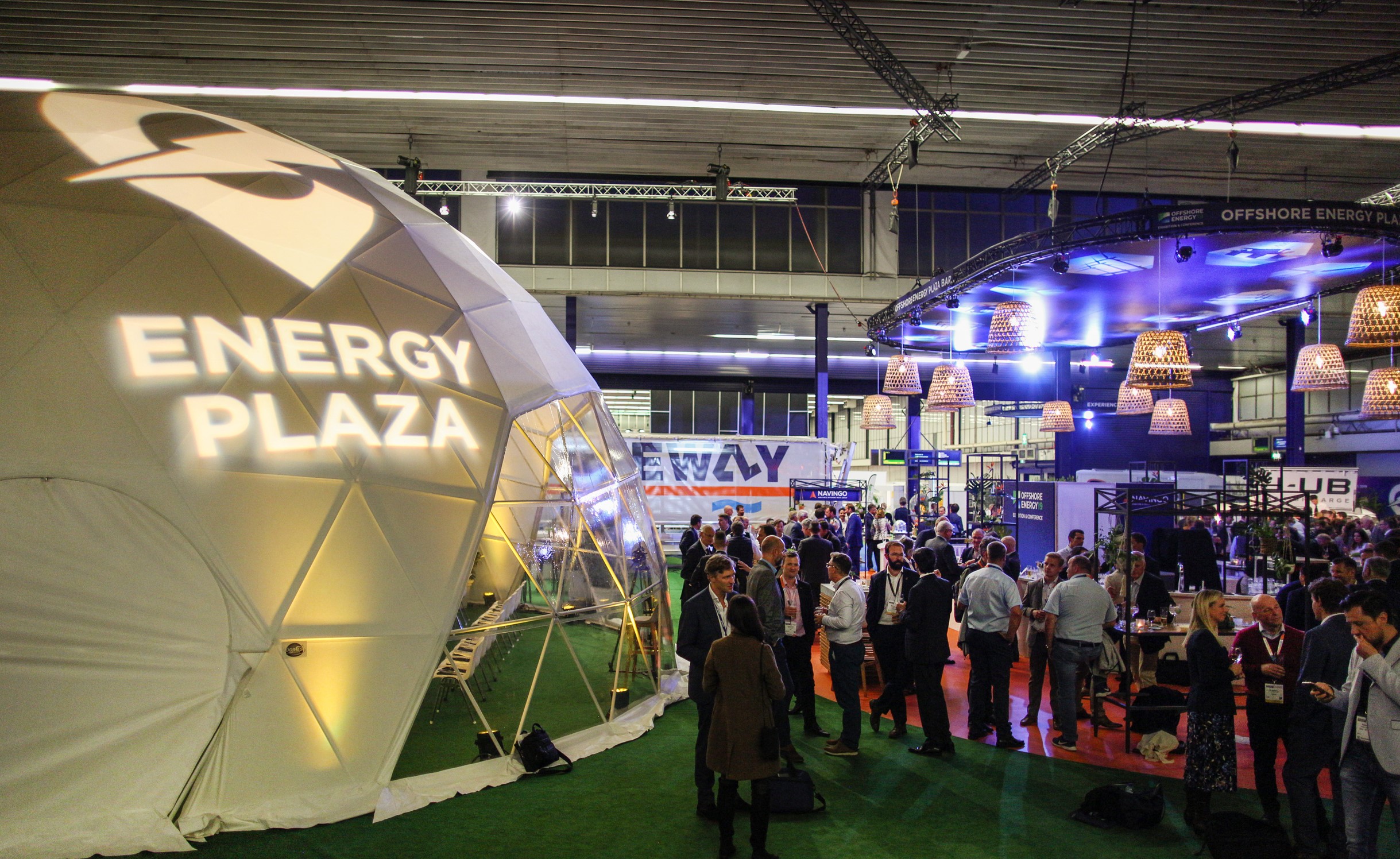 17:30 – It's a wrap!
What an amazing day! Full with knowledge sharing, networking and business meetings. With climate agreements looming, the whole offshore energy industry must innovate and work towards a more sustainable future. Offshore Energy is the platform to be able to discuss with professionals and companies what is necessary to achieve these goals. As an event Offshore Energy believes that bringing together the whole offshore energy and maritime industry will facilitate the discussion on what needs to be done, what needs to be innovated and what needs to be realized. Save the date for OEEC 2020 on (26), 27 & 28 October 2020!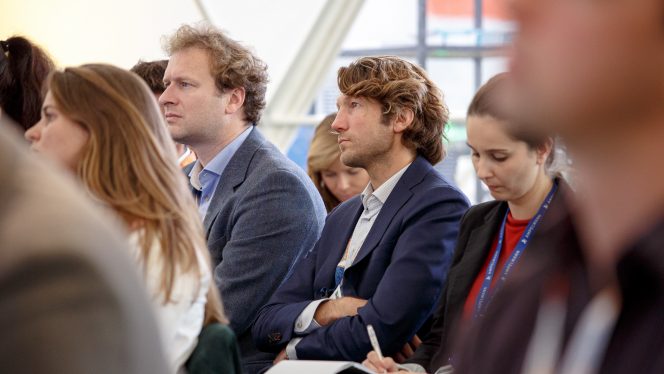 17:05 – Learning from solutions developed by other industries
Cross industry game changing technology session at the Dome of the energy plaza has just wrapped up! Those in attendance learned how industries can benefit from solutions developed by other industries – Did you know that drive through restaurants were based on Formula 1 pot stops (according to one of the speakers). During the session, there was talk about an Uber-like PSV-vessel pooling to cut the operators costs and emissions; how oil firms might soon use satellites to monitor emission levels, how metal fuels (iron powder) used by the space industry may be a game charger for almost lossless renewable energy storage, and how it at the same time can be a silver bullet for decarbonization of heavy industries if converted to steam.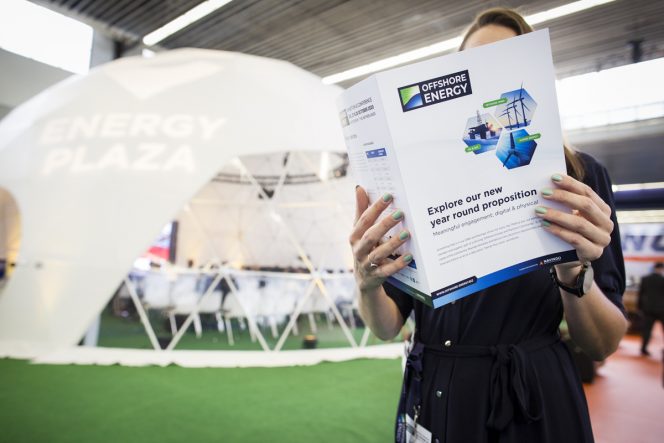 16:30 – Meaningful engagement; digital & physical
In order to keep doing this best we can, and even better, Navingo (organizer of Offshore Energy) presented its improved proposition during OEEC 2019. A proposition that is based on developing further growth in flexibility, innovative products, more engagement and continuously improving the relationship with our community. Making sure they will always receive the best deal and service that Navingo can offer. Explore the new year round proposition offering meaningful engagement both digitally & physically – something that is in our DNA and Navingo strives for every day. Making you, our partner, customer, member and supplier, part of a thriving 'O­ffshore Energy and Maritime Community'. To facilitate the needs of this community, Navingo develops and delivers new (business) opportunities that empower, bind and inform us all on a daily basis. Twenty-four seven, worldwide.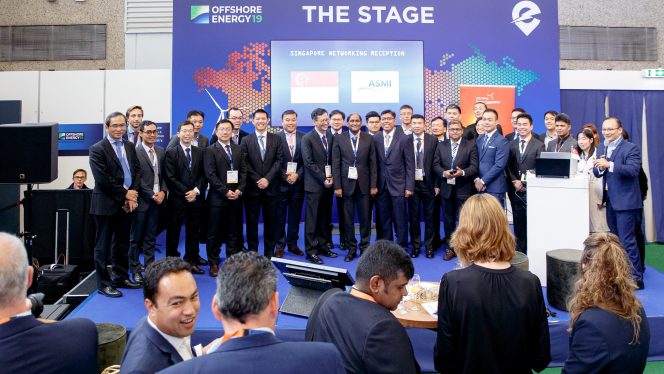 15:45 – Post-OEEC company visits
This year a new feature to the experience has been added by organising a post-OEEC company visits program on Thursday 10 October focusing on the offshore wind industry in the Netherlands. The programme consists of four tracks that focus on a specific theme.
Offshore Wind Foundations & Installation: This track includes a boat tour in Rotterdam harbour with sightseeing of Haliade-X 12 MW test site construction and wind installation vessel Aeolus. After the boat tour we will visit an installation & piling specialist, including a yard tour.
Offshore Wind Ports & Logistics: This track includes a visit to Eemshaven (in the North of the Netherlands), highlighting activities of this port in their role as major offshore wind hub for this part of the North Sea. The visit includes sightseeing of landmarks in the region, such as the recently opened Heliport and logistics service and O&M companies in the region.
Offshore Wind Research & Development: This track includes an interactive programme with visits and input from different renowned innovative & research organisations including a site tour at the testing facilities of a research institute and a presentation on the Slip Joint Offshore Research (SJOR )project.
Offshore Wind – Offshore Grid: This track includes site visits to various companies who are involved in offshore grid issues, such as risk management and quality assurance services company and a maritime research institute, followed by a site visit including tour on board of a cable installation vessel involved in the grid connection of the Borssele wind farm project.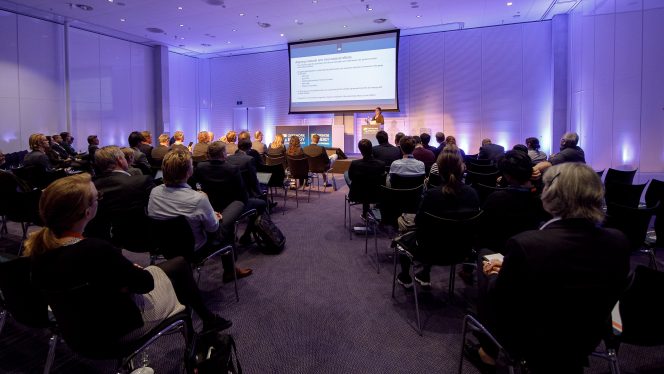 15:25 – How marine energy plays its part
"There needs to be a policy framework in place, and there need to be feed-in-tariffs inplace for the marine energy as a new technology to succeed," said Dr. Ralf Starzmann, Sustainable Marine Energy during the Marine Energy Event. He continued: "The costs will go down, there is no doubt about that, as proven by the developments within the wind and solar industries." This year Marine Energy Event focused on 'Towards a carbon free and reliable electricity system' and 'Marine energy solutions as successful export products'. The event organized in partnership with Dutch Marine Energy Cenre (DMEC) included contributions from: Ministry of Economic Affairs & Climate, TopSector Water & Maritime, Bombora Wave Power (Australia), SEV (Faroe Islands), Magallanes Renovables (Spain), European Commission and EWA.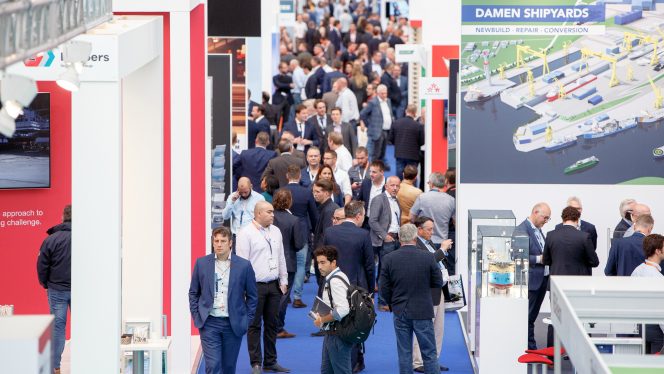 15:00 – A changing industry
Walking around on the exhibition floor, we asked visitors why they are here at Offshore Energy. "I'm here to see how the industry is changing from fossile to durable, and to see if new legislation is creating opportunities."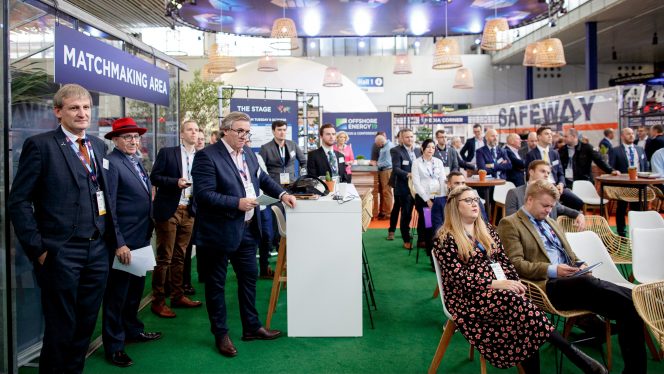 14:55 – Taiwan's east coast is as stable as Scotland
Within the enthusiasm for offshore wind, experts around the world forgot that the Taiwan has a renewable energy act which covers "oceanic" power as well. Thanks to the Kuroshio water stream coming from Japan, Taiwan's east coast is as stable as Scotland. Manuel Zehr, Director of International Projects is telling why it might even be a bigger hype than offshore wind and how companies can benefit from the renewable energy act on a commercial scale.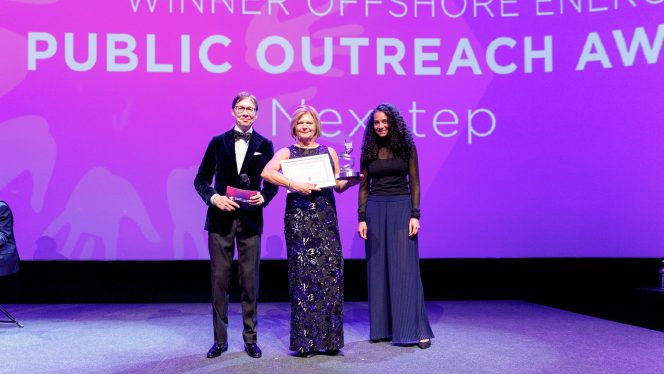 14:30 – Stimulate re-use and collaboration in decommissioning
Winner of the Public Outreach Award, Nexstep, organized a closed workshop during Offshore Energy. In 2017 they kicked off the joint initiative together with EBN and the Dutch oil and gas industry, represented by NOGEPA at Offshore Energy. It is their ambition to stimulate re-use and collaboration in decommissioning of oil and gas infrastructure in the Netherlands. This year they celebrated their second anniversary as well as winning one of the Offshore Energy Awards.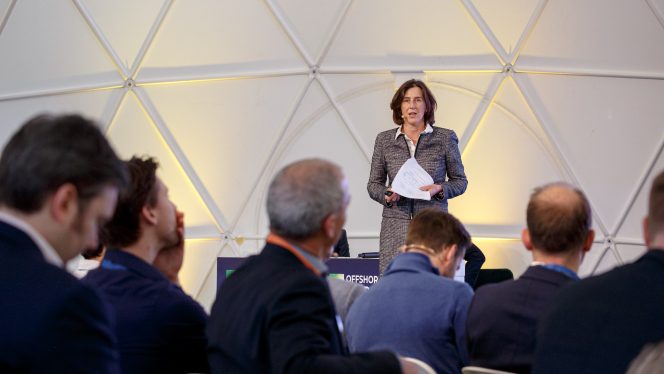 14:20 – "Digital transformation is a vital part of energy transition in offshore"
"Digital transformation is a vital part of energy transition in offshore. It touches all aspects from clients to employees to processes and businesses models", said Yvonne Brzesowsky-Ruys, Cluster Lead Energy & Mobility at Microsoft. She spoke alongside Vitaly Elichev, Senior Production Technologist at Wintershall Dea, Petter Jacob Jacobsen, Head of Oil & Gas Vertical at Cognite, Jordan Strik, Strategic Planning at SBM Offshore and Eric-Jan van Altenburg, Account Executive Offshore, Microsoft in the session titled Digitalization. Digitalization is key for every operator in optimizing use of both traditional and renewable energy resources and vital to facilitate the transition.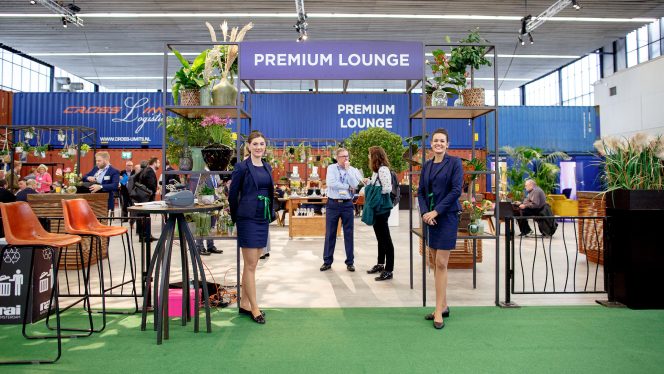 13:45 – Exclusive lounge
Premium guests enjoyed access to the exclusive lounge. The Premium lounge is an up-scale area with working stations with power plugs, various seats for all occasions, meeting rooms and all-day catering.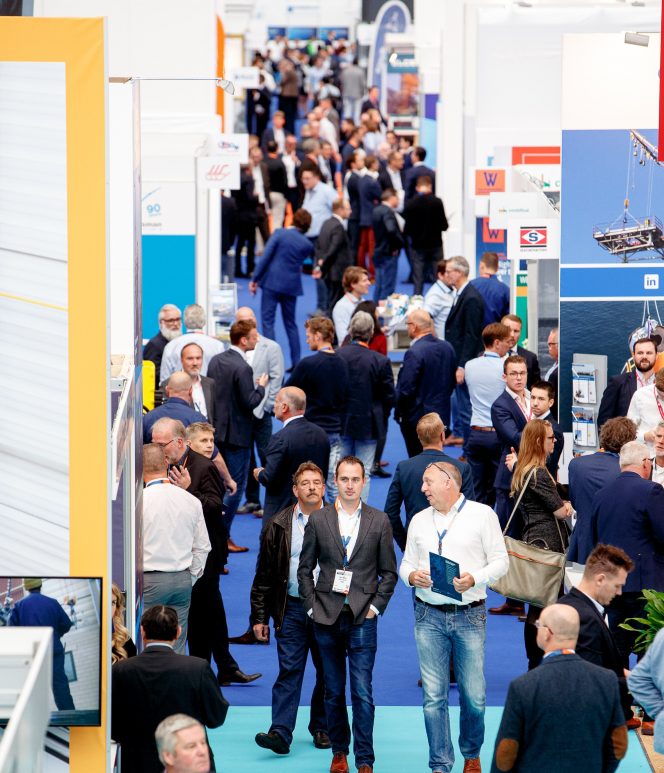 13:25 – "I've already found new opportunities"
Walking around on the exhibition floor, we asked visitors why they are here at Offshore Energy. "I'm here to visit our current suppliers and future customers. So far I've already found new opportunities and have had interesting conversations with the people I've met at Offshore Energy."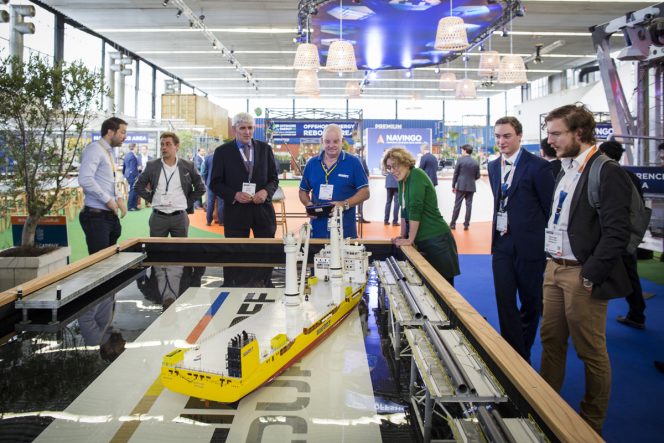 13:12 – Interactive experiences
People are enjoying themselves in the Experience Zone. Interactive experiences are a great way to learn! Visitors let their senses guide them through the energy transition. Catch a glimpse of the Experience Zone at the Energy Plaza.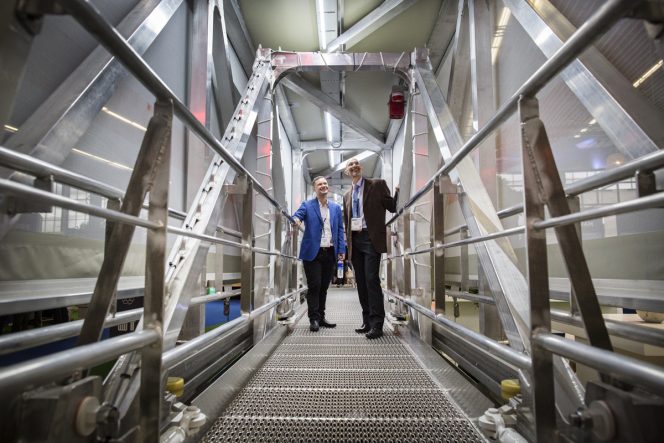 12:50 – Close call
Did you know there is a real gangway on the exhibition floor? The gangway bridge from Safeway, part of Van Aalst Group, makes it possible for vessels to connect to a broad range of offshore installations. Due to the size it was almost impossible to get the gangway into the RAI. But luckily all went well.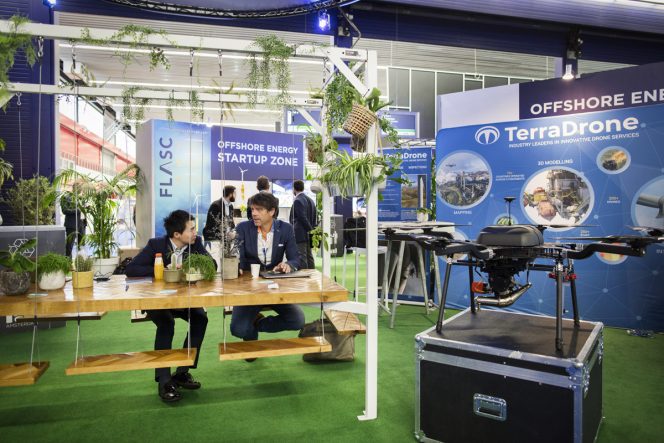 12:15 – The industry needs fresh ideas
For a smart energy transition the industry needs innovation and fresh ideas. The Startup Zone gives innovative and disruptive startups the opportunity to showcase their products and services. Meet Dutch Filtration BV, EAGLE-ACCESS BV, FLASC, Onboard BV, Sensing360 BV and Terra Drone at Energy Plaza.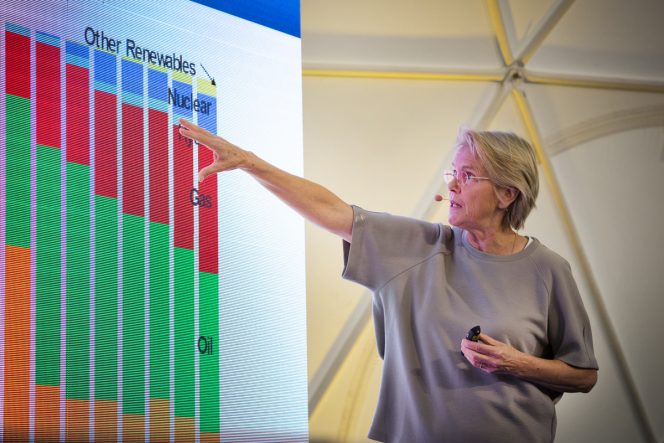 12:00 – "Abating carbon will create losers"
Many views differ on how to tackle the energy transition. Lucia van Geuns, Strategic Advisor Energy at The Hague Centre for Strategic Studies said: "Abating carbon will create losers. So far, the policy focus has been on empowering the early winners of an unfolding renewable energy race. It now needs to switch to the potential conflicts resulting from falling fossil fuel demand and the related economic and security risks", during the session Energy Transition Debate in the conference dome. Together with David Smeulders, Professor at Eindhoven University of Technology, Gerard van Rooij, Group Leader Nonequilibrium Fuel Conversion at DIFFER, Barbara Zuiderwijk, Financial Advisor at Green Giraffe and Martin Edlund, CEO at Minesto they debated the different roads that could lead to the transition.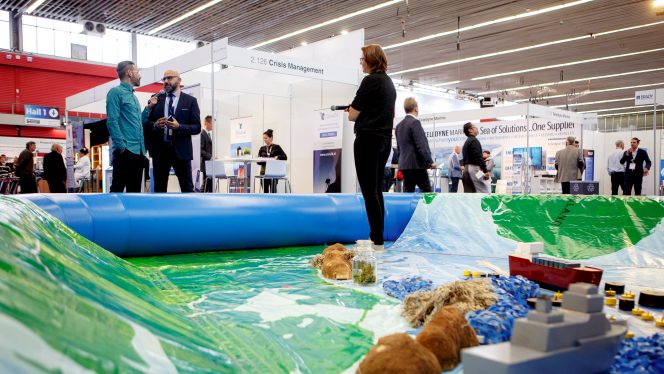 11:45 – Create your perfectly balanced North Sea
This summer, the Government of the Netherlands and sustainability platform SummerLabb created the very first 'North Sea Game'. The 'North Sea Game Game' is all about finding the right balance on today's North Sea. Participants are challenged to create their perfectly balanced North Sea – what does it look like these days and what will it look like in the (near) future? Experts are guiding the audience through the game by giving them updates on the latest innovations and possibilities. "We want to create awareness of what is happening on the North Sea by inviting people to take part in the North Sea Game", says Gideon van der Loo, from the North Sea Game. "It's great to see and hear that the companies at Offshore Energy see the opportunities and are committed to the North Sea."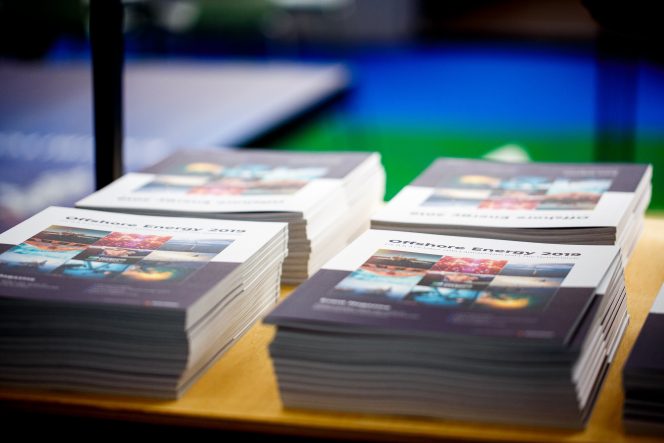 11:22 – New Event Magazine
A new feature this year is the Event Magazine. Packed with guest columns by industry experts, information on Offshore Energy 2019 and full exhibitor list. A must have for those attending the event and thereafter.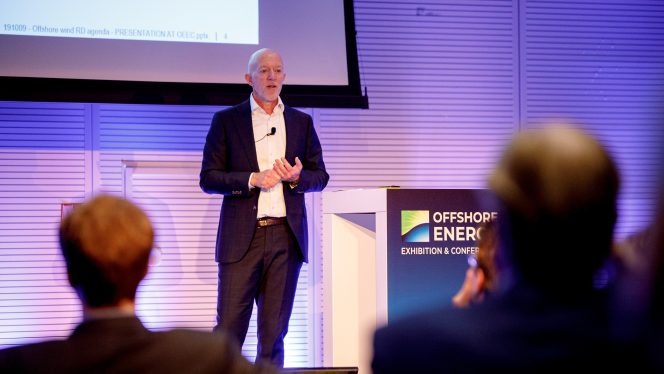 10:38 – The Netherlands' Long-Term Offshore Wind R&D Agenda
With the recent cost breakthroughs, offshore wind is now established as a crucial pillar of the Dutch energy transition. Developing an affordable, low-carbon energy system in the Netherlands necessitates a large-scale roll-out of offshore wind power capacity in the Dutch part of the North Sea – to potentially 35-75 GW by the year 2050. The Netherlands' Long-Term Offshore Wind R&D Agenda proposes the development of the knowledge and technologies on the lower technology readiness levels (TRLs), that are considered indispensable to such a large capacity of offshore wind power. The agenda spans the R&D period 2020-2030. Bob Meijer from TKI Wind op Zee gives an overview of the R&D agenda and deep-dives into selected R&D topics.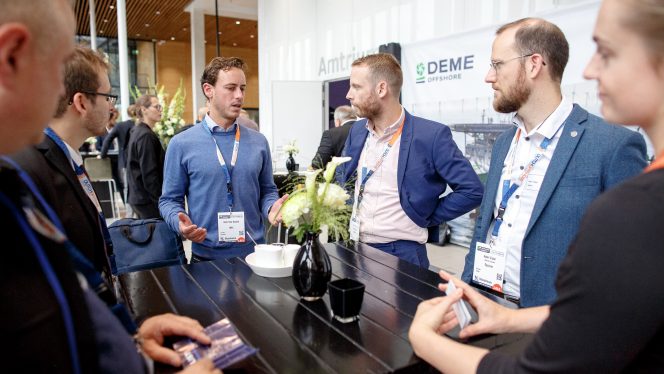 10:20 – What needs to be done
With climate agreements looming, the whole offshore energy industry must innovate and work towards a more sustainable future. Offshore Energy is the platform to be able to discuss with professionals and companies what is necessary to achieve these goals. As an event Offshore Energy believes that bringing together the whole offshore energy and maritime industry will facilitate the discussion on what needs to be done, what needs to be innovated and what needs to be realized.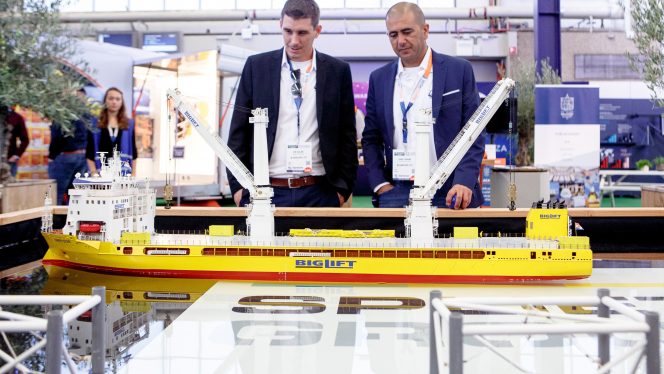 09:30 – Welcome back!
Welcome back to Offshore Energy 2019 in RAI Amsterdam. Yesterday was a great success and we are ready for today! There is a lot happening. The Energy Transition Debate, sessions about digitalization and game changing technologies, different Country Updates at the Stage, the 5th annual Marine Energy Event and much more. Don't miss any of the action and read all about it in this live blog. The doors are open, let's start!
Tuesday 8 October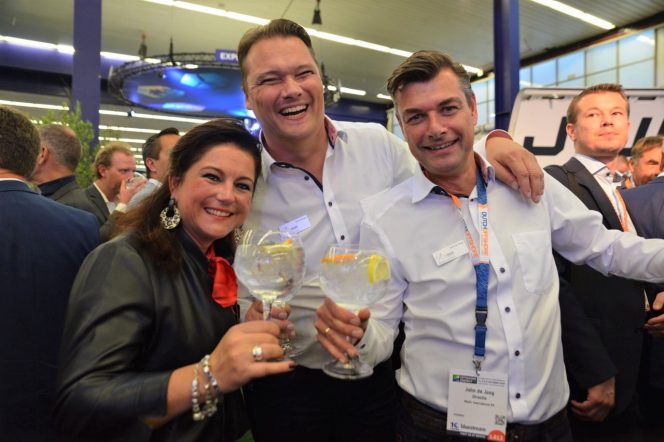 18:15 – Cheers to a succesful day!
In the afterhours of the first exhibition day, let's toast and celebrate. Navingo thanks all who contributed to giving energy transition a home today. We are looking forward to seeing you tomorrow.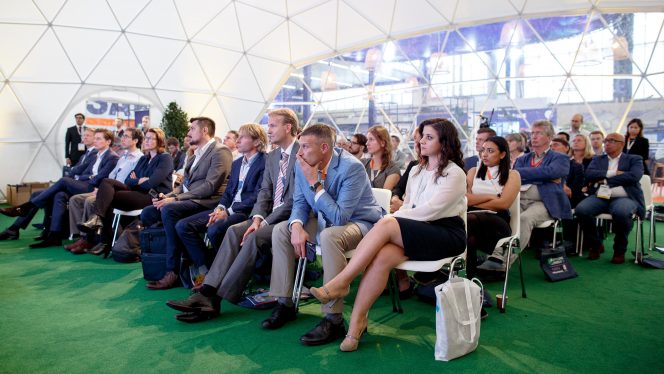 17:20 – Future offshore systems
Representatives of TenneT, National University of Groningen, Delft Technical University, NAM, Equinor and DAREL / Deltalinqs H-vision stressed the future importance of green and blue hydrogen in the energy mix and that governmental support of essence during Offshore Energy Conference Session Future Offshore Systems. They further stated that 1GW electrolysers are needed by 2025. Ad van Wijk, Professor Future Energy Systems at Delft Technical University, who is in favor of hydrogen, said: "Transporting energy by molecule is ten times cheaper than transporting electricity. Transport capacity in gas grid in the Netherlands is larger than in electricity grid."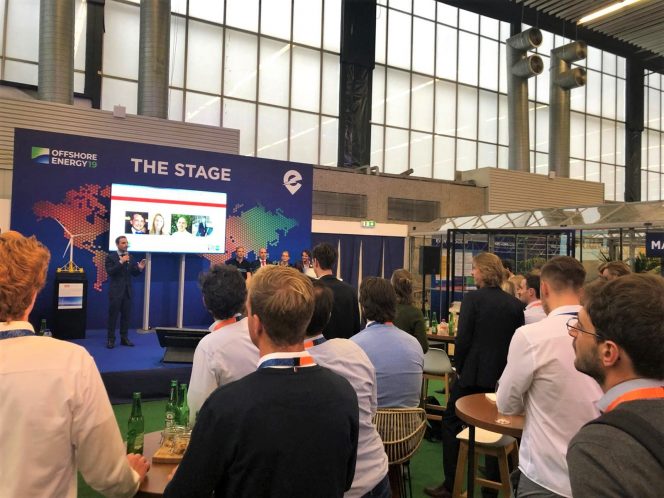 16:40 – Meet other young professionals
"There is no future offshore generation, without the young", says Amber Nossent, Relations Manager Young IRO. They would like to invite all young professionals for an interactive Offshore Quiz Show and Networking Drinks at The Stage. "A great opportunity to meet other young professionals and Young IRO members, and a great way to learn and test your offshore knowledge."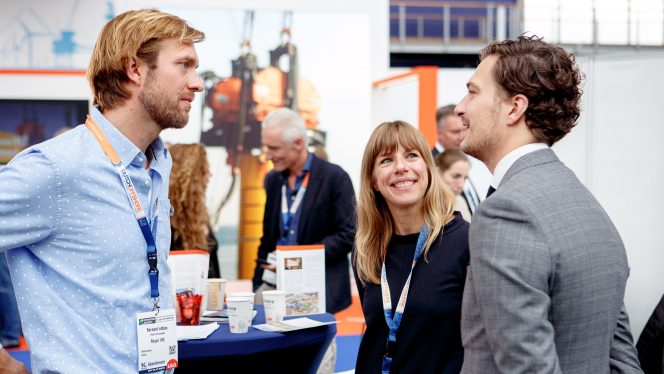 16:15 – Feel the energy!
The exhibition floor is bustling! Great discussions are happening and the networking moments are abundant. You can really feel the energy in the Amsterdam RAI.
16:05 – Workshop on the Dutch Offshore Wind Farm Zones
As part of Offshore Energy, the Netherlands Enterprise Agency is hosting a workshop on the Dutch Offshore Wind Farm Zones in cooperation with the Ministry of Economic Affairs and Climate Policy, Rijkswaterstaat and TSO TenneT, today.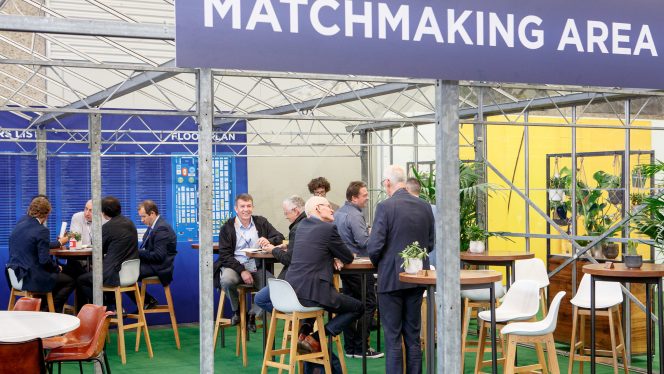 15:45 – Matchmaking at OEEC
The Matchmaking greenhouse at Energy Plaza helps new and existing relationships flourish. Offshore Energy offers a matchmaking program that is available to all attendees of the event. The NetworkTables platform caters to both 1-on-1 meetings and round table sessions for 8 participants. The meetings were planned mostly in advance and are taking place as we speak.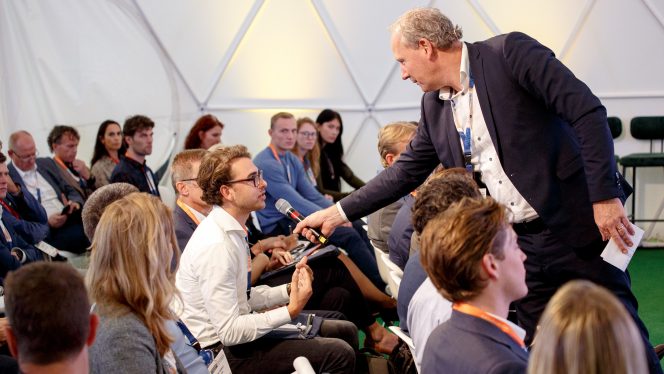 15:30 – Energy Transition live on the North Sea 2019
What is happening on the North Sea right now? Europe and the activities taking place in the North Sea are leading in the energy transition. During the session Energy Transition Live on the North Sea in 2019, TNO, Norwep, EBN, Peterson and Oil & Gas Technology Centre gave an overview on what is currently going on. Eric Kreft of EBN said: "Offshore platforms in the Netherlands to become available for new energy (due to gas production decline), but we need to keep them alive until then!"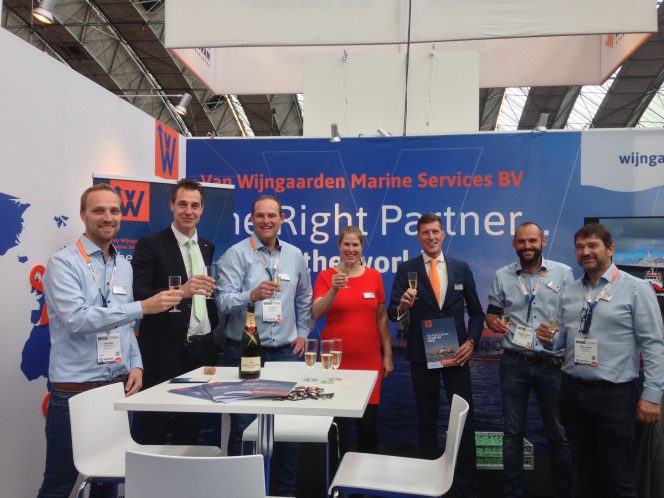 15:00 – State-of-the-art HEILA cranes for Van Wijngaarden Marine Services
Today, Van Wijngaarden Marine Services, Damen Shipyards Hardinxveld (DSH) and Heila Cranes Nederland will toast to the delivery of two brand new HEILA cranes at Offshore Energy (1.000 C3 – Holland Pavilion). Van Wijngaarden Marine Services takes delivery of the Damen Multi Cat 3013 (DP1) 'Kilstroom' by the end of March 2020. The versatile workboat will be armed with 2 HLRM 440-4S: the latest edition to the Heila telescopic knuckle boom crane family. Van Wijngaarden's Managing Director, Mr Peter van Wijngaarden is delighted with the crane models, which will lift up to 55 metric tons each. "We thank Damen Hardinxveld and Van Wijngaarden for their confidence in our company! Cheers!"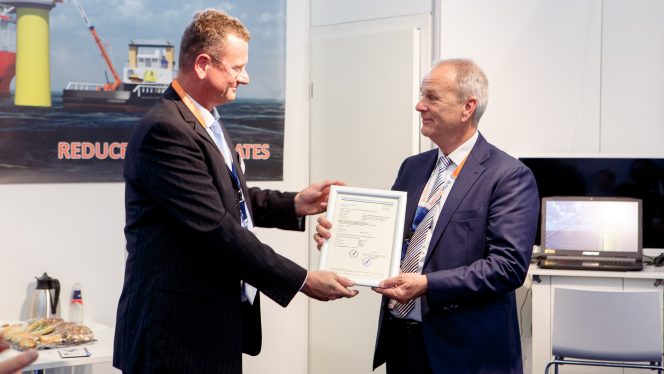 15:00 – Product Certificate officially handed over at Offshore Energy
The OPTS (Offshore Passenger Transfer System) of LIFT2WORK is now fully certified and complies with DNVGL ST 358 as Gangway and with ST 378 as Crane. The Product Certificate was officially handed over by DNVGL at the LIFT2WORK booth (2.318). OPTS is an innovative way to transfer people and/or tools and equipment, and this patented product and system is a first of its kind to be suitable for offshore and marine application. This safe, simple and self-controlled supporting system for moving people from one offshore structure to another can forget the use of W2W, bridges and gangways by using this platform/basket. It is fully compensated and controlled by the operator as it would be on a land based installation.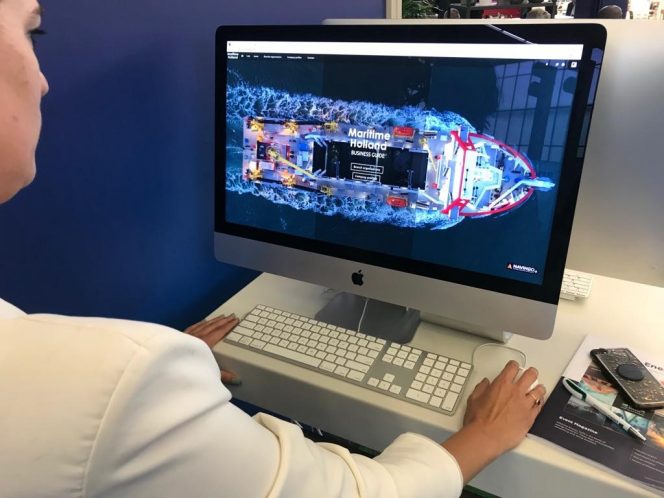 14:40 – New Maritime Holland Business Guide 19/20
The new Maritime Holland Business Guide 19/20 is now online! Please read about the companies that define the Dutch maritime cluster. If you are visiting Offshore Energy today do not forget to pick up a printed copy at the media corner.
14:30 -Live feed of the Transparency House
Follow the live feed of the Transparency House interviews live on the exhibition floor. Tomorrow the feed will continue.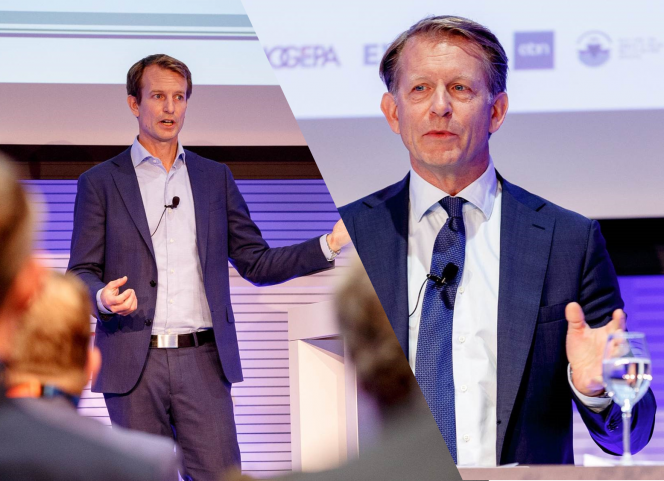 14:05 – OEEC fun fact
Offshore Wind Conference featured two brothers! Erik Dugstad, Director and Area Manager, Advisory, Nordics & Baltics, DNV GL, Jon Dugstad, Director Wind & Solar, Norwegian Energy Partners, both shared their vision on, respectively, the global potential of offshore wind and how offshore wind starts dating. A first for the conference!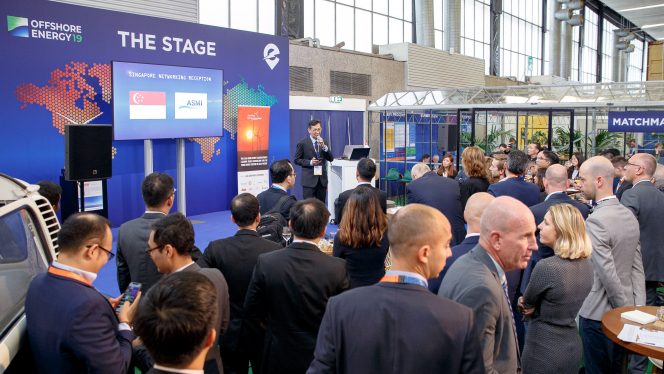 13:50 – Enter The Stage
At Energy Plaza you will find The Stage, where countries and companies will showcase their products, services or introduce new innovations and solutions to the entire offshore energy market. One of these presentations is from ASMI Singapore. They are on a research and study trip in the Netherlands to talk and learn more about offshore wind.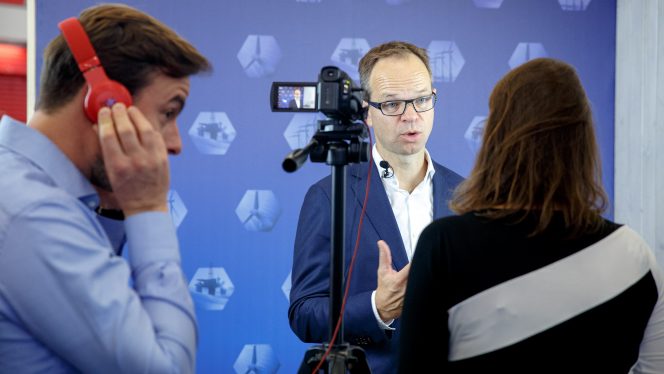 13:35 – Studio at Energy Plaza
Jan-Mark van Mastwijk, Business Unit Manager DEME Offshore, is being interviewed at the Studio at Energy Plaza. He talked about the energy transition and the role of DEME in this process.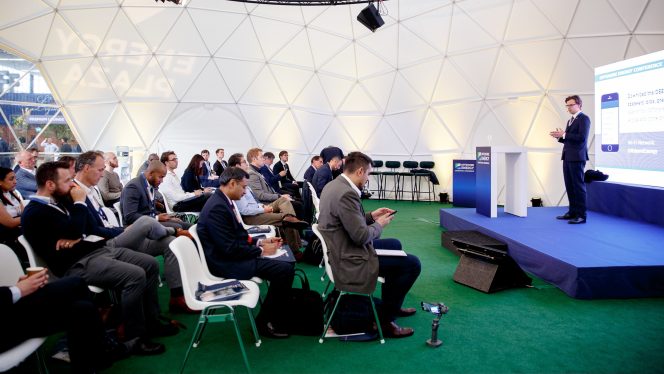 13:00 – International Energy Outlook
Shell, Wood Mackenzie, Ocean Energy Systems and Rystad Energy offered their outlooks on the future of energy during the Offshore Energy Conference Session International Energy Outlook. Guided by moderator Bas Ort (Chairman of Netherlands Maritime technology the speakers discussed what their views are for their respective industries. Lars Eirik Nicolaisen, Deputy CEO and Senior Partner, Rystad Energy: "Oil demand will peak in 2028, driven by electrification of passenger transportation".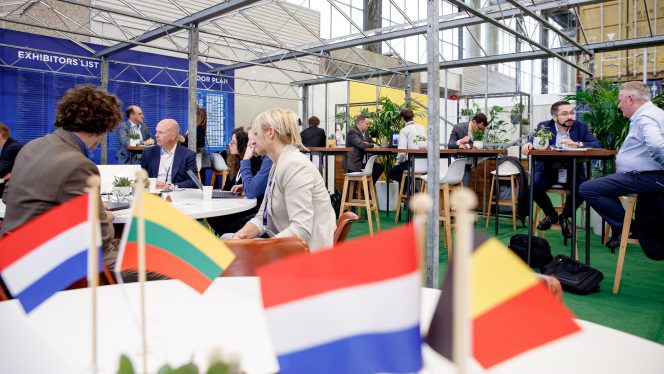 12:45 – Incoming trade missions and international delegations
The Dutch Government, Trade Organizations and Offshore Energy are happy to welcome a large number of incoming trade missions and international delegations, both businesses and government delegates, from Bangladesh, Belgium, Brazil, China, France, Germany, Lithuania, Mexico, Morocco, Poland, Portugal, Qatar, Singapore, Vietnam, Taiwan, the United Kingdom and the United States. A good opportunity to meet, network and share knowledge and ideas.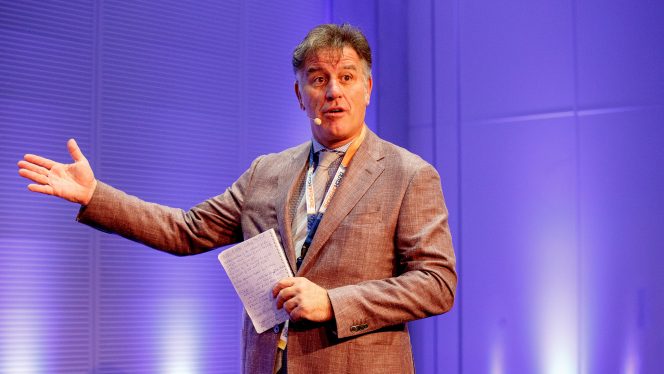 12:05 – "We need to integrate more in society"
Eric Fine, Business Development Manager RE, Smulders Projects International BV, wrapped up the Offshore Wind Conference with a plea for more discussion on social responsibility: "If you want society to accept our business model, we need to integrate more in society".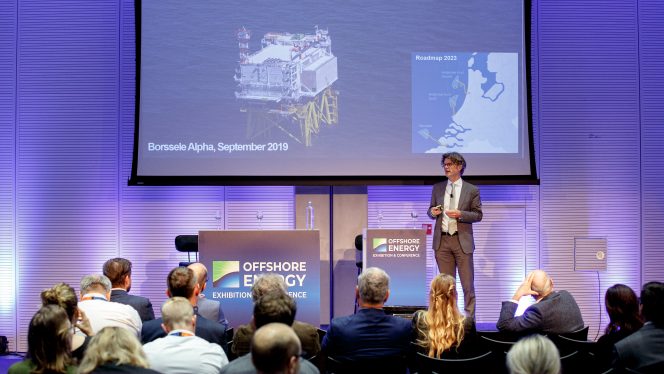 11:55 – Getting power to shore
Infrastructure, cross-border cooperation and future pioneers were the topics of Offshore Wind Conference day two. In a packed Amtrium speakers from DNV GL, Nouryon, TenneT, Navigant and PROMOTioN spoke about getting power to shore in a more efficient manner and how hydrogen could partner up with the offshore wind industry. Linda Kemp of Marin was the conference's future pioneer.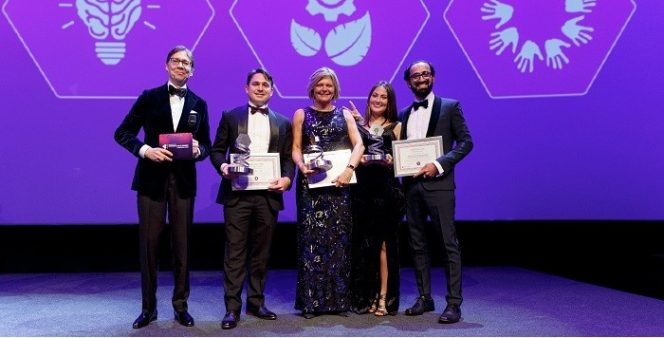 11:45 – And the winners are…
Last night we celebrated the industry with the Opening Gala Dinner and Awards Show. This festive evening, held at the Amsterdome with over 400 leading offshore energy professionals, is the official kick-off to Offshore Energy. Congratulations to the 2019 award winners! Best Innovation: Electrical Thermal Energy Storage – Siemens Gamesa Renewable Energy, Public Outreach: Nexstep, Young Engineer: Travis Anthony – Shell.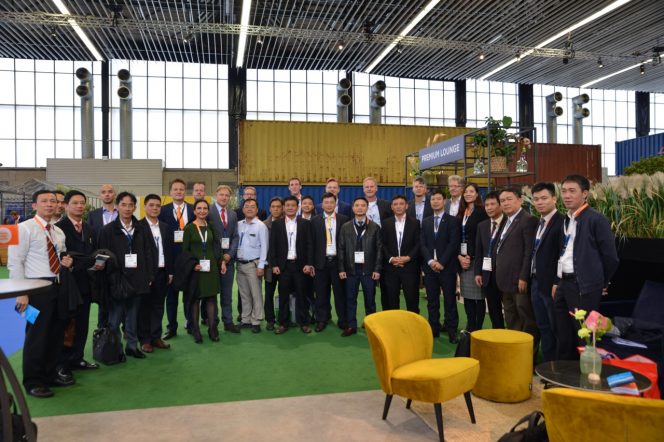 11:15 – Delegation from Vietnam
A delegation with around 14 companies from Vietnam met with Dutch companies at the Wind & Water works Lounge at Energy Plaza.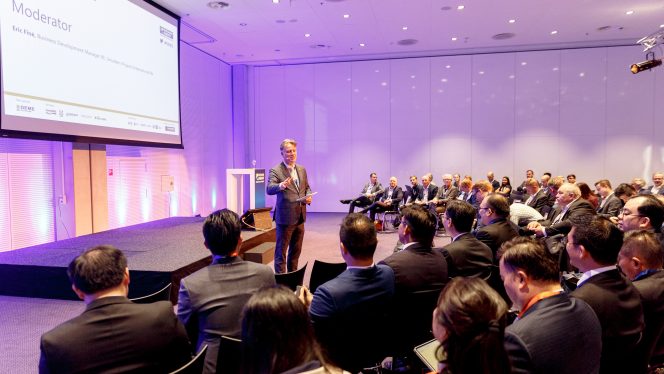 10:40 – How offshore wind plays its part
Yesterday we have already started with Offshore Wind Conference. Day one included an update on the Dutch offshore wind developments with Vattenfall. The global potential of offshore wind with The Crown Estate, Gusto MSC and Norwep. "Consenting within offshore wind will become more challenging as the space is getting smaller. The collaboration The Crown Estate is anticipating is the one between the United Kingdom and the Netherlands." said Huub den Rooijen, Director of Energy, Minerals & Infrastructure, The Crown Estate. In the last session the bankability of the industry was addressed. A lively and packed first day! Today Offshore Wind Conference will feature Future Pioneers, Linking the grid and When offshore wind starts dating.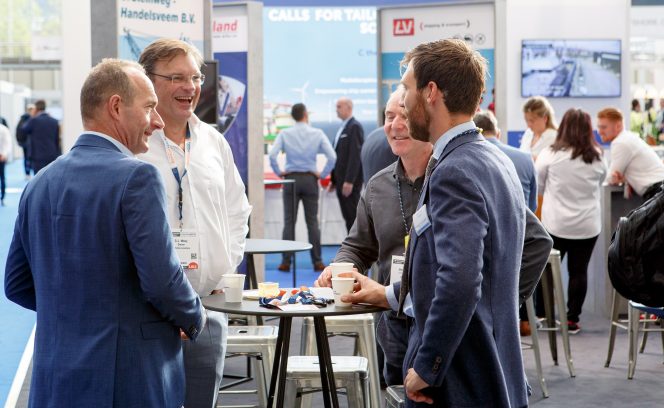 10:25 – Discover and learn about new products and services
We are expecting over 10.000 visitors during OEEC 2019 who will be networking with more than 550 exhibitors. So there is a lot of energy on the exhibition floor! Visitors from all around the world can discover and learn about new products and services in the offshore industry. And of course there are lots of opportunities to network today.

09:55 – We are ready
Are you ready for Offshore Energy Exhibition & Conference the next two days? We are! The registration area is bustling.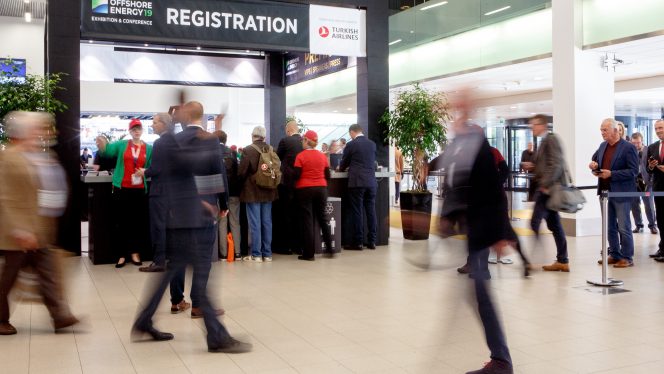 09:30 – Home of Energy Transition
Welcome to Offshore Energy 2019. Home of Enegry Transition. The exhibition floor has just opened, so Europe's largest offshore energy event has officially commenced. With over 550 exhibitors, almost nine thousand of pre-registered visitors, numerous incoming international trade missions and over 40 hours of content, this edition promises to be an energetic, fruitful and inspiring event, again.