Wintershall marks quarter century of production on Brage
The Wintershall-operated Brage platform offshore Norway is celebrating its 25th anniversary of oil production.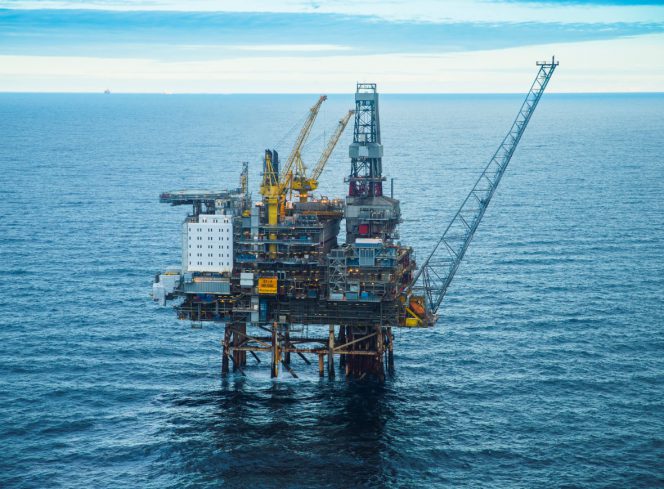 ---
The Brage field is Wintershall Norge's first operated production field. The company took over operatorship in 2013 as part of an asset swap with Equinor, then Statoil. First oil from the platform was produced back in 1993.
It is located 13 kilometers east of Oseberg in the northern part of the North Sea, 125 kilometers west of Bergen.
Brage was developed using an integrated platform on a steel jacket. The oil from the field is transported by pipeline to Oseberg and from there to the Sture terminal, while gas is transported through Statpipe.
Martin Bachmann, executive director and head of exploration and production for Europe and the Middle East, said: "When Wintershall acquired the Brage oilfield from Equinor, we set ourselves the goal of prolonging the lifetime of Brage considerably.
"Our team introduced new production processes, optimized the work procedures and found technically efficient solutions. These should enable the field to keep producing to 2030 and beyond. Approximately half of the current production on Brage comes from wells drilled under Wintershall's operatorship."
Wintershall said on Monday that the boost followed a year-long drill break in 2015 when the company took the opportunity to streamline its processes and align contracts to incentivize safe, efficient drilling of the wells.
According to the company, the result is some of the most efficient wells ever drilled on Brage. Also, comprehensive maintenance was carried out this summer – the largest turnaround in the platform's history. The activities on Brage is part of approximately €2 billion ($2.35 billion) that Wintershall is spending on the Norwegian Continental Shelf between 2017 and 2020.
With the takeover of Brage's operatorship, Wintershall Norge covered the entire E&P value chain in Norway: from the exploration and drilling to the development and subsequent production of crude oil and natural gas.
Hugo Dijkgraaf, managing director of Wintershall Norge, added: "Brage was the decisive cornerstone for our development towards becoming one of the largest gas and oil producers in Norway."
Today, the company is also the operator of the subsea fields Maria and Vega, in addition to Nova, which is currently under development.
Kjell Skjervheim, the first offshore installation manager on Brage, said: "Brage started production in 1993, during the golden age of developments on the Norwegian Continental Shelf. We managed to begin production safely, under budget and three months ahead of time, and we were operating at almost 100 percent uptime from day one. We knew that it was an amazing field and platform, but we could never have imagined that it would still be going strong 25 years later."