Woodside files plan for Achernar drilling (Australia)
Australian oil company Woodside Energy is preparing to start a drilling campaign in the WA-28-P permit north-west of Dampier offshore Western Australia.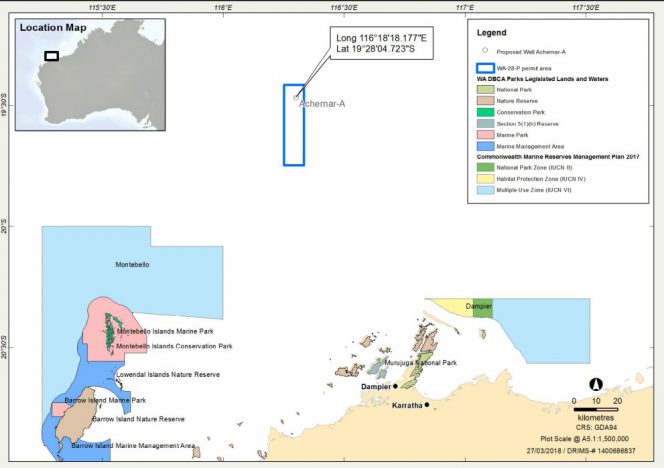 The national oil and gas regulator NOPSEMA has said this week that Woodside is preparing an environment plan to carry out drilling within the permit. The plan envisions drilling up to six exploration and appraisal wells, including the Achernar exploration well.
Namely, according to the documents shared by Woodside earlier this year, the confirmed well proposed is the Achernar exploration well, and the remaining exploration and appraisal wells will be confirmed and planned pending outcomes of Achernar. The proposed drilling work is scheduled to begin in the second quarter of 2019.
Drilling of the Achernar and other wells (exploration and appraisal) is expected to take approximately 90-120 days per well to complete.
The closest landfall to the permit area are the islands of the Dampier Archipelago, which are approximately 85 km south south-east at the closest point. Water depths within the permit area range between 100 meters and 129 meters.
NOPSEMA is assessing Woodside's plans and will get back to the company with the final decision by October 29, 2018.
Offshore Energy Today Staff
Related news
List of related news articles