Woodside picks KBR for work on Browse FPSOs concept
Australian energy company Woodside has awarded KBR the Concept Definition engineering contract for the two gas FPSO facilities for the proposed $20 billion Browse to North West Shelf Development, located offshore Western Australia.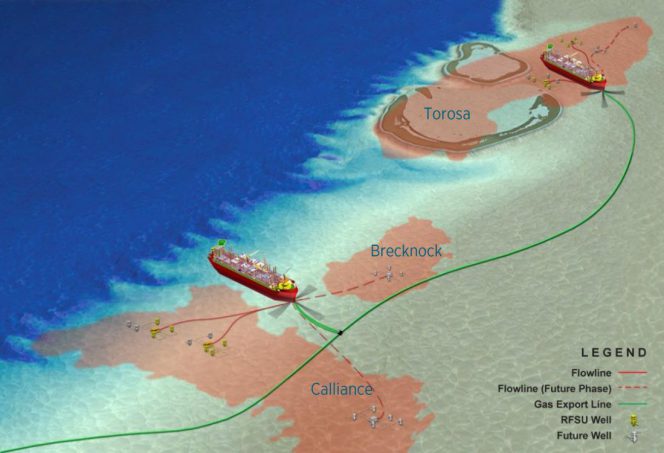 Woodside has launched the engineering services contract to define all elements of the hull and topsides of two FPSOs for remote environment operations. The engineering work is expected to be performed up to the end of H1 2019, KBR said on Thursday.
The Browse project aims to bring online the Brecknock, Calliance, and Torosa fields offshore W. Australia containing gross contingent resources (2C) of 15.4 trillion cubic feet of dry gas and 453 million barrels of condensate).
Woodside had planned to develop the fields using three separate Floating LNG units, however, the company in 2016 stopped the FLNG project citing "current economic and market environment."
The company has recently revealed it is leaning towards the development using two gas Floating Production Storage and Offloading Units (gFPSO) delivering around 10 mtpa of gas to NWS infrastructure by an approximately 900 km pipeline. This was affirmed by KBR on Thursday.
Stuart Bradie, KBR President and CEO said: "We are delighted to be awarded the Concept Definition engineering of the two FPSO facilities delivering our operational agility in the execution of projects, strong base business and world-class asset performance to the project."
Browse development
In a recent investor presentation, Woodside said the two FPSOs would be connected to the North Rankin Complex, from where the gas would be shipped via a 900 km pipeline to the Woodside-operated North West Shelf infrastructure.
FEED entry for the Browse project is slated for 2019, with the final investment decision expected in 2021.
According to Woodside's timeline, the Calliance and Brecknock fields are expected to be ready for start-up in 2026, with 2027 targeted for the Torosa field.
The whole development is expected to cost some $20 billion.
Offshore Energy Today Staff
Related news
List of related news articles