ADNOC and Baker Hughes form partnership to improve drilling efficiencies
Abu Dhabi National Oil Company (ADNOC) and Baker Hughes, a GE company, have signed a strategic partnership agreement, that will enable and support the growth and development of ADNOC's subsidiary, ADNOC Drilling, into a fully-integrated drilling and well construction provider.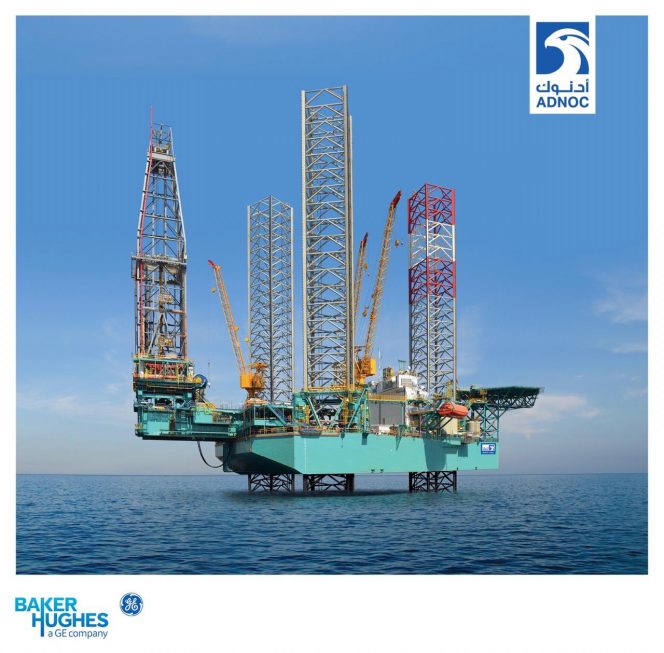 BHGE said on Monday that, as part of the agreement, BHGE will acquire a five percent stake in ADNOC Drilling. The transaction values ADNOC Drilling at approximately $11 billion. BHGE will be the sole provider of certain proprietary leading edge and differentiated equipment and technologies related to the integrated drilling offering, supporting ADNOC Drilling's growth.
"Together, ADNOC and BHGE will deliver more competitive well completion times, greater drilling efficiencies and better well economics, and will capitalize on new business opportunities as ADNOC Drilling grows through its new expanded offering," BHGE said.
The partnership represents the first time that ADNOC has brought an international strategic partner to acquire a direct equity stake in one of its existing services businesses. ADNOC Drilling is the largest drilling company in the Middle East and the sole provider of drilling rigs and associated services to ADNOC Group companies.
BHGE has more than 40 years of operations in the country. Ongoing access and support from BHGE's technology and equipment portfolio will help accelerate ADNOC Drilling's ongoing growth and development of a broader product offering, including drilling and well completion services. This partnership structure aligns the interests of both ADNOC and BHGE in driving greater productivity and efficiency while increasing returns.
BHGE to join ADNOC Drilling's board
The partnership is expected to generate predictable, long-term revenue streams and growth in the market for both companies through a mutually-beneficial, attractive commercial structure, pre-defined work plans and future dividends. ADNOC Drilling and BHGE will set up an advisory board with representation from both companies to oversee the implementation and ongoing operations, and BHGE will join ADNOC Drilling's Board of Directors.
The partnership will enable ADNOC to capture more value from every barrel of oil it produces as it plans to grow its conventional drilling activity by 40 percent by 2025 and substantially ramp up the number of its unconventional wells, in line with its 2030 smart growth strategy. ADNOC Drilling will remain the sole rig provider to ADNOC Group Companies and capitalize on ADNOC's growing upstream activity by deploying its new integrated offering to capture up to 30 percent of the drilling and completion market over the next three years, as it demonstrates increasing drilling efficiencies and improved customer service levels.
The two partners will be able to leverage ADNOC Drilling's existing rig fleet capacity with limited capital expenditure outlay. The partnership will gain significant new business opportunities, including the potential to offer integrated drilling services beyond the UAE's borders.
Dr Sultan Ahmed Al Jaber, UAE Minister of State and ADNOC Group CEO, said: "We chose BHGE after a rigorous and competitive process as a partner with whom we have a long-standing working relationship and who shares ADNOC's long term vision and values. This unique partnership with BHGE comes at an important time in the drilling needs of Abu Dhabi as ADNOC grows its conventional and unconventional hydrocarbon resources and as we see future potential for further regional growth. It will ensure we will be able to better service our upstream growth while capturing and retaining greater value.
"The partnership forms an important building block of ADNOC's 2030 smart growth strategy as we continue to drive operational efficiency and performance, and unlock even more value from every barrel we produce. The combined capabilities and expertise from this partnership will create greater drilling efficiencies and faster well completion times, generate attractive returns and enable the transfer of know-how and access to technology. Importantly, it will also drive job creation and economic growth, as well as maintain a healthy level of competition in the dynamic UAE oilfield services market."
Another step in ADNOC's transformation
This partnership is another step in ADNOC's group-wide transformation which is supported by a new and expanded approach to strategic partnerships and co-investments as well as the more proactive management of ADNOC's portfolio of businesses and allocation of capital.
BHGE Chairman and Chief Executive Officer Lorenzo Simonelli, said:"This partnership brings together BHGE and ADNOC, backed by a close and long working relationship. We are very pleased to take a minority stake in ADNOC Drilling to jointly develop and further grow the company's technical capabilities, market access and value. In a unique way, it allows us to drive predictable revenue streams and long-term growth for both companies and lets us invest in a stable, reliable and secure market environment. Supported by BHGE's leading technology and service portfolio, ADNOC Drilling will enable ADNOC to unlock significant value from their untapped resources, while building local capabilities and accelerating overall market growth."
He added: "The transaction significantly increases our activity in the region and demonstrates our unique ability to create value for our customers and shareholders through innovative commercial arrangements, partnerships and leading technology solutions."
The UAE is located in one of the world's largest hydrocarbon super-basins with significant potential to tap its undeveloped reservoirs and further develop its existing resources. Realizing this potential, alongside the ongoing growth and development of ADNOC Drilling, will provide more opportunities for local third-party service providers to compete for and support ADNOC's expanding integrated drilling and ancillary service requirements.
Today, BHGE employs more than 1,000 employees in the UAE and supports customers with products and services spanning the entire oil and gas value chain.