ADNOC to Form LPG JV with Wanhua Petrochemical
ADNOC Logistics & Services (ADNOC L&S) has signed an agreement with China's Wanhua Petrochemical to form a joint venture which would own and operate LPG tankers.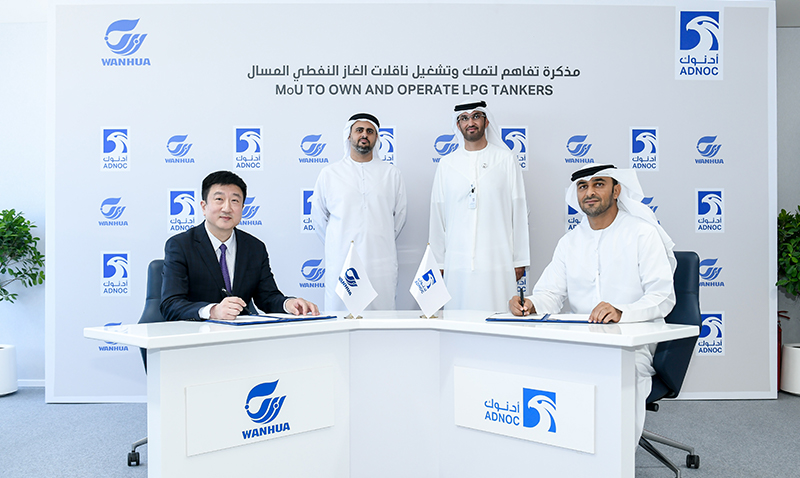 The parties said they signed a Memorandum of Understanding to explore the creation of the JV "to pave the way for the transport of greater gas volumes in line with market demand."
Wanhua Petrochemical is an existing customer of ADNOC L&S' parent firm, the Abu Dhabi National Oil Company, having signed 10-year LPG purchase contract for 1 million metric tons per annum (mtpa) in November 2018.
H.H. Sheikh Theyab bin Mohamed bin Zayed Al Nahyan updated on #ADNOC Logistics & Services' growth strategy; inaugurates its latest vessel, and witnesses the signing of an MoU with China's Wanhua Petrochemical to explore the creation of a gas transportation joint venture pic.twitter.com/KosaTbkELS

— ADNOC Group (@AdnocGroup) February 20, 2019
Additionally, ADNOC revealed its ambitious growth plan to create a more competitive and diverse offering, leverage market expansion and strengthen its role by transforming into a fully integrated marketer and trader of its products. ADNOC L&S plans to acquire its first crude oil tankers, while expanding its gas and dry bulk fleet, by adding more than 25 vessels within the next five years.
Furthermore, the company revealed that H.H. Sheikh Theyab, Chairman of the Abu Dhabi Department of Transport, has inaugurated the latest addition to ADNOC L&S's shipping fleet during his visit to Port Khalifa. The acquisition of the 2,850 TEU feeder vessel, Al Reem 1, brings ADNOC L&S's fleet to 123 vessels.
ADNOC said that its marine and logistics subsidiary "will play a critical role in supporting the delivery of ADNOC's 2030 smart growth strategy." Through this strategy, ADNOC would increase its oil production capacity to 4 million barrels per day (mmbpd) by the end of 2020 and 5mmbpd by 2030.
Sheikh Theyab bin Mohamed bin Zayed Al Nahyan reaffirms #ADNOC has the unwavering support of the #UAE's leadership and praises its contribution to the country's economy and prosperity pic.twitter.com/3R1ahZIBx6

— ADNOC Group (@AdnocGroup) February 20, 2019