Aibel to Build New Johan Sverdrup Power Plant for Equinor
Equinor has awarded Aibel the contract to build Phase 2 of the onshore power plant at Haugsneset east of Kårstø.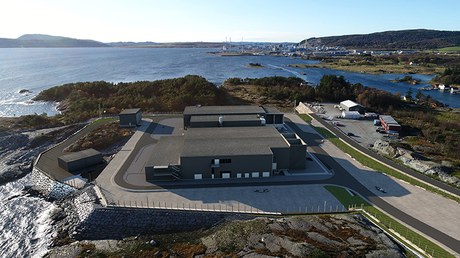 The Phase 2 development will contribute to secure the power supply from land to the further development of Johan Sverdrup, and also contribute to establishing the area solution for power from shore to the remaining fields on the Utsira formation (Edvard Grieg, Ivar Aasen and Gina Krog).
Equinor in July secured the Petroleum Safety Authority (PSA) approval to use the facility to supply power from onshore to the Johan Sverdrup field, located in the North Sea around 155 kilometers west of Karmøy in Rogaland county.
Electrical power will be obtained from the onshore grid and converted to DC at a transformer station, from where a submarine cable will carry it over the Norwegian Trench and out into the North Sea to the riser platform on the Johan Sverdrup field, where it will be converted to AC.
At Haugsneset, Aibel will build a new converter substation with double the capacity compared to the plant in Phase 1. The contract is valued at around NOK 500 million.
"It is both a great honour and a major vote of confidence that we are now continuing our collaboration with Equinor and will play a key part in Phase 2 of Johan Sverdrup. Here we are also building the P2 process platform and are thus making important contributions to more eco-friendly operations on the Norwegian continental shelf," said Aibel's EVP of Field Development and Offshore Wind, Nils Arne Hatleskog.
Aibel was also responsible for the converter substation and pump station and associated infrastructure at Haugsneset in Phase 1. That plant will supply the four first platforms on the Johan Sverdrup field.
Just as with the first phase of the power plant at Haugsneset, the project will start at Aibel's office in Asker. Work will gradually be moved to Haugesund for implementation of the project phase, and to Haugsneset for follow-up of construction, the company noted.
"By virtue of our previous work at Haugsneset and other onshore facilities, we have an extremely experienced and competent organisation, which is well-equipped to ensure proper execution and delivery," said Aibel's project manager Ole Kristian Halvorsen, who also headed up Phase 1.
The contract will be carried out in cooperation with Norconsult in Sandvika for detailed engineering of the actual building. Aibel itself is responsible for engineering of all technical disciplines, including a comprehensive ventilation system (HVAC) for cooling the converter facility. Siemens will supply the actual converter components (HVDC), while Aibel will be responsible for all other deliveries, including installation of the HVAC and HVDC facilities. Subcontractor contracts for erecting the actual building will be awarded in 2019 under Aibel's contact with Equinor.
Work starts immediately, and the completed plant will be handed over to Equinor by the end of 2021.