Allseas vessel kicks off Nord Stream 2 pipelay ops in Finland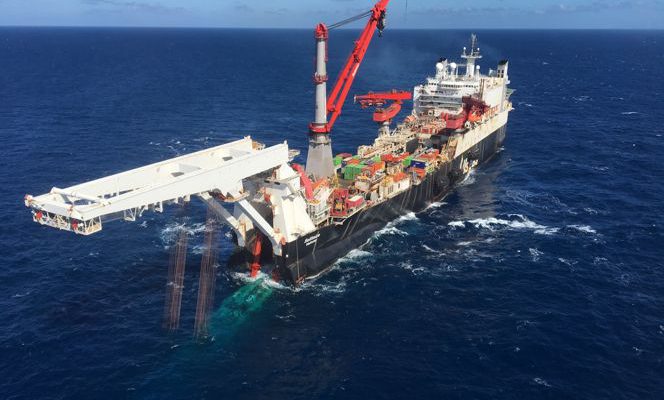 Allseas-owned offshore pipelay vessel Solitaire on Wednesday started the pipelay for the Nord Stream 2 natural gas pipeline in the Gulf of Finland.
Nord Stream 2 AG, a Gazprom subsidiary, is the operator of the Nord Stream 2 project. The company completed the permitting procedure for the pipeline in April after receiving the second of two permits required to construct and operate the planned natural gas pipeline in the Finnish Exclusive Economic Zone (EEZ).
Announcing the beginning of pipelaying operations on Wednesday, the company said that the Solitaire was equipped and tested to meet the project's strict requirements before the start of pipelay.
Nord Stream 2's construction plan takes into consideration different construction conditions, in particular environmental requirements. Solitaire for example uses a dynamic positioning system with thrusters to position itself accurately. It is thus only the pipeline that touches the seabed.
Solitaire is a 300 meters long and 41 meters wide vessel that will lay pipes around the clock seven days a week. The vessel has accommodation on board for 420 persons. Pipe supply vessels (PSVs) will deliver the 12-meter, 24-tonne pipes used to build Nord Stream 2 to the pipelay vessel from the project's nearest logistics hubs, such as Kotka or Hanko, to maintain the necessary pipe stock.
The pipes are welded together on board the vessel, then welds are tested and finally the pipeline is lowered down to the seabed. A survey vessel will perform surveys prior to and after pipelay to verify that the pipeline is located at its correct position.
The safety zone around the pipelay vessel is 1,85 kilometers (1 nautical mile) and around the survey vessels Oceanic and Olympic Triton 500 meters (0,3 nautical miles).
Related news
List of related news articles