Avenir LNG takes delivery of Avenir Aspiration LBV
UK-based small-scale LNG company Avenir LNG has announced the delivery of LNG bunkering and supply vessel (LBV) Avenir Aspiration, the first out of four coming from the Nantong CIMC SOE shipyard.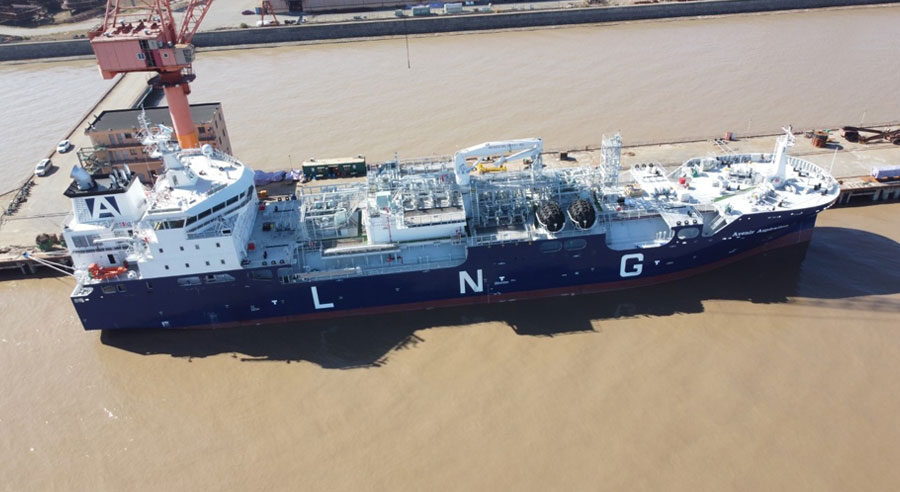 The Avenir Aspiration is a dual-purpose, 7,500-cubic metres LNG bunkering and supply vessel (LBV). It was built by Nantong CIMC Sinopacific Offshore & Engineering.
Avenir LNG says the ship will kick off its maiden voyage to Europe and that it will be stationed in the Mediterranean.
Therefore, it will serve the Avenir's HIGAS LNG Terminal in Sardinia, which entered into commercial operations in August 2021.
In addition to this servicing, the vessel will also provide LNG bunkering via ship-to-ship transfer to multiple customers throughout the Mediterranean.
The Avenir Aspiration will provide infrastructure in key ports across the Mediterranean to support the growth of LNG as a marine fuel. Likewise, the company says this helps substantially in reducing CO2, NOx and SOx emissions in the region.
Peter Mackey, CEO Avenir LNG , said: "The Aspiration is the final step in delivering a fully owned and operated small-scale LNG supply chain dedicated to serving our customers across the island of Sardinia. We have made significant investments in LNG shipping, terminaling, trucking & satellite plants at our customers sites to ensure we can deliver a clean, affordable & reliable supply of LNG to the island."
Moreover, the CIMC SOE shipyard will deliver three more newbuild vessels over the remainder of 2021 and early 2022.