Azerbaijan, Turkey turn on taps on $8B TANAP pipeline
Azerbaijan and Turkey on Tuesday launched the Trans-Anatolian Pipeline-TANAP- which will carry the Caspian Sea gas to Turkey and then Europe.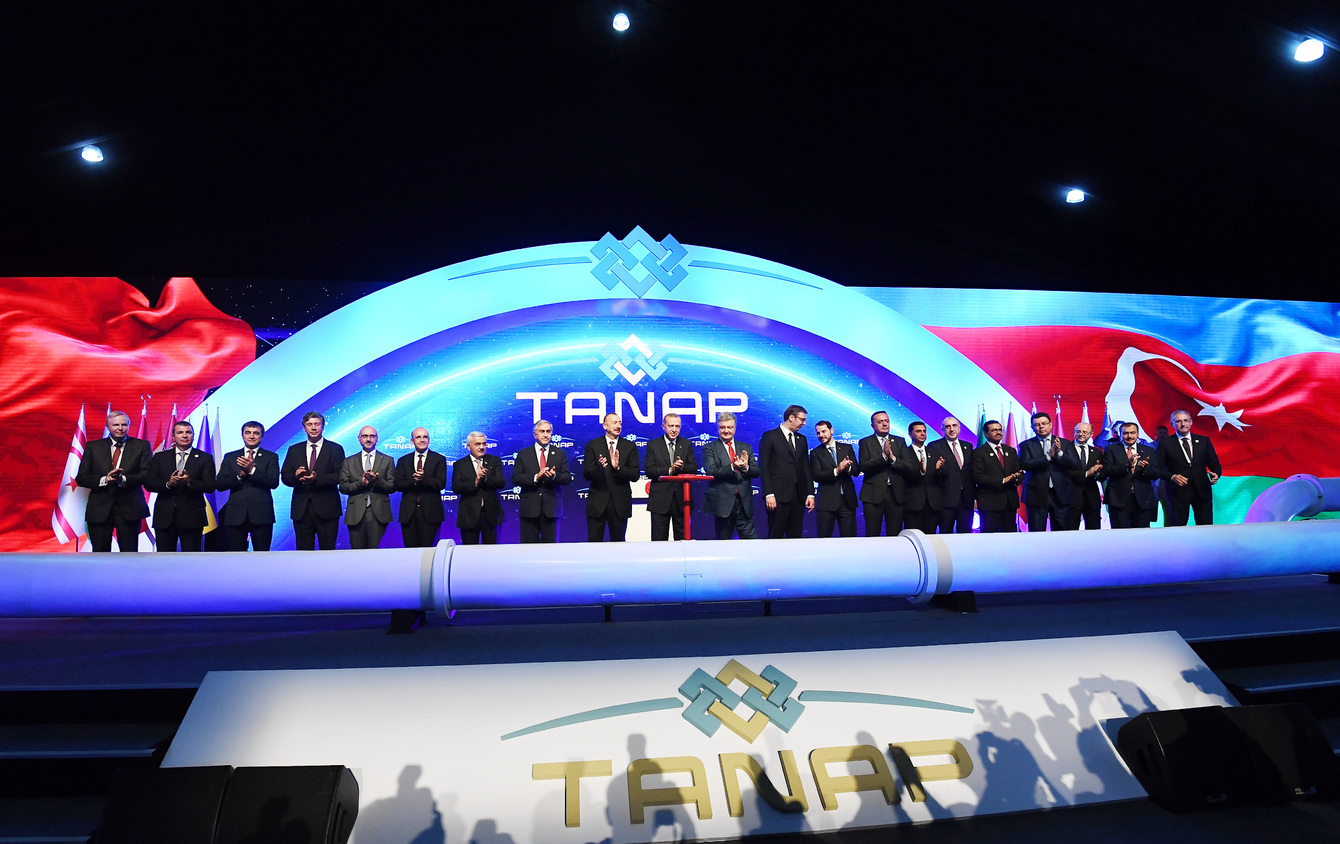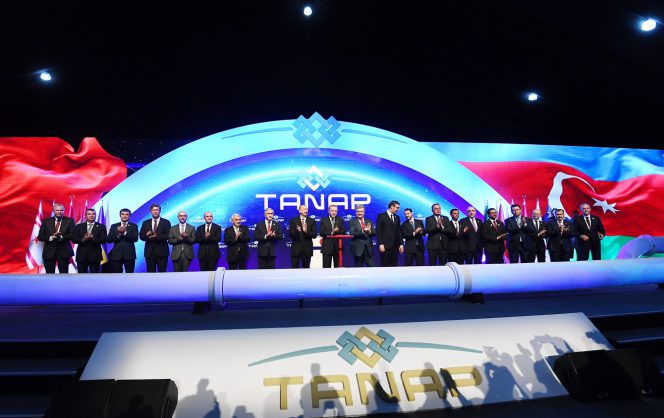 The launching ceremony was attended President of Turkey Recep Tayyip Erdogan, President of Azerbaijan Ilham Aliyev, and President of Georgia Giorgi Margvelashvili.
Estimated to be worth $8 billion, the TANAP project was officially launched at a ceremony at held in Seyitgazi, Eskişehir, where MS-2 measurement and CS-5 compressor stations will enable commercial gas supply to Turkey, are located.
TANAP has been described as the most important part of the $38 billion South Gas Corridor project which will carry gas from the Shah Deniz gas field in the Caspian Sea to Europe.
Other parts of the southern gas corridor consist of the Shah Deniz II natural gas field, South Caucasus Pipeline and TAP projects. With 1.2 trillion cubic meters of natural gas reserves, Shah Deniz is the largest natural gas field in Azerbaijan and a production source for the Southern Gas Corridor.
TANAP, the longest and largest pipeline in Turkey, the Middle East and Europe with its 56-inch diameter and 1,850 km length, also includes a sea passage with the 17.6-kilometer twin pipelines
Speaking ahead of the pipeline's inauguration, Alasdair Morrison, research analyst, Caspian and Europe Upstream, at Wood Mackenzie said: "Since its approval in 2013, TANAP has been transformed from a strategically necessary but commercially questionable pipeline into a fast-tracked development with acceptable standalone economics."
He added: "For the TANAP partners, delivering on the agreed timeline was always the main objective. This has looked increasingly assured since the groundbreaking ceremony in 2015.
Cost slashed
What's more, Morrison added, TANAP is a world-class example of cost savings: "Its current budget of US$8 billion in 2018 terms is a 32% decrease from the initial US$11.7 billion estimate. This is thanks to a combination of good timing – contracting in the commodity and currency downturn – and best practice in an established pipeline corridor."
According to Wood Mackenzie, the launch of TANAP's 56-inch eastern section, known as phase zero, is just the start of the Southern Gas Corridor commissioning process. Commercial operations on the line to Eskisehir will begin on June 30, marking first offtake under Turkey's gas sales agreement (GSA) for Shah Deniz Phase Two volumes.
Phase one of the pipeline, the western 48-inch leg which runs to the Turkey-Greece border, is also well advanced and will complete in 2019. This will enable Turkish offtake in Thrace and onward delivery of gas from Shah Deniz into the Trans Adriatic Pipeline (TAP) from 2020.
Morrison said: "TANAP's commissioning is a giant leap towards Turkey's ambition of becoming a gas transit hub. Together with flows from TurkStream, it will increase the amount of gas passing through Turkey to Europe by around 26 bcm per year by 2023."
Turkey will be the key gateway for new Azerbaijani and diverted Russian gas into southern Europe. Nevertheless, TANAP expansion will be needed for the region to materially reduce its dependence on Russian gas.
Yet TANAP's importance to Turkey is far more than just its transit role from 2020. For Turkey's own market, it brings new volumes from a very reliable partner and, crucially, into areas of high demand. After its three-year ramp-up, TANAP will deliver 6 bcm per year of Shah Deniz gas to Turkey – more than 10% of the country's gas demand, Woodmac said.