Bedout Basin: Keraudren Extension 3D seismic survey done
The Keraudren Extension 3D seismic survey in the Bedout Basin offshore Australia has been completed and preparations to drill the Pavo-1 and Apus-1 exploration wells are underway, Carnarvon stated in an update.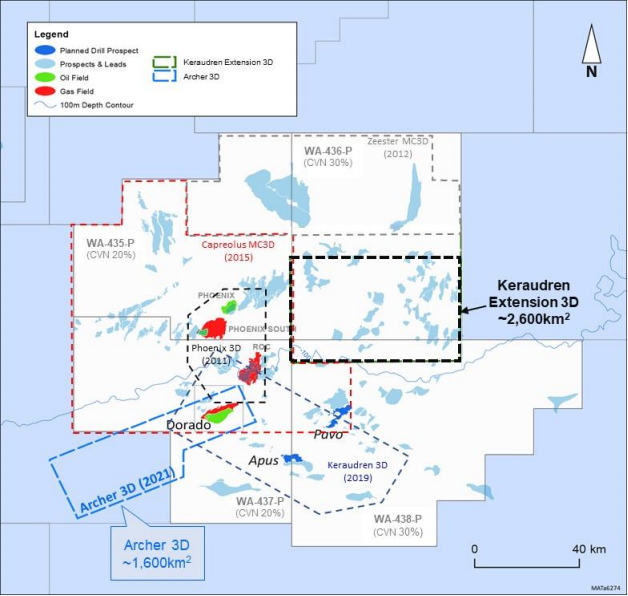 According to the update, the survey acquired around 2,600 km2, collecting data over the southern portion of WA-436-P and the northern portion of WA-438-P.
This area contains nearly 50 prospects and leads, many with stacked targets, in a diverse range of plays and with direct access to the interpreted hydrocarbon source kitchens.
The prospects and leads had previously been identified on 2D seismic data and are expected to be enhanced by the 3D seismic technology.
The survey will allow Carnarvon and Santos to better assess the geological risks, improve the volume estimates of this part of the portfolio, and identify a greater number of prospects and leads, Carnarvon said.
As stated in the update, the 21,652 km2 Bedout Basin acreage now has over two-thirds (68%) of its area covered with modern 3D seismic data.
Additionally, Santos has taken delivery of the Noble Tom Prosser jack-up drilling rig, hired in March this year to drill two exploration wells near the Dorado field.
The jack-up drilling rig is expected to be mobilised to the Bedout Basin by late 2021 or early 2022 to drill the Pavo-1 and then Apus-1 exploration wells.
"The Keraudren Extension 3D seismic survey covers an area that has held a great deal of interest within Carnarvon for quite some time. Now that the new data has been acquired, the next step is for it to be processed for interpretation", said Adrian Cook, managing director and CEO at Carnarvon.
"While all this seismic work is underway, we will be progressing towards drilling the Pavo-1 and Apus-1 exploration wells. These are large-volume targets, importantly located close to the proposed Dorado field facilities".
Cook added that the progress on the Dorado field development is on schedule, with the recently launched front-end engineering and design (FEED) phase.