Blast Holes Turkish Bulker Bound for Yemen
Turkish bulk carrier Ince Inebolu suffered massive hull damage last week while carrying wheat to Yemen's Houthi-controlled port of Saleef.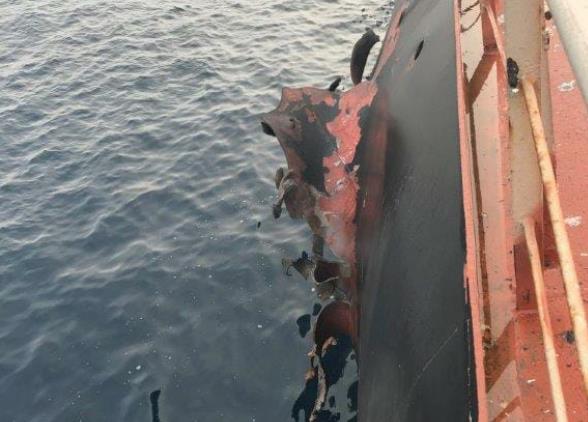 Nevertheless, the exact cause of the damage is unclear as there are contradictory accounts on what happened.
According to Yemen's Ministry of Transport, the ship was targeted by a missile attack conducted by the Saudi-led coalition. The ship was reportedly anchored about 70 miles off Saleef, when the explosion occurred.
Based on the images released by the ministry and Yemen Red Sea Ports Corporation, there is a major rupture on the aft side of the ship's hull.
Following the incident, a naval vessel of the Saudi-led coalition received a call from the captain of the stricken bulker, reporting the damage.
The coalition forces, cited by Reuters, said that they inspected the ship, ascribing the damage to an explosion that occurred from the inside of the vessel.
As the vessel was unable to resume its voyage, it was towed to the port of Jizan in Saudi Arabia.
Turkish newspaper Deniz Haber released a statement from the ship's manager, Ince Denizcilik ve Ticaret A.S., which claims that on May 10 a missile entered the ship hold's number 3 and exploded from the inside.
The company said that the ship's crew had been instructed by the coalition soldiers that remained on the bulker after the inspection to refrain from any communication outside the ship.
Furthermore, the company added that it had been allowed by the soldiers to inform the public that there was no other damage to the ship apart from the one shown in the pictures and that all seafarers were unharmed and safe.
As informed, Ince Inebolu had loaded the wheat in Russian Novorossiysk port on May 4 and received clearance from the United Nations to resume its voyage to Saleef after being subjected to a thorough inspection in Djibouti.
All ships are subject to inspection before being allowed to enter the country's ports, especially after the coalition's closure of Red Sea ports back in November last year. The closure applied to ports under the control of Houthi movement, namely Hodeidah and Saleef, and followed Saudi Arabia's interception of a ballistic missile, which targeted Riyadh. After international pressure, the ports were opened for humanitarian relief.
The conflict in Yemen has been ongoing since 2015. The armed conflict has resulted in over 22 million people in need of humanitarian aid in the famine-gripped Yemen, according to UN.
World Maritime News Staff; Image Courtesy: Yemen Red Sea Ports Corporation