BOEM seeking comments on proposed Beaufort Sea lease sale
The U.S. Bureau of Ocean Energy Management (BOEM) will prepare an environmental impact statement (EIS) in support of a potential 2019 oil and gas lease sale in the Beaufort Sea, off Alaska's northern coast.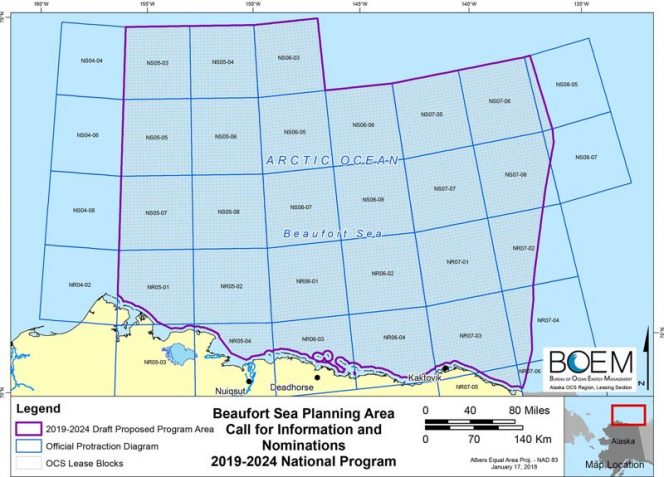 ---
BOEM said on Thursday that the EIS would analyze the potential effects of leasing, exploration, development, and production of oil and natural gas in the proposed lease sale area.
The notice of intent (NOI) to prepare an EIS will be published on Friday, November 16. Upon publication, a 30-day public comment period will open and last until Monday, December 17.
BOEM added that the proposed sale's inclusion in the Draft Proposed Program and the publication of this NOI did not mean a final decision to hold a lease sale was made. Rather, information gathered during the public comment period will help BOEM prepare the EIS, which, in turn, would inform a final decision on whether to hold the proposed sale.
James J. Kendall, director of BOEM's Alaska region, said: "We look forward to receiving thoughtful, substantive input on this EIS. We especially need to hear from residents of the Beaufort Sea communities, letting us know how the proposed leasing area is currently being used and what specific areas need extra attention."
The area identified for the potential lease sale includes the entire Beaufort Sea OCS planning area. The area encompasses about 65.1 million acres.
The Department of the Interior's 2019-2024 National Outer Continental Shelf Oil and Gas Leasing Draft Proposed Program proposes lease sales in the Beaufort Sea in 2019, 2021, and 2023.
BOEM last held a lease sale in the Beaufort Sea in April 2007. That lease sale resulted in the leasing of 90 blocks and brought more than $42 million into the federal treasury.
Related news
List of related news articles