Boskalis opens shore power facility for its vessels in Rotterdam
Dutch dredging and heavy lift company Boskalis has commissioned a large-scale shore power facility at its premises in the Waalhaven in Rotterdam, the Netherlands.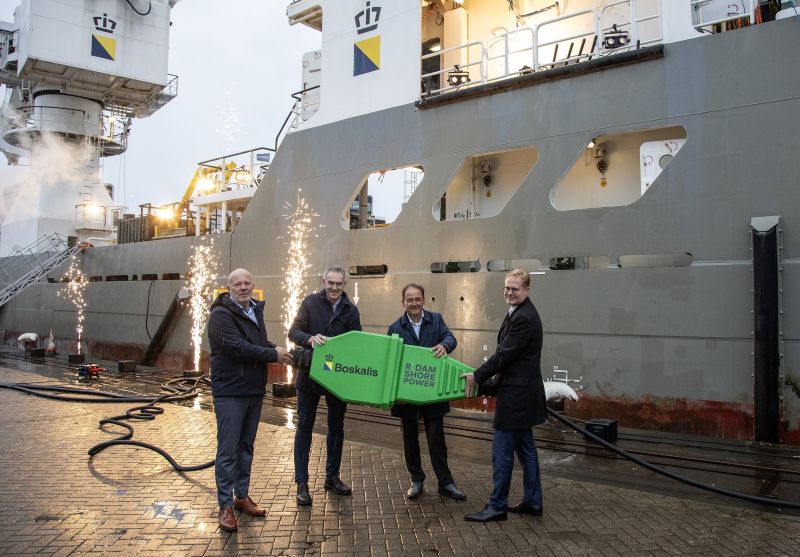 From now on, moored Boskalis' vessels will switch off their diesel-powered generators and use green shore power.
In addition, the shore power installation will be used for a variety of land-based electrical equipment deployed by Boskalis to carry out projects in the region.
The installation was strategically built on the Boskalis site in the Waalhaven where Boskalis' vessels come for maintenance and mobilization for offshore projects.
The shore power installation is expected to generate 2 GWh of green electricity per year, resulting in an annual CO2 reduction of 1,600 tons. Moreover, shore power contributes significantly to improving air quality by reducing particulate matter and nitrogen emissions and contributes positively to the living environment by reducing noise levels.
The new shore power installation is part of a series of measures taken by Boskalis to reduce its carbon footprint and promote the use of renewable energy sources at its offices and service centers.
Boskalis sources the green shore power from Rotterdam Shore Power — a joint venture between energy company Eneco and the Port of Rotterdam Authority — which owns the shore power installation, with Boskalis having realized the grid connection in-house. The green power supplied by Eneco originates from its Dutch wind and solar sources.
The project is co-financed by the municipality of Rotterdam and the European Union through the European Regional Development Fund.
Earlier this year, the Dutch Ministry of Infrastructure and Water Management revealed plans to allocate a sum of €140 million towards supporting the implementation of shore power installations within seaports. Additionally, an extra €40 million will be contributed from the climate fund.
The move is in line with the requirements of the upcoming Alternative Fuels Infrastructure Regulation (AFIR). The regulation ensures that European ports are obliged from 2030 to provide so-called AFIR ships with shore power.
A recent study has estimated that the European Union needs to triple or quadruple its installed shore power by 2030 to meet the current ambitions of the FuelEU Maritime regulation and the AFIR.