bound4blue installs two eSails on Amasus' general cargo ship
bound4blue, a Spanish developer of wind-assisted propulsion technology, has installed two eSAILs on Eems Traveller, a 2,850-dwt general cargo vessel owned by Amasus.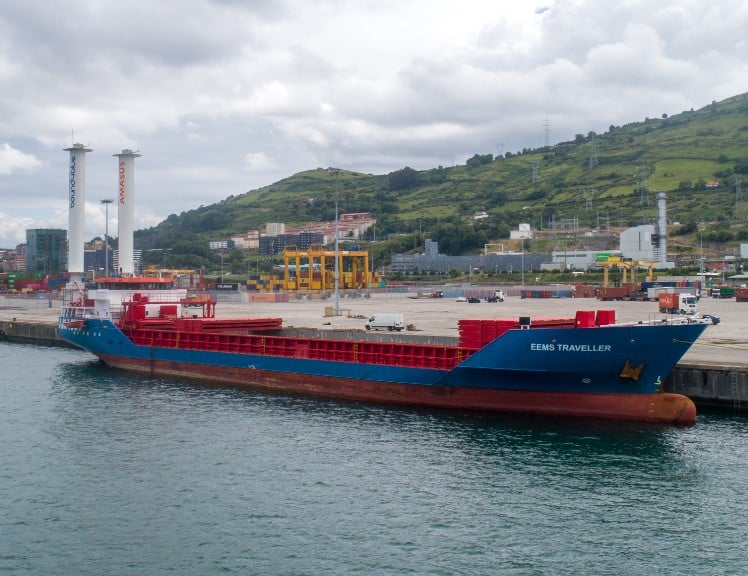 As informed, the installation was carried out  in two distinct phases. One year ago, during a scheduled regular dry-dock of the vessel, the foundations for the eSAILs were manufactured and installed in the Netherlands.
The verticalization manoeuvre and connection to the reinforcement of the sails were completed at the Port of Bilbao last week. In between these two phases, bound4blue has been monitoring the ship to obtain its baseline performance, which will be used by a third party to assess the fuel and emission savings results in the next twelve months.
In this way, scientifically validated results can be obtained, which are used to demonstrate the actual effects of the system in use on board the vessel and form the basis for any future further development.
"In the same way that we need proven sustainable solutions to decarbonize the industry, we also need to implement them as fast and efficiently as possible. As evidence of this, we have utilized for the first time the port infrastructure to install our systems, demonstrating that shipowners don't have to wait for the scheduled maintenance of the ship to start reaping the benefits of wind propulsion," José Miguel Bermúdez, CEO of bound4blue said.
"The joint development of this wind propulsion concept marks an important milestone and contribution to the aspiration in creating a sustainable future. As Amasus, we are proud and delighted to realize this new project together with our partners from bound4blue," Arend-Jan Rozema, Managing Director of Amasus, added.
The eSAIL system, categorized as a suction sail, is based on the use of a thick aerodynamic profile and smart suction to increase the propulsive efficiency, resulting in a system that produces seven times more lift than an airplane wing, according to the company.
These 17-meter sails represent a new and improved generation of the system installed on the La Naumon, delivering higher efficiency with the same size. The installation of these two sails on the Eems Traveller also marks the largest installation of fixed suction sails on a ship to date, boud4blue noted.
To remind, recently the firm signed a sales partnership agreement with Japan's Marubeni Corporation for the wind-assisted propulsion system eSAIL.