Bumi Armada slumps to loss on impairments. CEO set to leave
Malaysia's FPSO and OSV leasing company Bumi Armada is parting ways with its Chief Executive Officer Leon Harland, who will be leaving the company on May 15.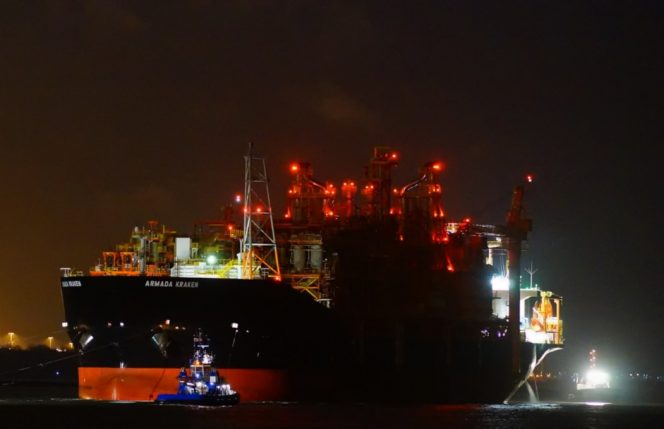 In a statement last week, Bumi Armada said that the CEO would be returning to his home country for personal reasons, and "therefore, will not be renewing his term with the company."
Harland, a Dutch national who has previously worked for Heerema Marine Contractors and SBM Offshore was appointed CEO in May 2016. He will now be transitioning his leadership role in Bumi Armada, to Gary Neal Christenson.
Bumi Armada said: "The Board is pleased to announce that Mr. Christenson, a member of the Board since May 2018, will be redesignated as Executive Director of Bumi Armada with effect from 27 March 2019, and will assume the CEO role, taking over from Mr. Harland, on 16 May 2019,"
Christenson has over 35 years of technical and managerial experience in the oil and gas industry, including management positions at Tenneco, British Gas, Unocal, and Santos in South East Asia and Africa.  He has a background in geology, and experience in managing large exploration and production projects, field startups, and tendering large marine projects. Christenson holds a Bachelor of Arts, Geology from Hamline University and he attended graduate school at Cornell University and Stanford University, USA.
"The Board takes this opportunity to thank Mr. Harland for his dedication and contribution to Bumi Armada, in particular, with respect to the delivery of 4 major key projects, and the subsequent streamlining and cost restructuring of the organization, during his tenure, and wishes him the best in his future endeavors," Bumi Armada said.
$564 million loss. OSVs up for sale
Bumi Armada's leadership change announcement came on the same day as the company announced its full year and quarterly results.
The Malaysia-based company reported a net loss of for the full year 2018 of RM2.3 billion (USD 564 million), due to the impairment of Armada Kraken FPSO – operating in the UK for Enquest – and certain OSV vessels, allowances for impairment losses and higher finance costs. Excluding the impairments and net allowance for impairments losses, the Group would have reported a net profit of RM216.5 million (USD 53 million).
The Group reported revenue for FY 2018 of RM2.4 billion. The Group saw revenue from the Floating Production business increase by 18.2% in FY 2018 over FY 2017. The increase in the FPO revenues was mainly due to full-year contributions from the Armada Olombendo and Armada Kraken FPSOs.
The OMS business, however, saw a 25.2% decline in revenues in FY 2018 over FY 2017. The SC segment revenue in FY 2017 was boosted by one-off recognition from the signing of the supplementary agreement in relation to the Lukoil contract in the Caspian Sea. In the OSV segment, FY 2018 saw a decline in fleet utilization compared to FY 2017, which resulted in lower revenue contributions.
Commenting on the results, the outgoing CEO Leon Harland said: "The Group faced a financially challenging year in 2018, which was largely marked by the difficulties encountered on the Kraken FPSO and the ongoing low utilization of our OSV fleet. As a result, we have taken the impairments in both our FPO and OMS businesses on a prudent basis and this has resulted in a substantial loss to the Group's bottom-line. In parallel, we have streamlined the organization, resulting in a significant reduction in staff numbers, and have been continuing our efforts to sell our under-utilized assets.
"We continue to review our OSV fleet requirements and have several vessels under discussion for disposal. Going forward, the aim is to complete the refinancing of the Group corporate debt in the near future, monetize assets and enhance the performance from Armada Kraken."
To remind Armada Kraken FPSO achieved first oil back on June 28, 2017, four and a half months after its hook-up, however, in August the same year, EnQuest had to downgrade its full-year oil production forecast amid topside commissioning delays with the Armada Kraken FPSO.
In an operational update last month, EnQuest said that average gross production from the Kraken field in 2018 had been 30,310 Bopd, below expectations.
Throughout 2018, production was limited by a number of weather-related and FPSO production system outages, with March, November, and December being particularly affected, Enquest said in February 2019.
Offshore Energy Today Staff
Related news
List of related news articles