Bumi Armada to pay $15 million for Kraken FPSO settlement
Malaysia's FPSO operator Bumi Armada has agreed to pay $15 million to oil company EnQuest to settle the previous issues with the Kraken FPSO.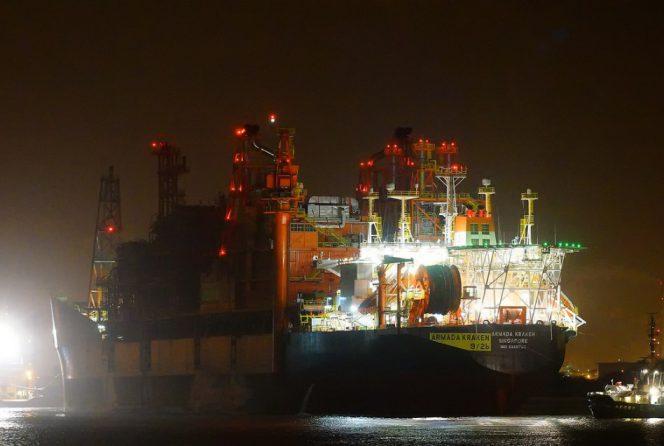 Bumi Armada delivered the Kraken FPSO in February 2017 to the EnQuest-operated Kraken field in the North Sea.
The two companies have been working to resolve a dispute which stemmed from the delays in FPSO topsides commissioning.
The FPSO achieved first oil on June 28, 2017, four and a half months after its hook-up, however, in August the same year, EnQuest had downgrade its full- year oil production forecast amid topside commissioning delays with the Armada Kraken FPSO.
EnQuest on Wednesday said it had "agreed compensation settlement with Armada Kraken Pte Ltd, a wholly-owned subsidiary of Bumi Armada Berhad ('Bumi'), in relation to historic issues with the FPSO."
The oil company added that Bumi would pay $15 million to the Kraken partners, "which is to be fully settled by 17 December 2018."
"While there is still further work to complete before a final acceptance certificate can be issued, this agreement allows all parties to work together to deliver final acceptance on a defined basis," EnQuest said.
In a separate statement on Wednesday, Bumi Armada CEO Leon Harland, said the agreement was an important step forward as it "finally provides an objective roadmap to establish the Final Acceptance of the Armada Kraken FPSO and it mitigates some critical exposures under the original contract."
Nonetheless, Harland said, we have taken substantial provisions in view of the long-term financial exposures that remain under the contract.
During the second quarter of 2018, Bumi Armada recognized an impairment charge of RM477.2 million a for the Armada Kraken FPSO.
As a result of these impairments, the Group recorded a net loss of RM585.5 million during Q2 2018, as compared to a net profit of RM116.6 million in Q2 2017. Excluding the non-cash impairment charges, the Group would have posted a net profit of RM10.8 million.