Cable laying and burial underway at Viking Link UK landfall
Cable laying and burial works are currently underway at the Viking Link landfall in Lincolnshire, UK.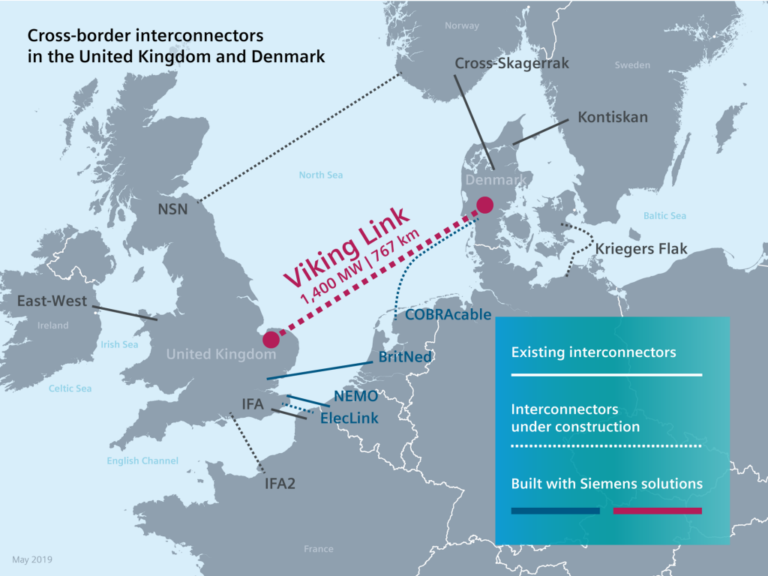 The work covers the first campaign of 51 kilometers starting from the UK landfall at Boygrift.
Prysmian PowerLink began the cable laying works on 10 May using Cable Enterprise, with work expected to be completed on 23 June.
Asso.subsea kicked off the cable burial on 12 May, which is being carried out by Atalanti using the AssoTrencher V and Argo using the AssoJet III and AssoTrencher IV. It is planned to be completed by 30 July.
Following completion of the landfall, the cable layer Cable Enterprise will surface lay the cable on the seabed along the HVDC cable route, with burial following soon after.
In addition, mattresses have been placed on the HVDC cable at the Hornsea 2 crossing interface and at the Babbage crossing.
The Viking Link interconnector will connect Revsing in South Jutland, Denmark, and Bicker Fen in Lincolnshire, UK.
Siemens Energy is in charge of the UK and Denmark converter stations on both ends of the interconnector.
The 740-kilometer long 1.4 GW link is expected to go into operation at the end of 2023.