Cairn to spud three wells as operator in UK & Norway in 3Q 2019
Oil and gas company Cairn Energy plans to drill a total of four exploration wells across a variety of play types in the UK and Norway during 2019. Cairn is the operator of three of these wells and a partner in one.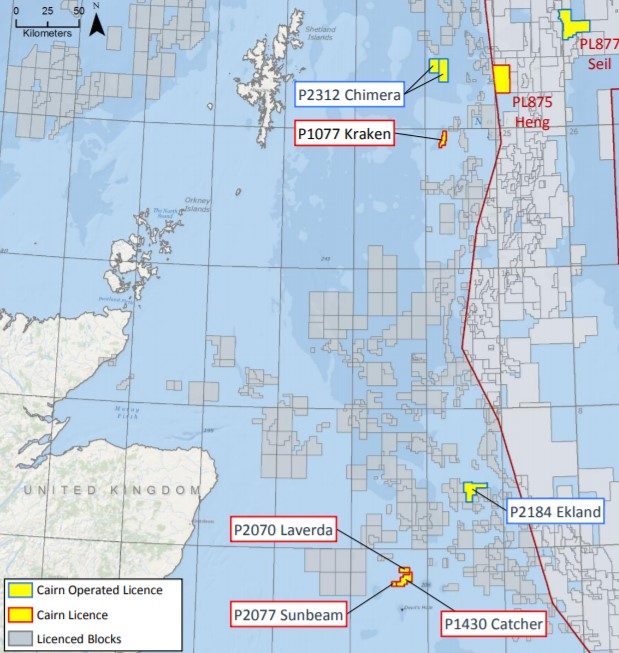 Cairn said in an update on Tuesday that the Presto prospect, where Cairn is a partner with a 30% WI, is expected to spud shortly.
The Presto prospect, formerly Stjerneskudd, is located on PL885 in the Norwegian sector of the North Sea where Equinor is the operator. Other partners are Petoro and Wellesley.
Cairn plans to spud the other three wells – Lynghaug, Godalen, and Chimera – in the third quarter of 2019.
The Lynghaug prospect is located in PL758 in the Norwegian Sea, six km South-East of the Norne field in the Nordland II area. Cairn's partners in the license are Lundin and Skagen44.
The duration of the well will be about 25 days. In case of discovery, Cairn will consider a potential tie-back to existing infrastructure, Norne FPSO.
The Godalen prospect is located in PL842 in the Norwegian Sea. Cairn's partners in the license are Skagen44 and Pandion Energy, following Aker BP's stake sale in December 2018.
The Chimera prospect, which is targeting 154 gross mmboe mean resource, is located in P2312 in the UK sector of the North Sea. The well will be drilled over a period of about 25 days. It has a potential to be developed as a stand-alone development.
Back in November 2018, Cairn entered into a farm-out agreement with an unnamed operator for a 40% non-operated interest in License P2312 containing the Chimera prospect. The farm out agreement is conditional upon regulatory consent.
In addition, Cairn will drill two wells offshore Mexico as the operator. In Block 9, drilling operations on the first well are expected to start in 3Q, followed by the second well in 4Q 2019.
Cairn's capital expenditure for 2019 is currently forecast at about $305 million. The company's current forecast for exploration and appraisal expenditure is about $170 million.
Offshore Energy Today Staff