Colossal 24K TEU boxship MSC Mette joins MSC's fleet
Jiangnan Shipyard, a subsidiary of China State Shipbuilding Corporation (CSSC), has delivered new 24,116 TEU containership MSC Mette built for Swiss shipping major MSC Mediterranean Shipping Company and ICBC Financial Leasing Co.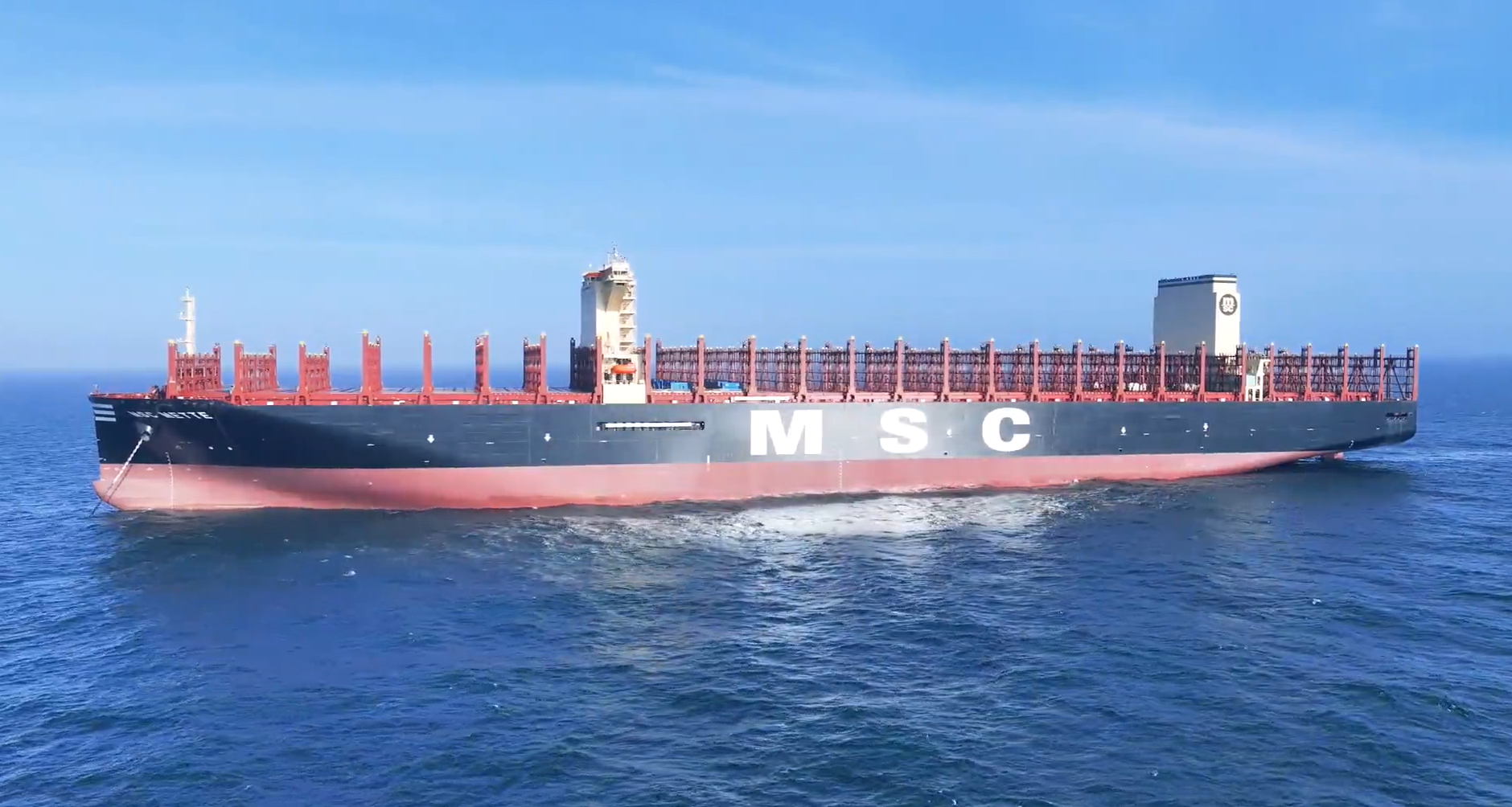 As informed, the delivery ceremony for the vessel took place in China on 27 July. The unit was designed by Chinese shipbuilder Hudong-Zhonghua.  The total length of the ship is 399.99 meters, the molded width is 61.5 meters, and the molded depth is 33.2 meters. It can carry 24,116 containers, belonging to one of the world's largest containership by carrying capacity.
According to the shipbuilder, the containership incorporates a range of innovative features that reduce its environmental impact while enhancing operational efficiency including a small bulbous bow, large diameter propellers, and energy-saving ducts.
Furthermore, the giant feeder is fitted with an air lubrication system that effectively minimizes drag on the hull.
The air lubrication system creates a layer of bubbles between the ship's hull and the surrounding water, significantly reducing friction and hydrodynamic resistance. Experts estimate that this technology will provide energy savings of three to four percent, leading to a substantial decrease in CO2 emissions.
The shaft generator system is installed for the first time, which is expected to reduce fuel consumption, optimize fuel consumption and ship's Energy Efficiency Design Index (EEDI), and reduce greenhouse gas emissions.
The shipbuilder also revealed there are four ships in this series, and the last one will be delivered in late September this year.
Last month, MSC welcomed another 24,000 TEU behemoth, MSC Mariella. Yangzi Xinfu Shipyard, a subsidiary of Jiangsu Yangzijiang Shipbuilding Group, built and delivered the vessel.
MSC's fleet build-up efforts have paved the way for the liner major to become the first ocean carrier to surpass a staggering 5 million TEU in fleet capacity.
The liner major has effectively doubled the size of its fleet in just eight and a half years, solidifying its position as a prominent force within the maritime sector. Namely, MSC has purchased 306 containerships with a capacity of 1.2 million TEU since August 2020. what is more, the Swiss-based container shipping giant has the largest orderbook by far in the industry with around 130 containerships on order.