Deal for ExxonMobil's LNG project enables UK player's first 'long-term' foray into Papua New Guinea
Aberdeen-headquartered maintenance and engineering services specialist Sparrows, now part of Altrad Group and called Altrad Sparrows, has expanded its footprint in Papua New Guinea, thanks to a new contract for the provision of comprehensive crane maintenance services to ExxonMobil's liquefied natural gas (LNG) project in the country.
Sparrows sees the three-year contract for ExxonMobil's PNG LNG project as "a momentous contract win," which includes a one-year extension option. This marks the firm's "first long-term venture" into Papua New Guinea and continues its strategic expansion into the region. The contract was awarded through Altrad Cape, providing Sparrows the opportunity to leverage being part of the Altrad Group and utilize their established presence and expertise in the region.
Matt Marinovich, Regional Manager – Australasia of Sparrows, commented: "We are immensely proud to have secured our first contract in Papua New Guinea, a nation with enormous potential. This contract win is a testament to our expertise, commitment to excellence, and ability to deliver world-class solutions even in the most challenging environments."
Under the terms of the deal, Sparrows explains that it will deliver crane maintenance services, including both planned maintenance and breakdown/repair services, playing "a vital role" in the operational integrity of ExxonMobil's fleet of mobile cranes across its sites, including both the upstream Hides gas plant and downstream LNG facility.
While this will ensure that crucial lifting equipment is consistently maintained to the highest standards, additional overhead and engineering scopes may be required in the future, according to the UK-based player. Australasia represents a strategic growth region for Sparrows, offering opportunities for collaboration in the LNG, onshore industrial, and offshore energy sectors.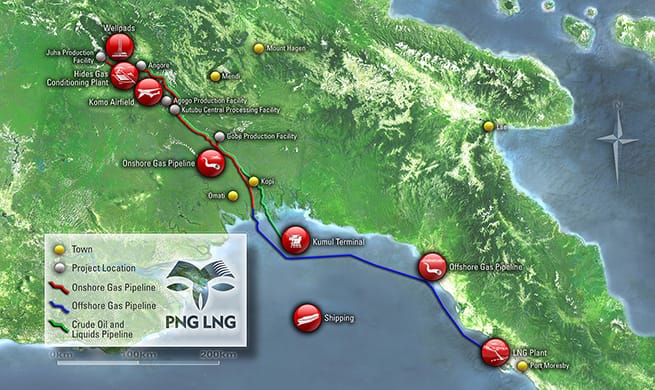 "Sparrows is dedicated to actively participating in the growth of the local workforce and will also develop PNG local technicians through their training and competency programs to provide the services under the contract, supporting the local community and contributing to the nation's economic advancement in Papa New Guinea," outlined the company.
PNG LNG is an integrated development, commercializing the gas resources of Papua New Guinea and producing over 8 million tons of LNG each year which is exported to four major customers in the Asia region. ExxonMobil PNG Limited is the operator of the $19 billion project.
The production operations include gas production and processing facilities, onshore and offshore pipelines, and liquefaction facilities. The project start-up occurred in the middle of 2014. The liquefied natural gas is shipped to customers in Asia. More than 11 trillion cubic feet of LNG are anticipated to be produced over the life of the PNG LNG project.
Recently, Santos executed a binding sale agreement to sell Kumul Petroleum Holdings a 2.6% participating interest in PNG LNG for a total purchase consideration comprising cash of $576 million and the assumption of around $160 million of project finance debt.