ICTSI: Ecuadorian terminal handles world's 1st carbon-neutral container shipment
Contecon Guayaquil (CGSA), a terminal at the Port of Guayaquil in Ecuador, recently handled the world's first carbon neutral-certified container shipment, employing a logistics process involving environment-friendly supply chain players, from the exporter to the port and distributor.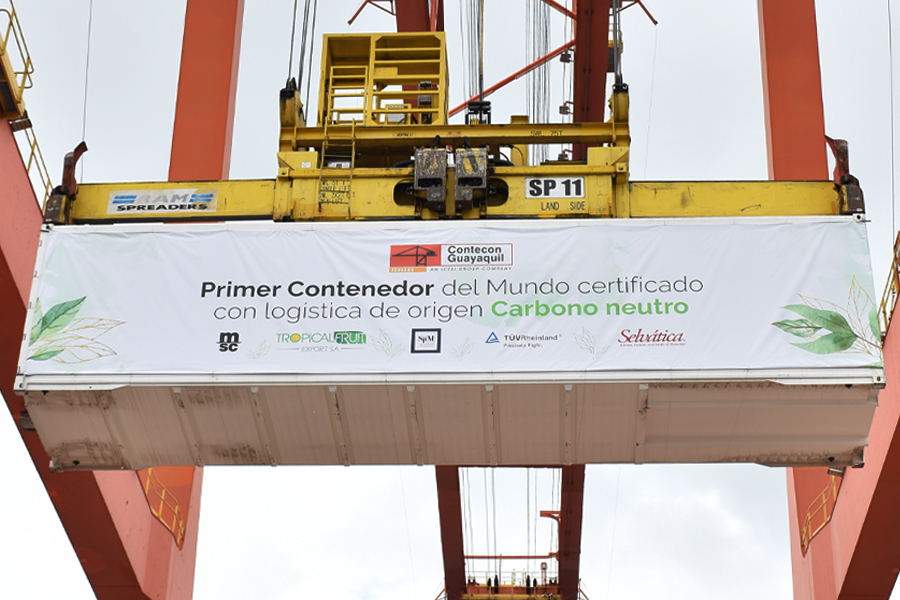 CGSA loaded the container to Antwerp-bound vessel MSC Geneva.  
The shipment of Ecuadorian bananas came from TropicalFruit, an Ecuadorian company dedicated to exporting tropical fruits using standards with emphasis on environmental preservation, social responsibility, health, and safety. The company has been certified as carbon neutral since 2015.
CGSA loaded the container to Antwerp-bound vessel MSC Geneva. CGSA, the first port operator in the Americas to obtain ISO 14064 carbon neutral certification from TUV Rheinland, applied the principles of environmental stewardship and use of clean technology to protect its surrounding areas. CGSA's certification and compensation process was performed locally by Sambito S.A.
Finally, the bananas were distributed and marketed under the Societe International d'Importation (SIIM) brand Selvatica.
"It's such a source of pride for us that Contecon Guayaquil S.A., concessionaire of Guayaquil's public port, has achieved this milestone, and that it has been the first to do so. We weren't wrong last year when we released $170 million worth of investment for this port, and we signed the addendum to give them 19 more years for the concession," Gabriel Martínez, Ecuadorian Minister of Transport and Public Works, said.
As explained, the milestone demonstrates how exporters can certify their supply chain processes to achieve greater competitiveness in the most exacting markets and at the same time be in compliance with global regulations to successfully meet consumer demand for products from sustainable processes.
In March 2007, Philippine port operator International Container Terminal Services (ICTSI) was awarded by the port authority of Guayaquil, Autoridad Portuario de Guayaquil (APG), a 20-year operating concession for the container and multipurpose terminals in Guayaquil. Later in May, a contract was formally signed between APG and Contecon Guayaquil SA, ICTSI's local operating unit. The terminal handles containerized, general and bulk cargo.
In October 2020, CGSA has signed an investment contract with the Ecuadorian state to further strengthen and develop the Port of Guayaquil. CGSA is investing $18 million to boost the port's capacity to handle Neopanamax vessels. CGSA started servicing Neopanamax boxships in 2019, becoming the first port in the country capable of handling this large class of containerships following the dredging of the 95-kilometer access channel leading to the Port of Guayaquil.
Beyond the contract, CGSA plans to increase the total investment amount to $30 million as part of its commitment to enable and promote Ecuador's foreign trade.