EMEC lead on US ocean energy project review
EMEC has strengthened its collaboration with the United States feeding ocean energy expertise into the 2019 Project Peer Review Report.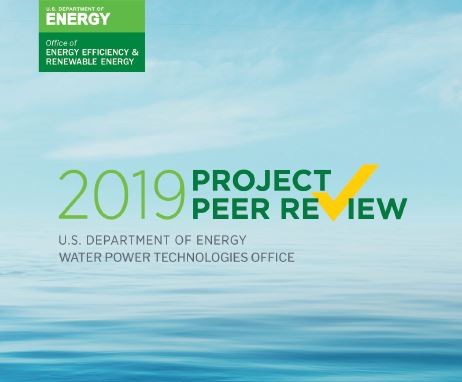 The 2019 Peer Review was conducted by a review panel coordinated by the U.S. Department of Energy (DOE)'s Water Power Technologies Office (WPTO).
Released yesterday, the Project Peer Review report provides a review of the marine hydrokinetics (MHK) and hydropower programmes.
Elaine Buck, technical manager at the European Marine Energy Centre (EMEC) acted as chair for the MHK Peer Review programme and lead technical reviewer.
The panel evaluated the MHK programme strategy as well as individual ocean energy projects and new initiatives.
Projects had to meet a set criteria spanning specific activity areas including foundational R&D, technology design and validation, reducing barriers to testing and data sharing.
Conducted every two years, the Project Peer Review is a key tool offering a holistic focus understanding of US research and development efforts.
As chair and technical panel lead, EMEC contributed its knowledge of ocean energy sector progress in the UK and across Europe into project reviews and influenced strategic direction of the DOE MHK programme strategy going forward.
Alejandro Moreno, director of the Water Power Technologies Office, said:
"As the MHK Chair for the 2019 WPTO Peer Review, Elaine Buck led a panel of twelve subject matter experts in reviewing the DOE marine energy R&D strategy and 41 individual projects.
"Elaine, with her expertise in marine energy and knowledge of the sectors in both Europe and North America, was invaluable to the review of our program.
"We also appreciate the important collaboration we have with EMEC, especially their advisory support for the PacWave facility under development.
"We know the marine energy community will benefit for years to come thanks to Elaine's efforts and our enduring partnership with EMEC."
Elaine Buck, technical manager at the European Marine Energy Centre, said:
"It was an honour to chair the MHK Peer Review and share learnings from EMEC's 17 years' experience in R&D testing.
"The model programme of peer review should be adapted and followed in European projects which support joint strategic direction of ocean energy developments.
"International collaboration and sharing lessons learned is vital to the US project peer review process and contributes to the success of a global marine energy industry."