Emyprean, CNOOC ink PSC for South China Sea block
China's CNOOC has signed a production sharing contract (PSC) with Empyrean Energy PLC (Empyrean) for Block 29/11 in the South China Sea.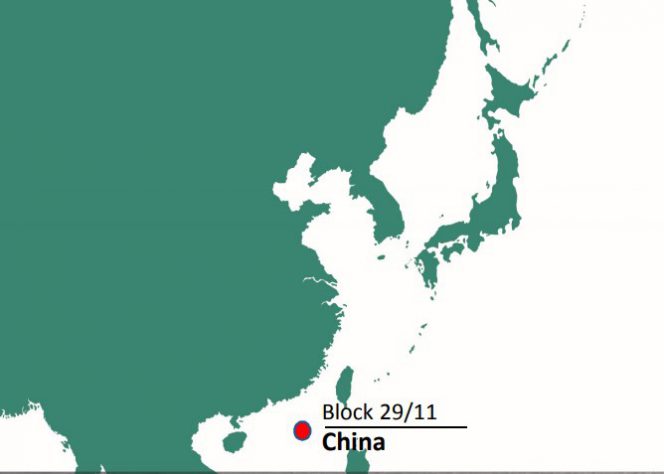 Empyrean will act as the operator of the block located in the Pearl River Mouth Basin of the South China Sea during the exploration period. The Block covers a total area of 1808 square kilometers
According to the terms of the PSC, Empyrean will conduct exploration activities in the block with all the exploration costs to be borne by Empyrean.
Once entering the development phase, CNOOC has the right to participate in up to 51% of the participating interest in any commercial discoveries of the block.
Empyrean has already completed 580km2 of the 3D seismic survey over the block. The survey has been designed to provide full fold 3D seismic coverage over exploration prospects, Jade, Topaz and Pearl.
The company reported in June 2018, based on comprehensive seismic interpretation of fully processed 3D data that an internal Company estimate had indicated total Preliminary Prospective
Resources (Best) Estimate of 774 MMbbl for the three prospects. Empyrean has described the Jade and the Topaz prospects as high priority and drill ready.
The permit is directly South East of the billion barrel+ Liuhua Oil Field complex operated by CNOOC and four recent discoveries to the permits West and South further enhance the exploration attractiveness of the Jade and Topaz prospects.
Empyrean last month engaged Gaffney, Cline & Associates ("GCA"), a global oil and gas consulting agency, to complete a third-party independent audit of oil initially in place estimates over the Jade, Topaz and Pearl prospect. Empyrean had said the results would be completed by October 2018.
Under the PSC, Empyrean has the option of entering Phase 2 after relinquishing 25% of the current area. Phase 2 has a commitment of drilling one additional exploration well to a depth of 2,500m or to the Basement Formation within a further 2-year timeframe.
Empyrean CEO Tom Kelly commented, "Entering into the PSC marks an important milestone for the Company with regards Block 29/11.  Tenure is now secured on Block 29/11 for 2.5 years. We are looking forward to drilling one of the exciting, potentially company transformational prospects that we have identified via the recently acquired 3D seismic. Alternatives for drilling our first well on Block 29/11 within the 2.5-year time frame are open, with farm-out, sale of an asset or alternative fundraising all being considered."
Offshore Energy Today Staff
Related news
List of related news articles