ExxonMobil kicks off drilling ops in Brazil with Seadrill drillship
U.S. oil and gas major ExxonMobil has started drilling an exploration well on the Cutthroat prospect, located in the Sergipe-Alagoas Basin off Brazil, using one of the Seadrill-owned ultra-deepwater drillships.

Enauta, whose subsidiary Enauta Energia holds 30 per cent working interest in nine blocks in the Sergipe-Alagoas Basin, informed on Monday that drilling of the first exploratory well in Block SEAL-M-428, 1-EMEB-3-SES – holding the Cutthroat prospect – had already begun.
Seadrill's West Saturn drillship has been executing the drilling operations in a 3,093-metre water depth. Based on the firm's statement, the estimated duration of the drilling operations is between two and four months. Enauta also added that its 1-EMEB-3-SES well-related costs would be partially carried by its partners ExxonMobil and Murphy Oil, according to respective farm-out agreements.  
ExxonMobil is the operator and holds a 50 per cent interest in a consortium with Enauta (30 per cent) and Murphy Oil (20 per cent) in the Sergipe-Alagoas Basin. This announcement comes after the Brazilian Institute of the Environment (Ibama) granted a five-year license to ExxonMobil last week for a drilling campaign – entailing up to 11 exploratory wells in blocks SEAL-M-351, SEAL-M-428, SEAL-M-430, SEALM-501, SEAL-M-503, SEAL-M-573.
As reported at the time by Petroleo Hoje, a Brazilian publisher specialising in oil and gas news, these blocks cover an area of approximately 4,531 km² and are located in water depths between 1,900 and 3,800 metres.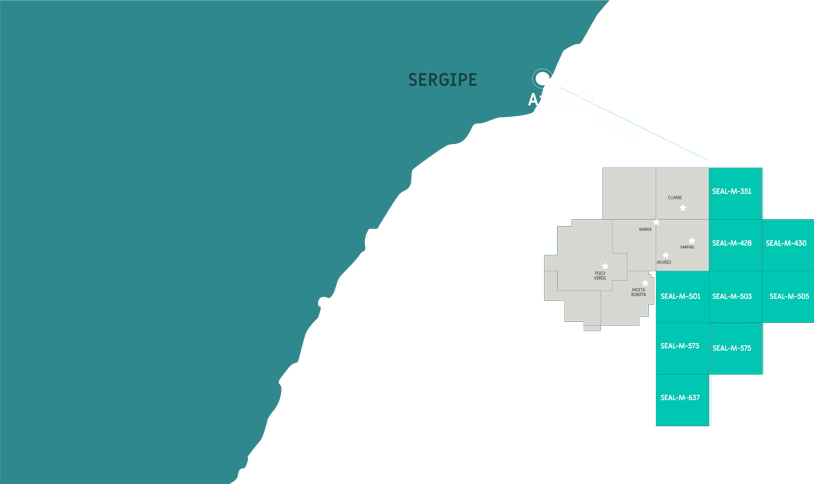 Located on the continental margin of the northeast region of Brazil – covering part of the states of Sergipe, Alagoas and a small portion of the state of Pernambuco – the Sergipe-Alagoas Basin has a total area of about 44,000 km² with approximately 32,000 km² being offshore. So far, more than 2.8 billion barrels of oil equivalent have been discovered in this basin.
Regarding recent developments within this basin, it is worth noting that the Brazilian giant Petrobras submitted in January 2022 a declaration of commerciality to the country's authorities for fields located in the basin with plans to develop them with FPSO-type units.
The BM-SEAL-4 and BM-SEAL-4A areas were acquired in 2000, while the BM-SEAL-10 and BM-SEAL-11 areas were obtained in 2004. Petrobras also suggested the names for the new fields within the declarations sent to the regulator.