Frontline posts strongest quarterly results in 14 years, remains bullish on tanker market outlook
Norwegian tanker owner and operator Frontline revealed its highest quarterly net income since the second quarter of 2008 standing at $240 million for the fourth quarter of 2022.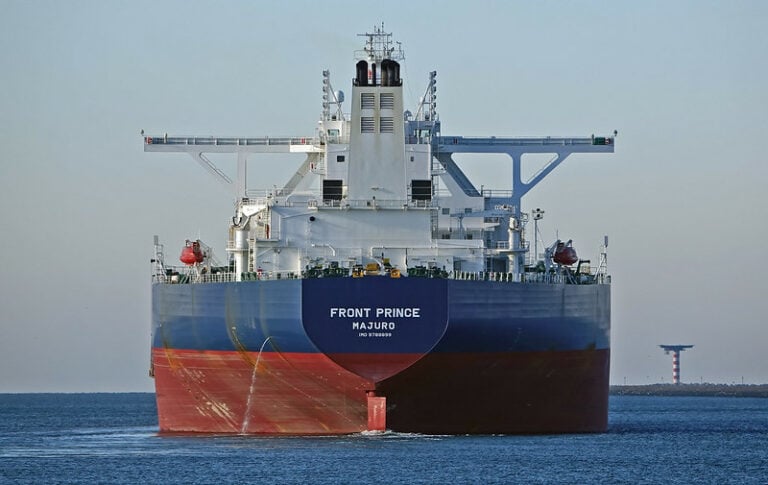 "The fourth quarter of 2022 may have given us a preview of the years to come in the tanker market as Frontline posts its best quarterly result in more than 14 years. With Chinese demand returning in earnest, the VLCC market also kicked into action during the fourth quarter and Frontline reaped the full benefits of its lean and efficient operations with all asset classes generating solid shareholder returns," Lars H. Barstad, Chief Executive Officer of Frontline Management AS, said.
"Overall freight demand continues to be positively affected by expanding trade lanes caused by Russian sanctions and the price cap on product exports that kicked in on the 5th of February. We should not forget this is all happening against the backdrop of an ageing fleet, dwindling orderbooks and unprecedented lead-times to new tonnage supply providing further support for the markets."
Ordering of new tankers reached its lowest point in the past 27 years in dwt terms, Frontline said. The reason behind low ordering remains a marginal number of available berths being discussed for late 2025 delivery, predominantly in China.
However, to compensate for the growing numbers of vessels reaching 20 years of age over the next years, one needs to look to 2026.
"This continues to be the fundamental reason one may remain positive for tankers for the years to come," Frontline said.
During the fourth quarter of 2022, only two newbuilding orders were reported for VLCCs, two for LR2 tankers and none for Suezmax tankers. At the end of 2022, the orderbook stood at 3.1% of the existing fleet for VLCCs, 1.7% for Suezmax tankers and 13% for LR2 tankers.
Frontline said that tankers are now facing negative fleet growth in 2024 according to industry sources, which hasn't happened since 2002.
At the same time, the EIA expects global oil demand to rise by 5.9 mbpd over the same period. China is expected to be the largest contributor to demand growth, whilst over 80% of new production is expected to come from the US, implying growing distances between supply and demand growth.
Fleet rejuvenation
The company's strategy for meeting IMO decarbonization targets has been fleet modernization. Over the past two years, Frontline welcomed into the fleet at least a dozen of ECO-type VLCCs and LR2 tanker newbuilds.
The company took delivery of the three remaining VLCC newbuildings from Hyundai Heavy Industries (HHI): Front Gaula in October 2022, and scrubber-fitted Front Orkla and Front Tyne in January 2023, pushing the fleet to 72 ships in total.
At the end of last year, Frontline's owned fleet included 40 scrubber-fitted vessels (17 VLCCs, 19 Suezmax tankers, and four LR2/Aframax tankers). Additional scrubber installations are planned on two owned VLCCs in 2023, and once completed the company expects to have 64% of its fleet fitted with scrubbers installed.
As for the existing fleet, Frontline is working on improving voyage efficiency, and fuel consumption as well as investing in engine technology optimisation and cleaning systems for vessel hulls and propellers to reduce drag and thus save fuel while cutting emissions.
In 2021, Frontline managed to fully digitalize its ship performance data into its digital monitoring platform, Veracity. Closely monitoring, managing, and reporting ESG-related KPIs, including energy efficiency and health and safety metrics, forms the basis for the disclosures within the company's ESG reports.
In its ESG report for 2021, Frontline said that the majority of its fleet was already compliant with EEDI, with its 2010-built Suezmaxes identified to be 15% better than the 2023 EEXI requirement. For a minor part of the fleet, an engine power limitation (EPL) is planned.
As for the CII regulation, Frontline said that the company has identified what technologies are needed, saying that considering the company's young fleet these investments are expected to be minimal.
In terms of alternative fuels, Frontline has trialed biofuels on its vessels provided by TFG Marine.
Frontline also revealed that it sold the 2009-built VLCC, Front Eminence, and the 2009-built Suezmax tanker, Front Balder, for a total of $100.5 million last month. The vessels were delivered to new owners in January and February, respectively.
After the repayment of existing debt on the vessels, the transactions are expected to generate net cash proceeds of approximately $63.8 million, and the company expects to record a gain on sale of $12 million in the first quarter of 2023.