FueLNG completes 100th LNG bunkering operation in Singapore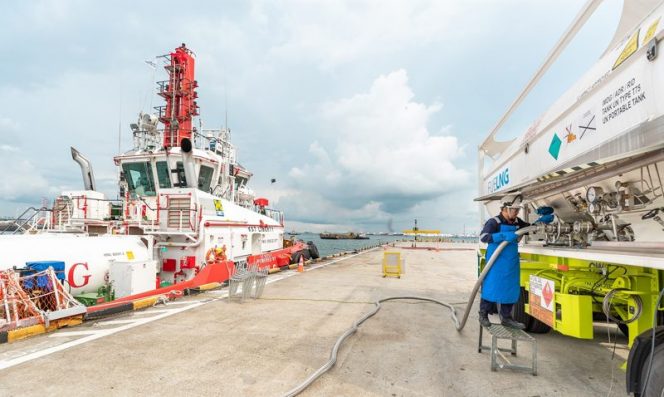 ---
FueLNG, a joint venture between Keppel O&M and Shell Eastern Petroleum, has set a new milestone with the completion of its 100th LNG bunkering operation in Singapore.
Keppel said on Monday that the 100 LNG bunkering operations were completed without lost-time incidents and in accordance with the standards for LNG bunkering in the country.
Since May 2018, FueLNG has been providing truck-to-ship LNG bunkering for two dual-fuel tugs operated by Keppel Smit Towage. FueLNG is also able to provide LNG for the commissioning of LNG systems and machinery, and trials for gas-fuelled vessels.
In September 2017, FueLNG completed its first operation and provided LNG for the commissioning of the floating liquefaction vessel Hilli Episeyo.
Chris Ong, chairman of FueLNG and CEO of Keppel O&M, said: "We are optimistic that the industry will increasingly adopt LNG as a marine fuel and look forward to furthering our partnership with industry stakeholders to build a world-class LNG bunkering network in Singapore."
Tahir Faruqui, director of FueLNG and the head of Shell Global Downstream, added: "The delivery of our LNG bunkering vessel in 2020 is an important step for growing a robust and reliable global LNG fuel supply chain in the years to come as we will be able to increase the availability of LNG with ship-to-ship services for our end clients."
FueLNG placed an order in June 2018 with Keppel O&M to build Southeast Asia's first LNG bunkering vessel set to be completed in the third quarter of 2020.
It is worth noting that Keppel Smit Towage observed that when running on LNG tugs perform as efficiently as when using diesel but consume 5% less fuel in tonnes.
Related news
List of related news articles