GCMD survey unveils decarbonization blind spots: Industry cannot decarbonize without conservatives
Singapore-based Global Centre for Maritime Decarbonization and Boston Consulting Group have revealed major insights from the Global Maritime Decarbonization Survey during a presentation held at Nor-Shipping 2023's Tradewinds Ocean Stage. The survey sheds light on the current state of maritime decarbonization and provides guidance for driving action within the industry.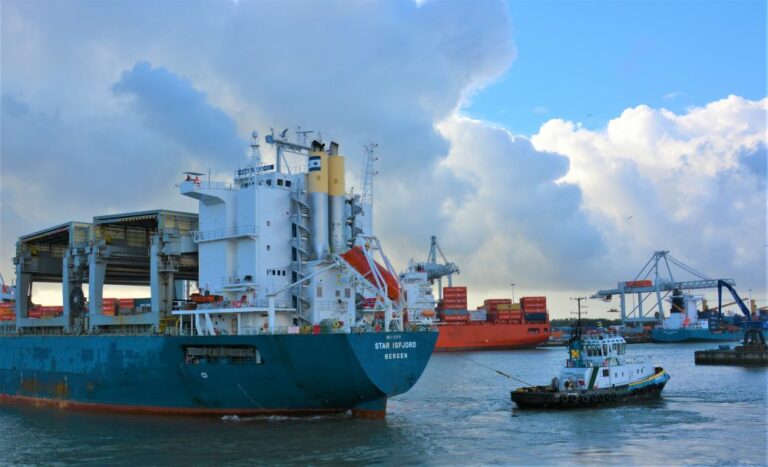 During the presentation, Lynn Loo, CEO of the Global Centre for Maritime Decarbonization (GCMD), and Seng Chiy Goh and Michael Tan from Boston Consulting Group shared the survey's preliminary findings. The speakers emphasized the urgency of addressing decarbonization in the maritime sector, noting that the current pace of change is insufficient.
The survey received an overwhelming response from the industry, with 130 ship owners and operators participating, representing a total of 14,000 vessels and contributing over $500 billion in revenues. The participants were geographically diverse, representing various vessel types and fleet sizes, ensuring a representative sample.
"We know that shipping is very heterogeneous in fleet sizes. Some 60% of the ships on the water today are owned by ship owners that have less than 20 ships in their fleets. The average ship owner owns four and a half ships, so it's important for us to have representation not only of the ship owners that have big number of vessels but also of those ship owners that have a small number of vessels as well. We're really proud to say that 25% of our respondents are small to medium size ship owners with less than 20 vessels," Loo said.
The survey revealed that the industry's green ambition is high, as 70% of respondents consider decarbonization and achieving net-zero emissions a top priority. Moreover, 75% of participants have set either net-zero or intermediate targets, showcasing a commitment to action. Approximately 30% of respondents have already developed decarbonization roadmaps, and an additional 60% are currently in the process of creating their roadmaps.
To analyze the adoption of decarbonization measures, the survey classified respondents into three archetypes: front runners, followers, and conservatives. Front runners, accounting for 20% of respondents, are the most advanced in their decarbonization journey, investing more and exploring nascent technologies. Followers (40% of respondents) are also committed to decarbonization but focus on solutions with shorter-term payback. Conservatives (40% of respondents) are in the early stages of adoption, hindered by limited awareness of available technologies and internal resource constraints.
The survey further explored the adoption of specific measures, including technological and operational efficiency levers. Front runners demonstrated a greater willingness to adopt nascent levers, while followers prioritized solutions with immediate return on investment. Conservatives faced challenges in adopting advanced measures due to limited awareness and internal capabilities.
As explained by Loo, conservative companies are the least familiar with the technical and operational measures and technologies available on the market which is the cause of the bottleneck combined with insufficient internal capabilities and resources that are hindering progress.
Future fuels
Regarding future fuels, the survey highlighted the importance of biofuels, methanol, and ammonia in the front runners' strategies. Over 90% of front runners expressed plans to adopt biofuels, methanol, or ammonia by 2026 or 2029. However, the survey emphasized the need for infrastructure development and safety measures to support the widespread adoption of these future fuels.
"We asked our respondents if and when they adopt these future fuels would they bunker more frequently or give up cargo space to fit a larger fuel tank, as ammonia and methanol are less energy-dense than fossil fuels and ships will need more of the fuel to continue business as usual. Across the board, 60% said they would bunker more frequently, " Loo said, explaining that this would have a strong implication on global bunkering patterns on major trading routes.
This means that ships on the iron ore route from Australia to Japan or the chemical tanker route from Houston to Europe would need bunkering facilities on both ends so that they can go back and forth. On the container route between China and Europe, ships adopting ammonia or methanol wouldn't be able to make it even a single way without bunkering. Therefore, future bunkering patterns are expected to become more distributed and networks of bunkering facilities will be needed to support the future vessels.
Another interesting finding came out of the question of what's the oldest vessel that respondents would retrofit with future fuel capabilities and the answer was about 10-11 years.
This means that if we look at the global fleet today, about 65% of the existing fleet will never consume a single drop of future fuel, and this share is likely to be even higher due to the ongoing shipyard constraints and customers' willingness to pay more for green fuels.
Therefore, it is important to look at other measures such as 'drop in' fuels and shipboard carbon capture to help decarbonize existing fleets.
"When we asked respondents to say how important they see shipboard carbon capture in the grand scheme of things and in the green transition we were actually pleasantly surprised because 55 to 65% of respondents across all archetypes view it as important or extremely important," Goh said.
"However, the flavors are different in terms of their outlook and when they actually plan to adopt it."
Front runners acknowledged its importance and planned to pilot the technology as early as 2025. However, followers and conservatives had longer timelines for adoption, reflecting their differing outlooks and resource limitations.
Followers and conservatives estimate that onboard carbon capture will be commercially available in 2030 or slightly beyond with the biggest enabler for the technology expected to be the regulatory framework and not the maturity and performance of the solution which is the case for front runners.
The survey concluded that while the industry's green ambition is high, there is a need to support and engage conservative companies. With approximately 45% of the global fleet owned by conservative respondents, their successful transition to decarbonization is essential to achieving industry-wide targets. Providing contextualized data, information, and support for these companies will be critical to overcoming their challenges.
"Conservatives are a group that most of us don't really talk about in the news and don't really think about. But many of them have limited awareness of what solutions are out there, even the most mature ones, or they lack capabilities to be able to assess, deploy or maintain the solutions," Goh said.
"So, it's absolutely critical that we go down and try and find a way to support them because they account for about 30% of our respondents and approximately 45% of the global fleet. If we just decarbonize the front runners and the followers and we have this large base of conservatives who are not there, we will not meet our targets. The question for us is how can we better support them and whether to contextualize some of these more advanced solutions and provide information for them to be able to deploy these solutions in a more rapid manner."
Loo noted that having in mind the size of the conservative group it was key to find ways to uplift them and bring them along on this journey. Given the scale and the pace of the challenge right, the maritime industry will need collaboration and concerted effort to actually make it happen, she said, adding that partnerships will be critical across a range of things including pilots, data sharing, infrastructure, policy development and standard setting.
Moving forward, it was concluded that the Global Maritime Decarbonization Survey's preliminary insights provide valuable guidance for industry stakeholders and policymakers to accelerate decarbonization efforts in the maritime sector. By understanding the varying levels of adoption among conservative companies, the industry can collectively work towards a more sustainable future.
"Thinking about the GCMD's role, we need to run alongside the front-runners to the extent that we can lower the barriers for them to adopt even the most nascent technologies and solutions, what we are doing with our ammonia bunkering pilot and shipboard carbon capture pilot where we're focusing on the fate of the CO2 (…) Because once that pathway is ironed out, then you can increase adoption of shipboard carbon capture technologies with respect to the followers and make sure that they are fast followers, and our biofuels project speaks to that. If we can create an assurance framework and build confidence and transparency in the supply chain, hopefully, that encourage the followers to become fast followers. And finally, it's contextualization for the conservatives, because we need them to move along in order for shipping to decarbonize," the centre's CEO concluded.