Hapag-Lloyd splashes $1 billion on SAAM's port terminals & logistics business
German liner shipping company Hapag-Lloyd has signed a binding agreement with Chilean operator of port, towage and logistics services Sociedad Matriz SAAM for the acquisition of 100% of shares of SAAM Ports and SAAM Logistics as well as real estate assets related to the logistics business.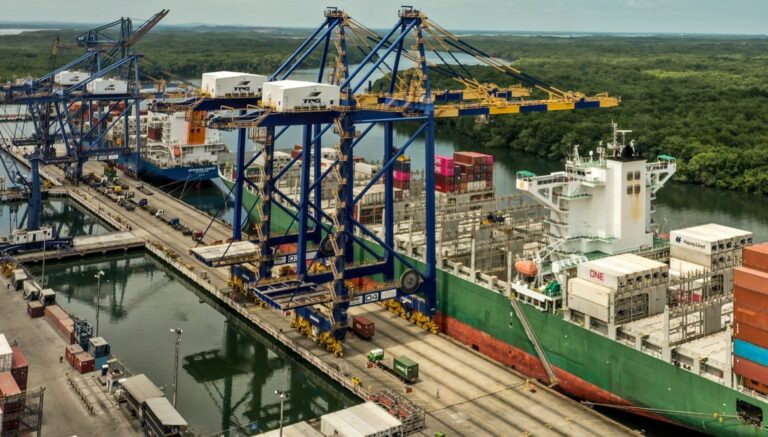 The transaction is worth approximately $ 1 billion, with an estimated $ 400 million of net profit estimated for SAAM. 
The transaction includes the sale of SAAM's ownership stake in ten port terminals throughout six countries in the Americas, bonded warehouses and integrated logistics operations for importers and exporters. The agreement also includes the sale of the real estate assets where SAAM Logistics currently operates. The deal is conditional on relevant approvals.
"Investing in terminal infrastructure is a key element of our strategic agenda, and Latin America is one of our stronghold markets. Acquiring SM SAAM's terminal operations and complementary logistics services will help us to further strengthen our business while building up a robust and attractive terminal portfolio," said Rolf Habben Jansen, CEO of Hapag-Lloyd.
"This is good news for SAAM, its shareholders, and also for SAAM Ports and SAAM Logistics, as well as for employees and the communities in which SAAM Ports and SAAM Logistics operate, given the experience and financial strength of the new owner," says Macario Valdés, CEO of SM SAAM.    
SAAM said that the acquisition would strengthen the company's capital structure and help the company capitalize on a pipeline of organic and inorganic growth opportunities in the towage and air cargo logistics business divisions. Once the transaction is approved, SAAM will focus on the development of the above operations, which together account for approximately 55% of SAAM's Ebitda. 
"This agreement will allow us to continue to boost the towage business, where SAAM Towage is already the third largest player globally thanks to the strategy we have deployed since 2019 with the acquisitions of the entire joint venture with Boskalis, the acquisition of Intertug, Standard Towing and Ian Taylor Peru, and the announcement of the purchase of Starnav's assets in Brazil. In addition, to strengthen our air cargo logistics strategy, we acquired 50% of Aerosan from American Airlines," Valdés concluded. 
Chile-based SM SAAM was founded in 1960 and has been listed on the Santiago Stock Exchange (SSE) since 2012. SM SAAM's terminal business has around 4,000 employees and a combined container throughput of around 3.5 million TEU in 2021. The related logistics services complement the terminal business at five locations in Chile, with together around 300 employees. 
In driving its Strategy 2023, Hapag-Lloyd has continuously expanded its involvement in the terminal sector, most recently by announcing that it aims to acquire a minority stake in the Italy-based Spinelli Group.
The latest deal comes a year after the German liner bought a 30% stake in Container Terminal Wilhelmshaven (CTW) and 50% of the shares of Rail Terminal Wilhelmshaven (RTW) at JadeWeserPort. The terminal operator Eurogate continues to hold the remaining shares. The price of the deal was not disclosed.
JadeWeserPort is the only deep-water port on the German North Sea coast and offers ideal conditions for the handling of large container ships.
Hapag-Lloyd also revealed an investment earlier this year into a new terminal at the port of Damietta, Egypt.  A joint venture, named "Damietta Alliance Container Terminal S.A.E.", was launched to develop and operate the terminal consisting of three core shareholders: Hapag-Lloyd Damietta GmbH (39%), Eurogate Damietta GmbH (29.5%) and Contship Damietta Srl (29.5%). 
The new Terminal 2 at the port of Damietta is expected to start operations by 2024. It will have a final total operational capacity of 3.3 mio TEU and serve as Hapag-Lloyd´s dedicated strategic transshipment hub in the East Mediterranean.
Hapag-Lloyd also has a stake in the Container Terminal Altenwerder in Hamburg and in Terminal TC3 of the Moroccan port of Tangier.