Heerema orders piles for Noble's Leviathan field from EEW
Steel pipe construction specialist EEW Special Pipe Constructions GmbH has received an order from the Dutch company Heerema Marine Contractors (HMC) for 16 pin piles for Noble Energy's Leviathan project offshore Israel.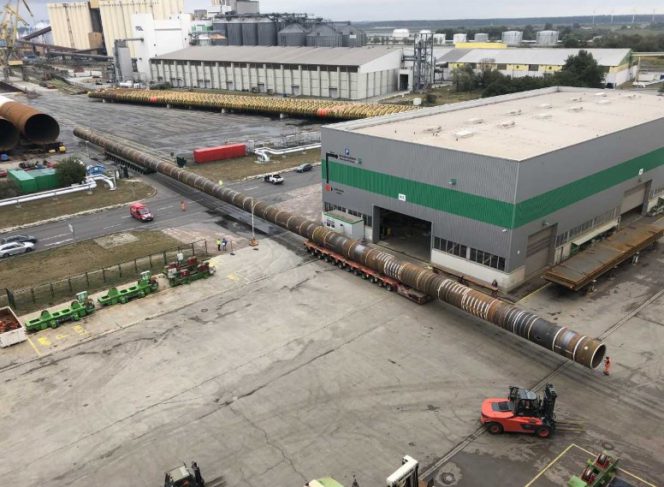 EEW said on Monday that the piles were required for anchoring the Leviathan production platform in the seabed.
The company added that the piles must be very long due to the extreme depth and ground conditions.
The first pile, which has a total length of 156 meters, recently left the production halls. It is the longest steel pipe that the Rostock-based company has ever produced.
Two SPMTs, 84 meters apart, were electronically coupled in order to transport the pile out of the hall. The remaining piles with total lengths of 148.7 and 156 meters respectively will be produced over the coming weeks.
In addition to the production of the piles, EEW SPC is also responsible for the production and installation of the sea-fastening.
HMC was previously awarded a contract by Noble Energy Mediterranean, Ltd. for transportation and installation services associated with the Leviathan production platform in the Mediterranean Sea.
The contract will be executed using HMC's vessel Sleipnir, the world's largest semi-submersible crane vessel.
Leviathan
The Leviathan field is located about 125 kilometers west of Haifa, Israel, in the eastern Mediterranean.
The field, holding around 22 trillion cubic feet of gross recoverable resources, will be developed using a subsea system that connects production wells to a fixed platform located offshore with tie-in onshore in the northern part of Israel.
The Leviathan platform will have an initial deck weight of 22,000 tons. Processed gas will connect to the Israel Natural Gas Lines Ltd. onshore transportation grid in the northern part of the country and to regional markets via onshore export pipelines. The development plan allows for future expansion from its initial 1.2 billion cubic feet per day (Bcf/d) capacity to 2.1 Bcf/d.
Offshore platform installation will take the most of the next year, with commissioning and first gas scheduled for the end of 2019. As from August 2018, the development of the Leviathan gas field was around 60 percent complete.
Offshore Energy Today Staff