Kirby names 1st US plug-in hybrid electric inland towing vessel
Kirby Inland Marine, a subsidiary of Houston-based Kirby Corporation, christened the Green Diamond, the first US plug-in hybrid electric inland towing vessel at a ceremony held in Houston on Friday, August 25, 2023.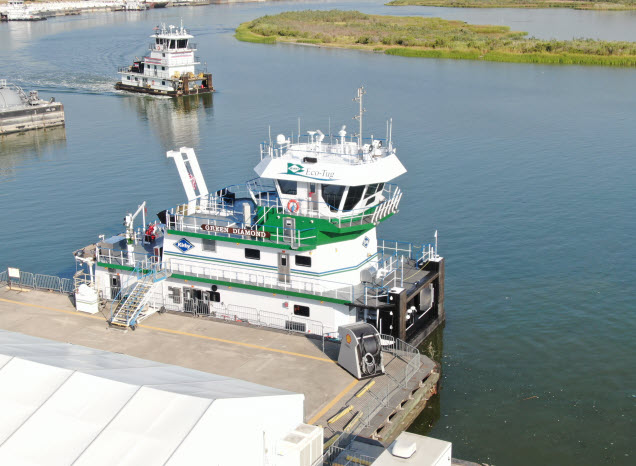 Following the ceremony, the vessel will be time chartered by Shell Trading (US) Company, which will use the boat to push barges throughout the Houston port region.
Shell Energy Solutions is providing electrical power matched 100% by Green-e® certified renewable energy certificates to charge the vessel's battery system.
"We are excited to be the first to market with a plug-in hybrid inland towing vessel," said Christian O'Neil, President of Kirby Inland Marine.
"Barge transportation is already the cleanest and greenest way to move a wide variety of cargoes in America, and we are working to make it cleaner and greener. Our customers who are focused on reducing their emissions want more efficient options. This solution is available today."
The Green Diamond was constructed by San Jac Marine, LLC, Kirby's shipyard in Channelview, TX. Stewart & Stevenson Manufacturing Technologies, another Kirby company, designed and installed the power management, control and propulsion systems.
Propulsion is provided by two 575 KW Danfoss electric motors that can be driven either by the Corvus Orca series battery system, which provides 1243 KWH of power, or, if needed, onboard Caterpillar generators. A Shell New Energies US-owned charging system purchased from Zinus will be used for dockside charging of the battery system, allowing the vessel to operate on trips within the Houston area without ever needing to start the generators.
According to Kirby's modeling, when operating on shore-supplied power, the fuel use can be reduced by almost 80%, resulting in an estimated 88-95% reduction in emissions of nitrous oxides, carbon monoxide and hydrocarbons. Engine run time can be reduced between 93 and 98% compared to a conventional inland towing vessel. When in hybrid mode with the generators running, the boat is expected to have an estimated 27% reduction in emissions compared to a conventional towing vessel.
"The plug-in hybrid design offers numerous advantages for towboats in certain trades," said Mitch Jones, Vice President of San Jac Marine. "We are already looking at building follow-on vessels."
"As a leader in electric fracturing equipment, Stewart & Stevenson already has a proven track record of high horsepower electric systems that save energy and reduce emissions in the oilfield. We were able to adapt that patented technology to the marine environment and enable this vessel to operate on shore power and charge the batteries while on dock, then get underway on battery power," Stewart and Stevenson Executive Vice President Chad Joost added,
"On extended trips, the generators will be used to supply power to the motors and charge the batteries. All of this happens seamlessly through Stewart and Stevenson's power management system."