Kvaerner posts lower profit in 4Q, but sees improved market ahead
Kvaerner, a Norwegian offshore engineering and construction services company, recorded lower revenues and profit in the last quarter of 2018 from the year-before, but sees an improved market and more projects ahead.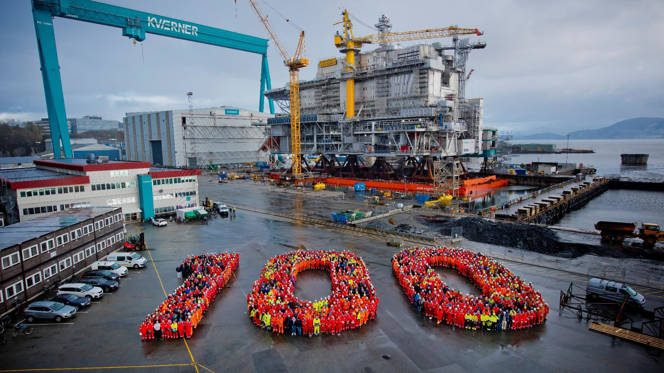 Source: Kvaerner
---
Kvaerner said on Tuesday that its total revenue and other income in the fourth quarter of 2018 was NOK 1.715 billion, down from NOK 1.797 billion in the same period of 2017.
The company's net profit in the last quarter of 2018 was NOK 86 million, down from NOK 149 million in the year before quarter.
According to Kvaerner, last year was significantly impacted by close out activities and recognition of bonuses and incentives towards the end of completed projects.
For the second year in a row, Kvaerner's orderbook increased. Order intake in the fourth quarter 2018 was NOK 1.723 billion, up from NOK 1.703 billion in the last quarter in 2017.
Order backlog at the end of 2018 was NOK 10.6 billion compared to NOK 8.1 billion a year before.
Going forward, Kvaerner said it sees an improved market and more customers considering new projects. During 2019, it is expected that several key prospects will pass important decision gates and move further towards project sanctioning and project execution. The company anticipates that potential contract awards for near term larger contracts will mostly come in 2020 and 2021.
For 2019, the full year gross revenues are expected to be above NOK 7 billion.
Karl-Petter Løken, Kvaerner's President & CEO, said: "We see upcoming projects both within our traditional segments for newbuild offshore oil and gas platforms, as well as in growth segments such as upgrading of existing platforms and new offshore wind power projects."
Offshore Energy Today Staff
Related news
List of related news articles