Labour Party manifesto: Windfall tax on oil firms, delisting for those not tackling climate change
UK's Labour Party plans to impose a reported £11bn windfall tax on oil companies, and to delist from the London Stock Exchange those companies that don't help with climate change, its general election 2019 manifesto launched Thursday reveals.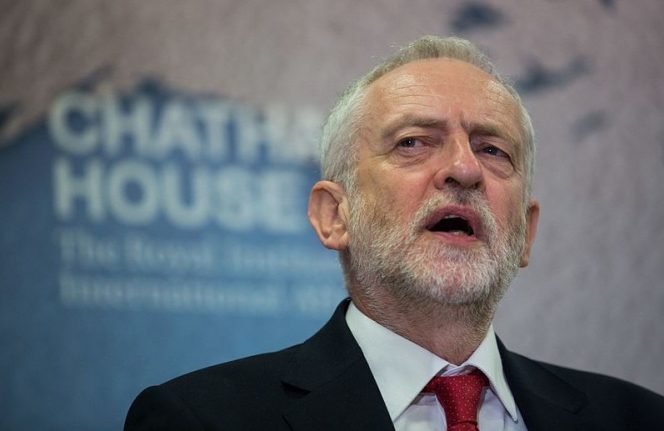 "We will introduce a windfall tax on oil companies so that the companies that knowingly damaged our climate will help cover the costs," the manifesto reads.
In a statement released after the launch of the manifesto, Labour said: "It is only right that the big oil and gas corporations should pay for the necessary transition from the North Sea oil and gas production, rather than enjoying windfall profits that do not reflect the true cost of their activities.
"The size and precise scheme of the tax to pay for the Fund will be determined after consultation and a comprehensive assessment of what is necessary. The tax will have no effect on prices for consumers at the pump as oil prices are determined by a global market."
Labour has accused the Conservatives of allowing the proceeds of North Sea oil "to be squandered on tax cuts for the richest and captured in profits for the few, instead of investing them in our future."
"We now stand at an even greater crossroads in the development of our national economy. Under Labour, our green future will be owned by all of us. Whenever public money is invested in an energy generation project, the public sector will take a stake and return profits to the public," the Manifesto promises.
Commenting on the windfall tax plan, Michael Burns, oil and gas partner at law firm Ashurst, said: "This would be a huge challenge for the UK oil and gas industry, and an increase in tax is at odds with the strategy of encouraging more investment in the North Sea that is currently being implemented by the Oil and Gas Authority."
Labour, which has pledged to kick-start a "Green Industrial Revolution" to tackle climate change, has promised to open one million "green jobs" for building thousands of offshore and onshore wind turbines, insulating homes, reforestation, and manufacturing electric cars.
The manifesto also promises trial and expansion of tidal energy and investment to reduce the costs of renewable and low-carbon hydrogen production.
£400 billion transformation fund
The party has promised to launch a National Transformation Fund of £400 billion and rewrite the Treasury's investment rules "to guarantee that every penny spent is compatible with our climate and environmental targets – and that the costs of not acting are fully accounted for too."
Of this, £250 billion will directly fund the transition through a Green Transformation Fund dedicated to renewable and low-carbon energy and transport, biodiversity and environmental restoration, the manifesto further reads.
"The Tories wasted a decade serving the interests of big polluters. Labour will use the crucial next decade to act. The Tories slashed support for renewable energy while pushing through dangerous fracking. Now Britain is decades off course on vital emissions targets.
Labour and its leader Jeremy Corbyn also touched upon workers employed in the oil and gas sector.
"We will provide a strategy to safeguard the people, jobs, and skills that depend on the offshore oil and gas industry," the manifesto reads. "We won't hang them out to dry," Corbyn said in a speech on Thursday.
"The Fund will, in particular, provide an expected £11 billion support package for nearly 37,000 oil and gas workers, the 126,000 people in jobs dependent on the sector and their communities to make the transition to a clean economy," Labour said.
"North Sea oil and gas production has been hugely profitable for UK continental shelf oil and gas companies which, between 1997 and 2018, made a net operating surplus of £273 billion. But North Sea production peaked in 1999 and has been declining ever since, leaving oil and gas workers and their communities vulnerable. Action is needed now to manage the transition and adapt the skills and experience of these workers to develop green technologies," Labour said.
Speaking at Labour's manifesto launch, Jeremy Corbyn said:"…Labour government will ensure the big oil and gas corporations that profit from heating up our planet will shoulder and pay their fair share of the burden with a just transition tax."
"North Sea oil and gas workers have powered this country for decades, often working under dangerous conditions. We won't hang them out to dry. This fund will safeguard a future for their skills and communities with new careers and secure, well-paid jobs."
Delisting for those not helping tackle climate change
Also, apart from promising a windfall tax on oil companies, Labour has also threatened with the London Stock Exchange delisting for those who don't contribute to tackling climate change.
"Just 100 companies globally are responsible for the majority of carbon emissions. We won't be afraid to tackle this wanton corporate destruction by taking on the powerful interests that are causing climate change. We will change the criteria a company must meet to be listed on the London Stock Exchange so that any company that fails to contribute to tackling the climate and environmental emergency is delisted."
The manifesto also includes a pledge to bring rail, mail, water, and energy into public ownership; full-fiber broadband free to everybody; the end of food bank Britain, and lifting children and pensioners out of poverty;  a Real Living Wage of at least £10 per hour for all workers; and an end to zero-hours contracts and strengthening trade union rights.
The UK general election is set to take place on December 12, 2019.
---
Offshore Energy Today Staff
Spotted a typo? Have something more to add to the story? Maybe a nice photo? Contact our editorial team via email.
Also, if you're interested in showcasing your company, product, or technology on Offshore Energy Today, please contact us via our advertising form, where you can also see our media kit.
Related news
List of related news articles