Lhyfe partners with French port on offshore green hydrogen
Lhyfe and Nantes Saint-Nazaire Port have reached a partnership agreement to identify, understand, and assess the conditions for the establishment of a supply chain associated with offshore hydrogen production in France.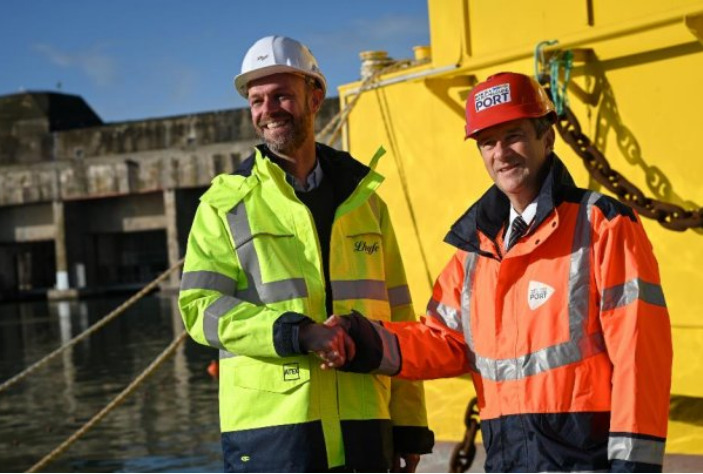 This collaboration is intended to identify port areas and facilities capable of accommodating research and development (R&D) prototypes and being utilised to try out innovative solutions.
The partners said they will focus on the identification of the industrial requirements involved in the construction of the equipment to be used to produce offshore hydrogen on a mass scale, and on the port infrastructures necessary for the production, launching, and integration of the equipment.
The two parties will also work together on how to bring ashore the renewable hydrogen mass-produced at sea, so as to define the requisite industrial and logistical requirements for the reception and injection of the gas into the land-based network.
At the end of September in the Saint-Nazaire dock basins, Lhyfe launched its Sealhyfe project to deliver the world's first offshore renewable hydrogen production prototype, which will have a capacity of 1 MW and will be connected to a floating wind turbine.
The electrolyser was installed on GEPS Techno's floating platform and will be connected to the various marine energy sources available on the offshore test site, including the Floatgen floating wind turbine.
The company is considering the idea of developing and operating offshore renewable hydrogen production platforms on existing fixed structures or on fixed-position or floating foundations.
Lhyfe recently unveiled plans to build a large-scale hydrogen production facility in the Delfzijl chemical cluster in the province of Groningen, the Netherlands, which will use offshore wind power for electrolysis.
Register for Offshore Energy Exhibition & Conference: