LNG Canada project in Kitimat more than 80% complete
The last large module has been delivered to the LNG Canada project in Kitimat, a joint venture comprised of Shell, PETRONAS, PetroChina, Mitsubishi Corporation and Korea Gas Corporation.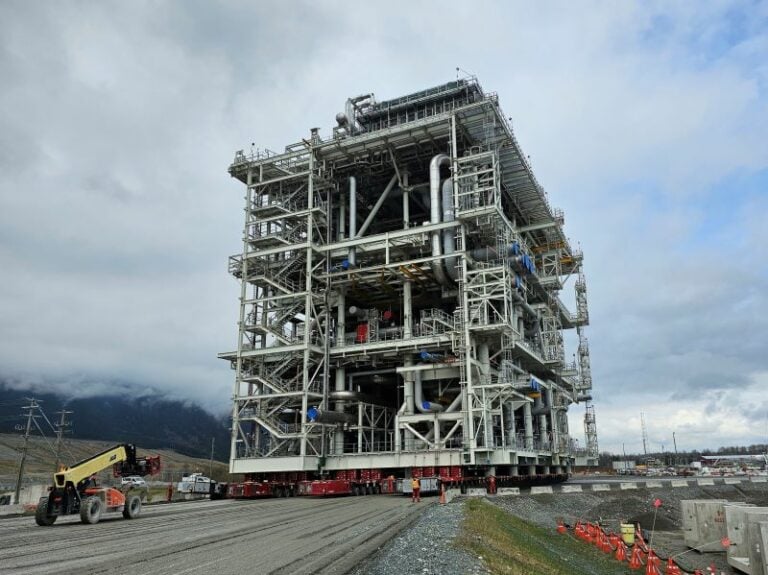 The delivery was announced by LNG Canada in a social media update on 4 May, explaining that the equipment will be used to operate one of four refrigerant compressors at the LNG export facility in Kitimat, in the traditional territory of the Haisla Nation.
The construction of this project is now more than 80% complete and the developer said it is getting ready to commission, start-up and operate the facility.
The first module bridge, which will connect utilities to LNG processing train 1 and also support the transportation of LNG from train 1 to the storage tank, was installed last month.
When completed, the facility will consist of a natural gas receiving and LNG production unit, a marine terminal with the capacity to accommodate two LNG carriers, a tugboat dock, and LNG loading lines. It will also include LNG processing units, storage tanks, a rail yard, a water treatment facility, and flare stacks.
Its production capacity is planned at 14 million tonnes per annum (mtpa) from the first two trains, with the potential to expand to four trains in the future.
The first LNG shipment is expected before the middle of the decade.