Maersk secures green methanol supply from Equinor
Container shipping heavyweight A.P. Moller-Maersk (Maersk) has signed an agreement with energy major Equinor thus securing the supply of green methanol for its landmark, methanol-enabled feeder vessel during its initial months of operation from September 2023 and into the first half of 2024.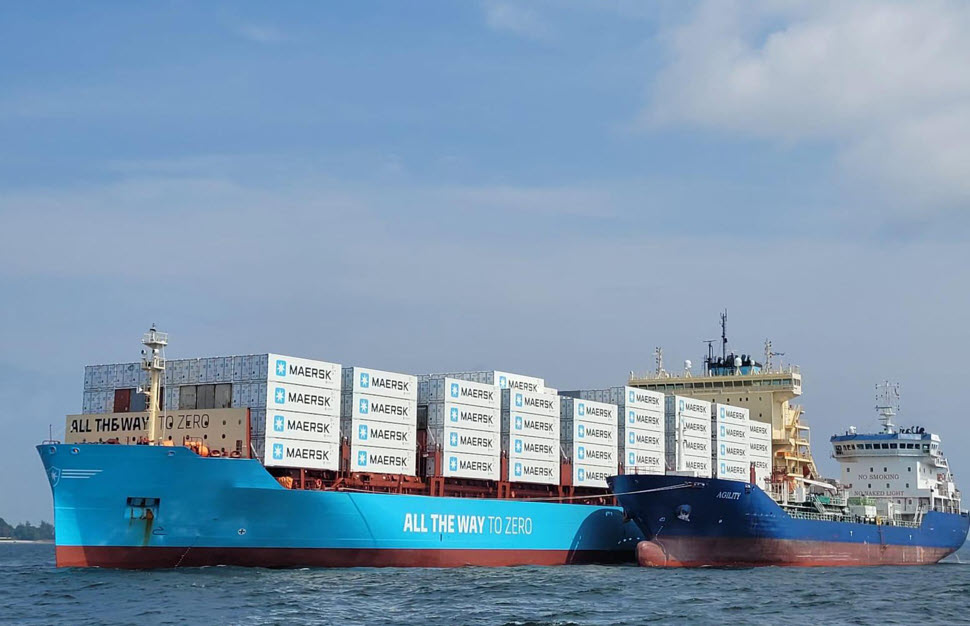 The agreement ensures green methanol supply for the ship from its entry into operation on a loop from Northern Europe into the Baltic Sea after the name giving ceremony scheduled later this month in Copenhagen. The green methanol will be bunkered in Rotterdam.
Long term, the feeder vessel will be fueled by e-methanol from a plant in Southern Denmark, operated by European Energy, which is expected to come on-stream in the first half of 2024.
"Equinor is pleased to be partnering up with Maersk in delivering greener fuels to the marine industry. Equinor is an established player in the European methanol market through its production plant at Tjeldbergodden and we have ambitions to be a key provider of green methanol in the marine fuel segment," says Alex Grant, Senior Vice President for the liquid commodity segment at Equinor.
Due to the nascent nature of utilization of methanol as a marine fuel, especially in the container shipping sector, securing sufficient supply remains a challenge. As such, Maersk has formed diverse partnerships with various green fuel producers to address the green methanol supply challenge.
Previously, Maersk said that it would aim to expand its portfolio of green methanol projects and explore different production pathways, including biomethane which leverages existing infrastructure and captures methane emissions from waste sources.
Maersk said that biomethanol that will be provided by Equinor is produced from biogas from manure. The biogas is upgraded to biomethane and injected into the existing gas grid and the methanol is produced from the biomethane in the grid on a mass-balance basis.
The existing European biogas certificate system is used to trace the attributes of the biomethane to the biomethanol and safeguard against double-claims. This way, green methanol can be produced in existing facilities using existing infrastructure and plants enabling a quick route to market.
The method can contribute to a greener gas grid while capturing harmful methane emissions that would arise from the manure feedstock if left untouched. The biomethanol is ISCC EU certified in accordance with the EU Renewable Energy Directive.
"It is critical to get energy majors to the table and start supplying future fuels at scale. This is the form of engagement we need to continue accelerating the pioneering journey towards a green fuel economy for global shipping. With more than 100 methanol-enabled vessels on order across the industry, the demand for green fuel production is rising and will continue to do so in the years to come," says Rabab Boulos, Chief Infrastructure Officer at A.P. Moller – Maersk.
The feeder vessel completed its first green methanol bunkering in the Port of Rotterdam 9 days ago, marking its first green methanol bunkering operation in Europe. Maersk has secured green methanol for the ship's maiden journey from the Dutch company OCI Global.
The Danish industry giant has an ambitious 2040 target of net zero greenhouse gas emissions and aims to transport a minimum of 25% of Ocean cargo using green fuels by 2030.
The 2,100 TEU feeder vessel is an important step toward the long-term objective of gradually renewing the entire Maersk fleet to operate solely on green fuels.
Maersk has 24 additional methanol vessels on order for delivery between 2024 and 2027 and has a policy to only order new, owned vessels that come with a green fuel option.