Premium
Interview: After shattering records in green-methanol bunkering, OCI Global stresses the power of collaboration for a smooth transition
Green methanol is rapidly emerging as a transformative marine fuel, leading the charge in the maritime industry's quest for sustainable and eco-friendly shipping operations, it is quickly becoming a prominent contender in the race to decarbonize the sector.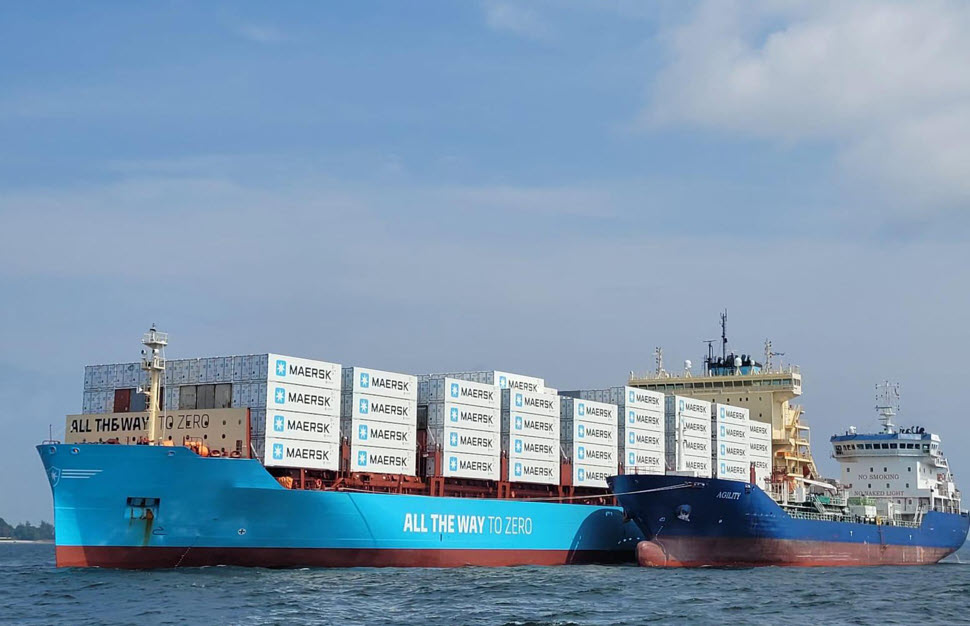 As the imperative for decarbonization of the maritime industry takes center stage on the industry's business agenda, the container shipping market has achieved tangible progress with the welcoming of the world's first green methanol-powered vessel.
Maersk, the owner of the ship, has secured green methanol for the ship's full maiden voyage from OCI Global, a Dutch-based green methanol producer.
The delivery of the groundbreaking vessel has been followed by a number of world's firsts in the bunkering landscape. Notably, the ship received its inaugural fueling at the Port of Ulsan, South Korea, before setting sail for Copenhagen, where it will be christened in September.
The pier-to-ship bunkering operation, held on July 16, marked an important milestone for the port which is vying to become a methanol-bunkering hub.
On July 27, the ship made a stop in Singapore, where it received another batch of OCI HyFuels ISCC certified green methanol via Hong Lam Marine's tanker MT Agility.
The operation marked the world's first ship-to-containership methanol bunkering operation, serving also as a breakthrough for Singapore in its multi-fuel journey, as it was the city-state's first methanol bunkering operation.
Moving forward, the ship will make two more refueling stops, in Egypt and Rotterdam. These will include ship-to-ship bunkering operations enabling the vessel to make the full maiden voyage from Ulsan to Copenhagen fuelled by green methanol.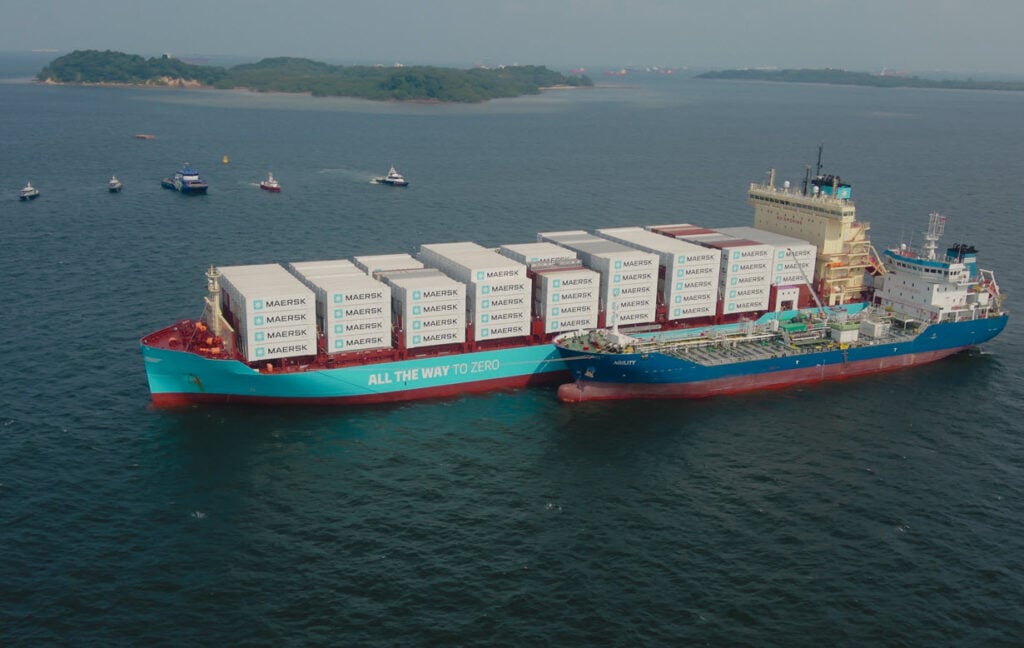 Key takeaways
With the successful bunkering in Ulsan and Singapore behind OCI Global, Offshore Energy spoke with Barend van Schalkwyk, Business Development Director – Marine at OCI HyFuels, about the key takeaways and implications of these milestones in an exclusive interview.
"Collaboration is key – partners from the ports, regulatory authorities, ship owners, storage providers, supply chain partners and producers like OCI all need to work together to make a change like this happen," emphasized van Schalkwyk.
"Fortunately, this kind of collaboration has already resulted in a smooth process at the Port of Ulsan in Korea, and the Port of Singapore, and we look forward to same result thanks to the great partnerships in East Port Said in Egypt and the Port of Rotterdam in the Netherlands on the next legs of the journey. The journey's progress so far has resulted in guidelines and processes that can also now be shared and replicated at other ports."
The company said that it had undertaken rigorous research, development, and safety measures, conducting various risk assessments and safety studies in collaboration with port authorities along the maiden voyage route. These efforts aim to establish green methanol as a safe and effective marine fuel, providing a crucial example for future vessels to follow.
"It is our view that we should be helping all parties in the chain across various regions to make methanol as a marine fuel a success, and the maiden voyage provides an important example for future green methanol powered ships," van Schalkwyk noted.
While a lot of effort is required from all sides, as explained by OCI HyFuels' Business Development Director, green methanol is a relatively easy transition.
Methanol as a maritime fuel has numerous advantages including well-established infrastructure and global availability as the product is moved daily in all modes of transport.
"The successful first bunkering in Ulsan, and second in Singapore, as well as the partnerships with authorities along the route from Asia, through the Suez Canal and into Europe show that green methanol is a safe and efficient shipping fuel, and that major global ports can adapt to methanol bunkering relatively easily. This has been a significant step for the industry, establishing the framework for future methanol bunkering at these major global ports," he said.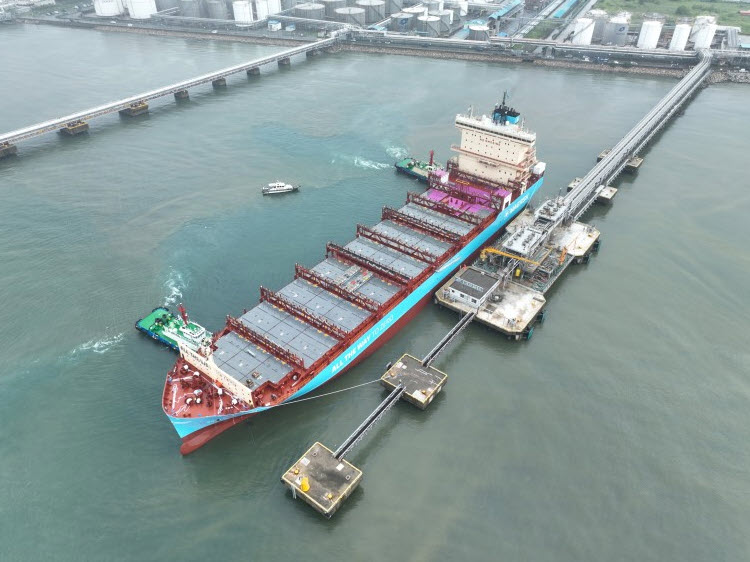 The vessel will use green methanol produced from biomethane obtained from landfills in the United States. This type of green methanol leverages the existing infrastructure as it captures methane emissions from waste sources.
OCI Global's existing infrastructure, for example in vehicle fuels, where OCI HyFuels has been supplying green methanol since 2015, has helped green methanol accelerate and take the lead in low carbon fuels, ahead of other solutions such as e-ammonia.
According to van Schalkwyk, this development bodes well for achieving overall emissions reduction goals. While e-fuel solutions are expected to emerge in the coming decades, the current lack of established technology, infrastructure, and market readiness presents a challenge. As a result, it is imperative to initiate emission reductions now to meet urgent climate targets.
Demand outlook
What is more, the successful adoption of green methanol in the maritime industry sets a positive example for other sectors to follow suit. OCI HyFuels has supplied roughly 3% of the UK's vehicle market and partnered with the World Rally Championship (WRC) as a fuel provider.
"When used as a fuel, green methanol provides between 60% and 90% reduction in greenhouse gas emissions versus traditional fossil-based fuels, depending on the application and other life cycle factors. But crucially, without sacrificing performance. In the example of road vehicles, this is proven by the record times achieved by cars running on our fuel. The use of our fuel by WRC has already proved the efficacy and safety of green methanol as a vehicle fuel, and the important role it has to play in decarbonization efforts," he said.
"Particularly for heavy-duty vehicles which are harder to electrify, low carbon and renewable liquid fuels are an important solution to decarbonize the industry."
The transport sector's uptake of green methanol has been driven by regulatory mandates, and it offers a viable pathway to meet decarbonization targets. In the European Union, OCI HyFuels has been selling green products in countries such as France and Germany.
The company also recognizes an untapped opportunity for companies to switch to green methanol in the chemicals sector, where methanol has long served as a fundamental building block for construction materials and consumer goods. Currently, a significant portion of grey methanol consumption is utilized in plastic production, making it a prime target for decarbonization efforts. However, there are currently no mandates towards this and so the change would come from individual businesses' own drive to decarbonize.
Speaking about potential capacity development, OCI Global believes it has the necessary infrastructure within its facilities to procure renewable feedstocks, enabling large-scale production and distribution of green methanol. Their focus lies not in creating new capacity but rather in the decarbonization of their existing asset base by incorporating more environmentally friendly feedstocks.
To achieve this goal, the company has adopted a multi-faceted strategy that encompasses both the US and Europe to smoothly transition from traditional grey methanol production to green methanol, aligning with evolving regulatory requirements and market demands.
"Given our established production and distribution footprint and global infrastructure, we believe our transition pathway to green methanol will meet the demand as it materializes over the next few years and is flexible enough to adapt to any regulatory hurdles that arise," van Schalkwyk reassured.
Shipping as an off-taker of green methanol
The deal with Maersk has served as a launching pad for OCI Global. Namely, two weeks ago the company inked a new partnership with X-Press Feeders, the world's largest common feeder operator, on green methanol fuel supply. Under the deal, OCI Global will be supplying the company with OCI HyFuels green methanol in the Port of Rotterdam from 2024.
"The partnership is exciting because it decarbonizes a key link in the global shipping chain as the feeder industry plays an important role in supporting the ultimate carrier. Earlier this year we also announced a partnership with Unibarge to retrofit the first methanol-powered bunker barge, which will also be deployed in the Port of Rotterdam. With these partnerships, we're providing an end-to-end green fuels solution for global shipping companies in Europe as the industry continues to scale up the use of alternative fuels in order to meet decarbonization targets," he noted.
The announcement with X-Press Feeders marks OCI HyFuels' second green methanol agreement in the marine sector within a month, underscoring the surging demand for green methanol from the shipping industry.
"Looking ahead, we plan to continue to leverage our unique position as the world's biggest green methanol producer, in combination with our partnerships, expertise and infrastructure, to capitalize on the exciting opportunity presented by renewable and low carbon renewable fuels and support the decarbonization of the industry," van Schalkwyk concluded commenting on the market outlook.