Merger on the cards between Keppel O&M and Sembcorp Marine?
Speculation is brewing in Singapore that a merger might be on the cards between the country's offshore rig building giants Keppel Offshore & Marine and Sembcorp Marine.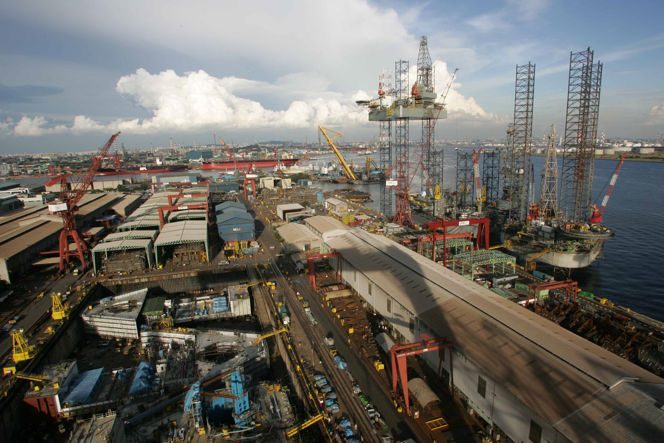 The rumors were boosted by Temasek's intended offer to take over a controlling interest in Keppel, in a deal valued S$4.1 billion. If successful, the offer will result in Temasek owning an aggregate 51% of Keppel Corporation.
If successful, Temasek plans to carry out a strategic review of Keppel's business. This review, according to Temasek, may result in Keppel refocusing on and strengthening certain businesses, and/or potential corporate actions including, but not limited to, joint ventures, strategic partnerships, acquisitions, disposals, mergers, or other transactions involving Keppel.
Following the announcement on Temasek's push to increase its shareholding in Keppel, the shares of Keppel rose. However, the trading activity and price in rival Sembcorp Marine's shares rose as well leading the Singapore exchange to send a query to Sembcorp Marine seeking an explanation.
Sembcorp Marine, majority-owned by Sembcorp Industries in which Temasek owns a 49 percent stake, said it was unaware of any information not previously announced concerning the company that might explain the trading activity.
Asked if it was aware of any other explanation for the trading including rumors or reports Sembcorp Marine said: "Save for possible market speculation arising from the announced voluntary pre-conditional cash partial offer for shares in Keppel Corporation Limited by a wholly-owned subsidiary of Temasek Holdings (Private) Limited, the Company is not aware of any possible explanation for the trading today."
OCBC Bank has also commented on Temasek's Keppel move and potential implications on Sembcorp Marine.
"We expect that [Temasek] will succeed in reaching its intended ownership of [Keppel] given the lackluster performance of [Keppel's] equity in recent years which should encourage shareholders to tender their shares," OCBC said.
---
Related: Temasek in bid to take control of Keppel
---
On the potential merger Keppel O&M and Sembcorp Marine, OCBC said: "While a merger between [Keppel's] Offshore and Marine arm and Sembcorp Marine Ltd has long been speculated by the equity markets, we have not seen it as base case given [Keppel's] intense focus on diversification into other income streams (predominantly into telecommunications and asset management) in recent years and expanding [Keppel Offshore & Marine's] into new areas of growth.
However, with the impending introduction of Temasek as controlling shareholder at Keppel, this in our view is likely to lead to changes in Keppel's strategic direction.
According to OCBC, given that Sembcorp Industries is ~49.5% owned by Temasek, the existence of a common major shareholder increases the probability of a merger between Keppel Offshore & Marine and Sembcorp Marine.
"Temasek's portfolio includes both listed and unlisted companies within telecommunication, data centers, and property, areas which overlap with [Keppel's] businesses. Historically, Temasek has taken majority control of its investee companies and subsequently sold them down. In our view, there is no certainty that Temasek's ownership stake in [Keppel] is going to stay constant which should lead to a steepening of the [Keppel] curve. Overall, we think the development is positive for the short end of KEP's curve though neutral-to-negative for the medium-long dated end of the curve," OCBC said.
Offshore Energy Today Staff
---
Spotted a typo? Have something more to add to the story? Maybe a nice photo? Contact our editorial team via email.
Also, if you're interested in showcasing your company, product or technology on Offshore Energy Today, please contact us via our advertising form where you can also see our media kit.
Related news
List of related news articles