Mitsubishi, Air Water to test compact LNG-fueling facility
Mitsubishi Corporation and Air Water have jointly developed a compact LNG filling unit that can be used in space-limited logistics facilities.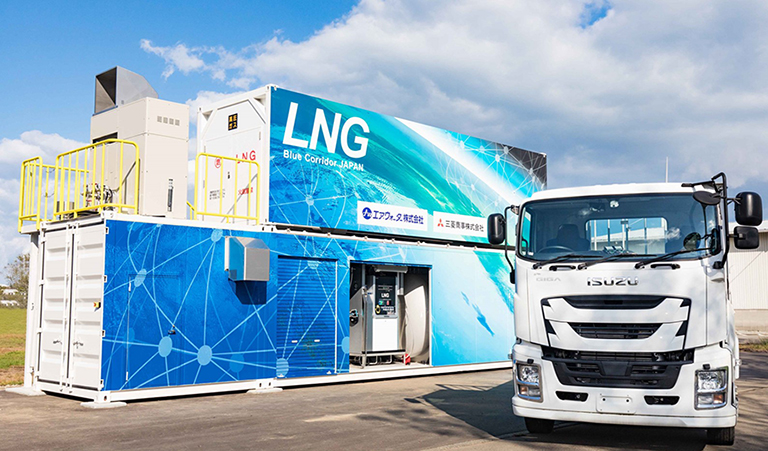 The equipment will be used to fuel heavy LNG-powered trucks, Mitsubishi Corporation said in its statement.
This is the first portable filling system in Japan and the world's first off-grid power-generation system capable of fueling trucks with LNG even during power outages, the statement reads.
Furthermore, by circulating hot water through its waste-heat recovery mechanism, the system can help to prevent freezing problems associated with LNG operations in cold or highly humid regions.
In November, MC and Air Water will begin testing the system in Hokkaido, where it will be used to fuel three heavy LNG trucks, one manufactured by Isuzu Motors and the other two by an Italian firm.
With the cooperation of Hokkaido Electric Power, the partners plan to assess the system's overall effectiveness and how much it can reduce CO2 emissions and fuel costs typically generated by heavy trucks. The results of the tests will help the partners to determine whether or not to make the system commercially available.
At present, heavy trucks fueled by LNG are not in commercial use in Japan. Most of approximately 500,000 heavy trucks on Japan's roads are diesel-fueled, and there are growing concerns about the need to reduce their CO2 emissions.
Unlike trucks powered by electric batteries or fuel cells, LNG fueled trucks have a range in excess of 1,000 kilometers, and tests have already shown them to be capable of cutting CO2 emissions by more than 10 per cent when compared to diesel-fueled trucks.
The partners are also considering ways to further reduce CO2 emissions in the future, such as by using CO2-free LNG.
MC and Air Water are aiming to install this system in locations throughout Japan by mid-2020s, at which point they hope to be offering a competitive supply of automobile-use LNG to customers across the country.