NKT unveils investment plans worth €1 billion in new factory and cable-laying vessel
Denmark-headquartered cable supplier NKT is planning to boost its high-voltage power cable business with a €1 billion investment in a new factory in Sweden and a power cable vessel.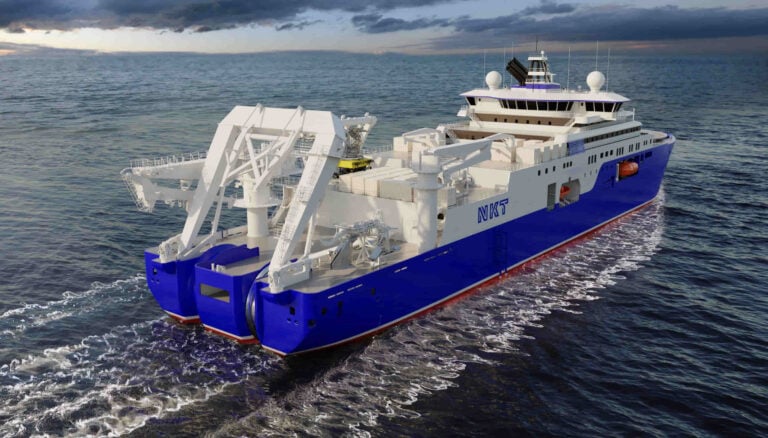 According to NKT, its plans cover a new vessel with record-high power cable-laying capacity compared to vessels in the existing world fleet and a significant extension of the Swedish production site in Karlskrona. This entails the building of a new factory, including a third 200-metre extrusion tower adding end-to-end production capacity next to the existing facility.
The company expects the new additions to turn the site into – what it deems to be – the world's largest high-voltage offshore cable production site. The cable supplier explains that the €1 billion investment is driven by growing demand for high-voltage power cables, strong order intake, and a record order backlog of more than €7 billion at the end of 1Q 2023.
Business is booming for NKT, as the firm disclosed high-voltage contract awards and booking commitments of more than €5 billion since March 2023, including a final order for one of the 400 kV high-voltage power cable systems for the Biscay Gulf Interconnector, with an order value exceeding €600 million.
Claes Westerlind, NKT President and CEO, commented: "The order awards and commitments from our customers in recent months highlight our leading position within turnkey solutions, XLPE and high-voltage DC technology. Power cables are key enablers of the transition to renewable energy and current high-voltage production and installation capacity is not sufficient to meet the increasing demand in the market."
Back in 2020, the company started an investment programme in its high-voltage factories driven by a record-high order backlog, including awards of the German corridor projects and a positive market outlook. As adding a second extrusion tower to the Swedish factory in Karlskrona was part of the programme, this has been completed while additional investments were announced in 2022, following the continued positive market development.
Furthermore, NKT's investments will amount to around €1 billion from 2023 to 2026 in a bid to deliver on the order intake, prepare for the continued strong market outlook and execute the record-high order backlog. This is anticipated to strengthen the firm's position in the market by improving its abilities to meet the growing demand, especially for long-length HVDC power cable solutions. The new assets are slated to be operational in 2027.
While more than 300 new employees joined the Karlskrona factory since 2020 – driven by the previous investment programme – NKT now expects to welcome more than 500 new employees at the Swedish site towards 2027, following the investments.