Norway: 33 oil firms apply for APA offshore acreage
Thirty-three oil companies, including ConocoPhillips, Repsol, Aker BP, Total, and Equinor, have applied for offshore acreage on the Norwegian Shelf, offered as part of the Awards in Predefined Areas (APA) 2019.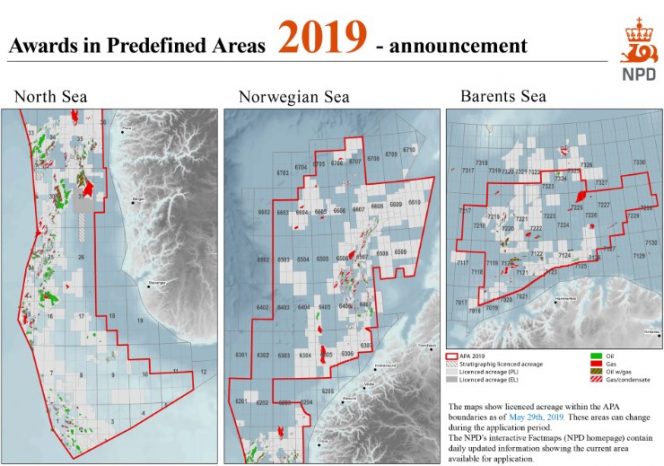 The Norwegian APA rounds offer the best known areas on the Norwegian Shelf, with APA-area expanding as knowledge about the geology in areas on the NCS increases.
Norwegian Minister of Petroleum and Energy, Kjell Børge Freiberg said the number of the companies which applied showed that there is a high interest from the companies and that they want to contribute to long-term value creation on the Norwegian Continental Shelf.
"Identifying more resources through exploration is vital for Norwegian employment, future value-creation and our welfare state," he said.
According to the Norwegian Petroleum Directorate, interest in the Norwegian Sea and the Barents Sea is comparable to APA 2018, while there is a small decline in the North Sea.
"A great deal of acreage has been awarded over the last two years, particularly in the North Sea. That makes it particularly gratifying to see the continued strong interest in new exploration acreage," says exploration director in the Norwegian Petroleum Directorate, Torgeir Stordal.
He said: "The APA area was further expanded prior to this year's round. We are pleased to see many applications in the expanded area."
The NPD will now start the work of evaluating the applications with focus on geological understanding and plans for exploration of the areas. When production licenses are awarded, the emphasis is also placed on the companies' technical expertise and experience, as well as financial strength. The authorities will announce which companies will be offered ownership interests in APA 2019 early in 2020..
Below is the list of companies which have applied for acreage in this year's APA round.
The companies that have applied are: 
Aker BP ASA
A/S Norske Shell
Capricorn Norge AS
Chrysaor Norge AS
Concedo ASA
ConocoPhillips Skandinavia AS
DEA Norge AS
DNO Norge AS
Edison Norge AS
Equinor Energy AS
Idemitsu Petroleum Norge AS
Ineos E&P Norge AS
Lime Petroleum AS
Lotos Exploration & Production Norge AS
LUKOIL Overseas North Shelf AS
Lundin Norway AS
M Vest Energy AS
Neptune Energy Norge AS
OKEA AS
OMV (Norge) AS
ONE Dyas Norge AS
Pandion Energy AS
Petrolia NOCO AS
PGNiG Upstream Norway AS
Repsol Norge AS
RN Nordic Oil AS
Source Energy AS
Spirit Energy Norge AS
Suncor Energy Norge AS
Total E&P Norge AS
Vår Energi AS
Wellesley Petroleum AS
Wintershall Norge AS