Odfjell Drilling-managed rig starts drilling ops for Neptune in North Sea
Oil and gas player Neptune Energy has kicked off drilling activities at an appraisal well in the Norwegian sector of the North Sea, using a semi-submersible rig managed by Odfjell Drilling.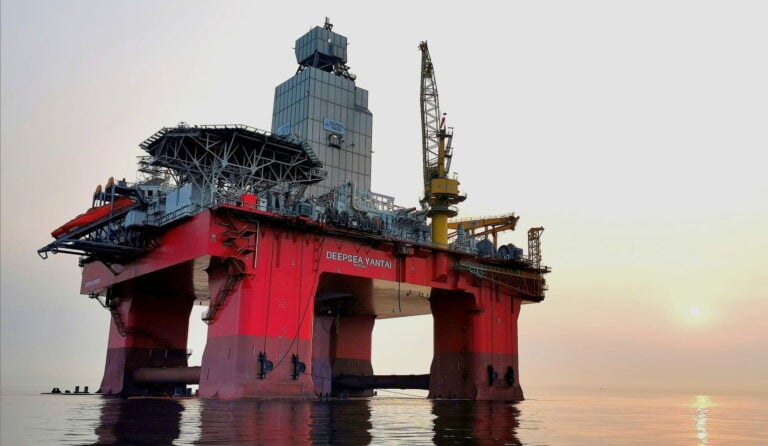 The start of drilling operations at the Ofelia appraisal well comes months after the Petroleum Safety Authority Norway (PSA) gave Neptune Energy consent to use the Deepsea Yantai rig for the drilling of the appraisal well 35/6-4 (Ofelia) in the North Sea.
The well is located in production license 929, awarded on 2 March 2018 and valid until 2 September 2025. Neptune Energy (40%) is the operator of the license while its partners are Wintershall Dea (20%), Pandion Energy (20%), Aker BP (10%), and DNO (10%).
The Ofelia discovery (PL 929) was made in August 2022 and is located approximately 14 kilometers north of the Neptune-operated Gjøa field. The preliminary estimates of recoverable volume are in the range of 2.5-6.2 million standard cubic meters (MSm3) or 16-39 million barrels of oil equivalents (mmboe).
The new well aims to appraise and fully evaluate the hydrocarbon discovery in the Ofelia Agat formation. A secondary target is to evaluate an upside of gas charged reservoir in the shallower Kyrre Formation.
Steinar Meland, Neptune Energy's Director of Subsurface in Norway, said: "The Ofelia discovery fits our strategy of focusing on opportunities within core areas near existing infrastructure. The Ofelia discovery could be tied back to the Neptune-operated Gjøa platform and produce at less than half the average carbon intensity of Norwegian Continental Shelf fields."
According to Neptune, the main reservoir target is the Lower Cretaceous Agat Formation which is expected to be reached at a depth of approximately 2,530 meters. The well 35/6-4 S is being drilled by the Deepsea Yantai semi-submersible rig, which is owned by CIMC and operated by Odfjell Drilling.
The 2019-built Deepsea Yantai rig is of a GM4D design and is capable of harsh environment operation. The contract for this rig – formerly known as the Beacon Atlantic – was extended in December 2022 for two firm wells in Norway.