OTEC concept set for global clean power stage (Video)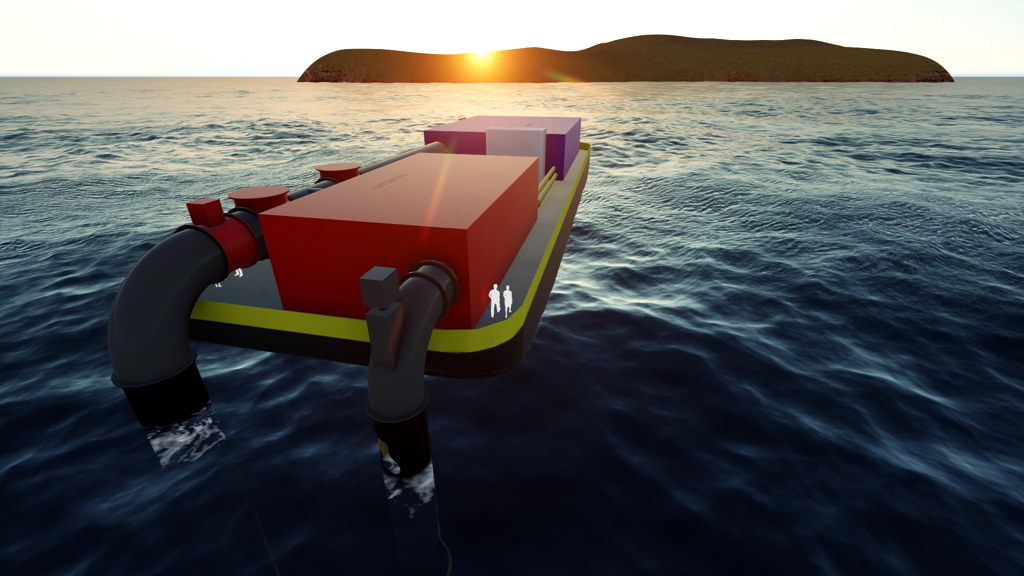 UK company Global OTEC Resources has recently displayed the first design concept for its 1MW floating ocean thermal energy conversion (OTEC) device. Take a look at the video to see the OTEC plant in operation, and hear more about Global OTEC Resources' plans for the technology.
According to the company, the decision to focus its design on the needs of Small Island Developing States (SIDS) was made after learning that many small islands consume over 10,000 liters of diesel a day, which generate a significant carbon footprint in locations that many would consider 'idyllic' holiday locations.
Global Resources' concept, meant primarily for 'off-grid' resorts and islands in the Maldives and Caribbean, shows OTEC plant housed on a floating barge which incorporates a deep cold-water pipe into its hull through a 'weathervaning' turret mooring system.
The cold-water pipe returns seawater from a depth of 1,000 meters, achieving the temperature difference with the warm surface water of 20 degrees centigrade, Global OTEC Resources said.
Using ammonia, which is repeatedly evaporated and condensed, the device powers a turbine, and produces electricity.
OTEC is an application of solar energy that exploits the heat that the ocean captures from the sun's rays.
It possesses huge environmental advantages over fossil fuels and nuclear power, as it avoids land-use problems associated with renewable energy technologies such as solar, wind, biomass, and hydroelectric power, with the potential to produce far more useful and affordable energy than could be obtained from other renewable sources, Global Resources claims.
OTEC is a technology for converting some of the energy that the tropical oceans absorb from the sun, first into electricity and then into fuels. The surface waters are a warm-water reservoir 35 to 100 meters deep that is maintained night and day at a temperature of 25 to 28 degrees Celsius (°C).
Below about 800 meters, an enormous source of ice-cold water, which is fed by currents flowing along the ocean bottom from the northern and southern polar regions, is maintained at about 4°C.
OTEC exploits this temperature difference to generate electricity.