Panoro buying OMV Tunisia for $65 million
Oslo-listed Panoro Energy has agreed to buy OMV's assets in Tunisia for $65 million through the acquisition of OMV's subsidiary OMV Tunisia Upstream.
Panoro on Tuesday afternoon said OMV Tunisia Upstream held a 49% interest in five oil-producing concessions in Tunisia with net 2P reserves of 8.1 million barrels, and net production of approximately 2,000 bopd from 14 wells.
OMV Tunisia Upstream also owns 50% of Thyna Petroleum Services S.A. ("TPS"), which serves as the operating company for the five oil-producing concessions.
The five oil producing concessions, Guebiba/El Hajib, Rhemoura, El Ain, Cercina, and Cercina South, are located onshore and shallow water offshore near to the city of Sfax, and adjacent to Panoro's operated Sfax Offshore Exploration Permit ("SOEP") recently acquired from DNO ASA.
"Through this transformational acquisition, Panoro adds high quality oil producing assets with existing infrastructure, well-managed operations, and substantial upside potential. In addition, this acquisition further establishes Tunisia as a new core area for Panoro and is an important step towards the company becoming a material, full-cycle African focused E&P independent," Panoro said.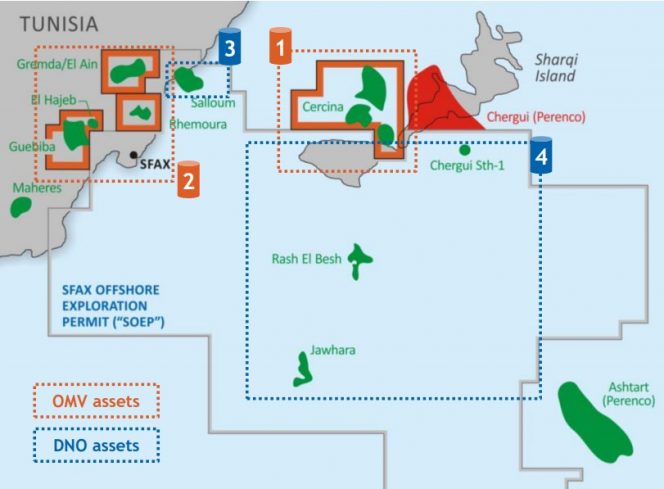 Panoro will fund the acquisition through a loan from Mercuria Energy and through a private placement.
John Hamilton, Chief Executive Officer Panoro said: "Following the completion of the DNO Tunisia AS transaction this summer, we are extremely pleased to announce our second acquisition in Tunisia with the purchase of OMV Tunisia Upstream GmbH from OMV. The acquired company holds high quality producing oil concessions with low decline rates and low breakeven levels, and generate strong cash flow.
"The five oil-producing concessions, Guebiba/El Hajib, Rhemoura, El Ain, Cercina, and Cercina South perfectly complement our existing business in Tunisia, specifically the adjacent Sfax Offshore Exploration permit. This accretive acquisition is in line with our announced strategy to expand further in Tunisia and highlights our determination to continue building a leading international independent exploration and production company focused on Africa".
Related news
List of related news articles