Petronas receives first LNG cargo under third-party access deal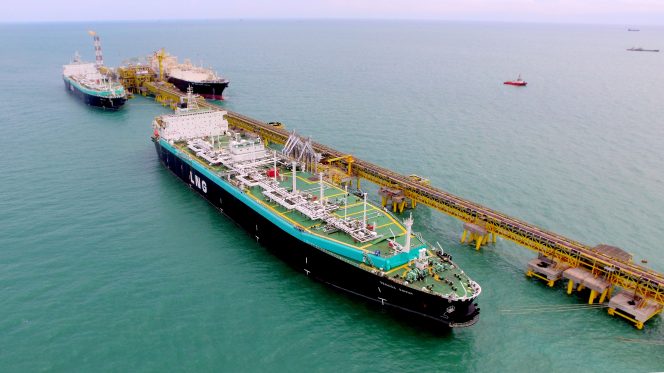 ---
Regas Terminal (Sg. Udang), a unit of Petronas Gas Berhad (PGB), yesterday received Malaysia's first liquefied natural gas (LNG) cargo from a third party shipper at its Regasification Terminal Sungai Udang (RGTSU) located in Melaka.
"This achievement marks a milestone towards gas market liberalization in the country, under the third party access (TPA) arrangement," said Kamal Bahrin Ahmad, PGB managing director/chief executive officer.
He added that it is also a milestone for PGB, whereby the TPA provides a platform for gas market liberalization, thus encouraging healthy competition at market-determined gas prices.
Furthermore, the maiden third party LNG cargo will allow PGB to examine the effectiveness of the entire TPA arrangement, both commercially and operationally, Petronas said in its statement.
Built to support energy security in the country, RGTSU is the first LNG regasification terminal in Malaysia which began commercial operations in June 2013. The one-of-its-kind terminal is located three kilometers offshore Melaka and able to provide a regasification volume of up to 500 million standard cubic feet (MMscf) per day. At this facility, LNG is stored in two floating storage units, before being converted into gas for supply and distribution through the Peninsular Gas Utilisation (PGU) pipeline system, serving customers across Peninsular Malaysia.
The introduction of TPA pursuant to the revised Gas Supply Act 2016 effective January 16, 2017, allows new gas shippers to enter the Malaysian market upon obtaining the necessary licenses from the Energy Commission (EC) of Malaysia.
The maiden third party LNG cargo under the TPA is shipped by Shell Malaysia Trading, which on September 17, 2019, signed a gas transportation agreement with PGB and a terminal usage agreement with Regas Terminal (Sg. Udang), a unit of PGB.
SMTSB's 150,000-cbm LNG cargo was unloaded and regasified at RGTSU and subsequently transported via PGU pipeline system to TNB's power stations located in Port Dickson, Negeri Sembilan and Klang, Selangor.
Related news
List of related news articles