PetroRio wraps up Wahoo, Itaipu stakes buy from BP
Brazilian oil and gas company PetroRio has completed the acquisition of interests in two fields offshore Brazil from oil major BP.
PetroRio said on Thursday that Brazil's National Petroleum, Gas, and Biofuels Agency (ANP) approved the buy of a 35.7 per cent interest in the BM-C-30 block which holds the Wahoo field and a 60 per cent interest in the BM-C-32 block which holds the Itaipu field.
The initial deal for the acquisition of the stakes in the BM-C-30 and BM-C-32 was made back in mid-November 2020. PetroRio is now the operator of both fields.
The acquisition will be paid with a $100 million fixed portion which will be divided into five payments, plus a $40 million earn-out contingent on Itaipu's unitization or first oil.
With this transaction, PetroRio aims to create a second production cluster through the tieback between Wahoo and the Frade Field, in line with the operational optimization strategy for the assets. Wahoo's first oil is expected to happen in early 2024.
According to a reserve certification report from 2021, the Wahoo Field has more than 125 million barrels classified as 1C resources, in addition to around 7 million 1C barrels to be added to the Frade Field, due to its life extension.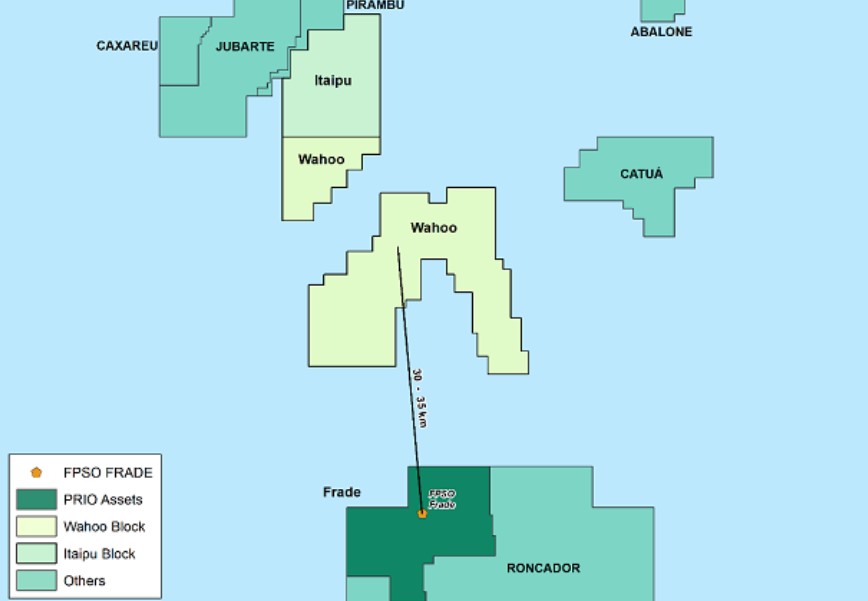 Wahoo is located 30-35 km north of Frade in a water depth of 1,400 metres and has a carbonate reservoir at the pre-salt layer at a depth of 5,000 to 7,000 metres. PetroRio claims that oil at the field is of excellent quality, low viscosity, and associated gas from the field will be used to generate energy for the Frade FPSO.
The Wahoo base project covers the drilling of four producer wells and two injector wells and the tieback between the wells and the FPSO.
The expected capex of the project is composed of $300 million for the tieback, $360 million for well drilling, $100 million for subsea equipment, and $40 million for adjustments to the Frade FPSO and other items.
Itaipu, which was discovered in 2009 and has three pilot wells drilled, is located close to the Whales Park cluster. PetroRio said that the development of this area might go through a unitization process before any development definition.
It is worth noting that PetroRio signed an agreement with Total for the acquisition of a 28.6 per cent interest in the BM-C-30 Block back in March 2021.