Port-Related Start-Ups Gather in Rotterdam
Start-ups and innovation are two words that belong together. Start-ups do things differently and when successful they can grow out to be a disruptive force.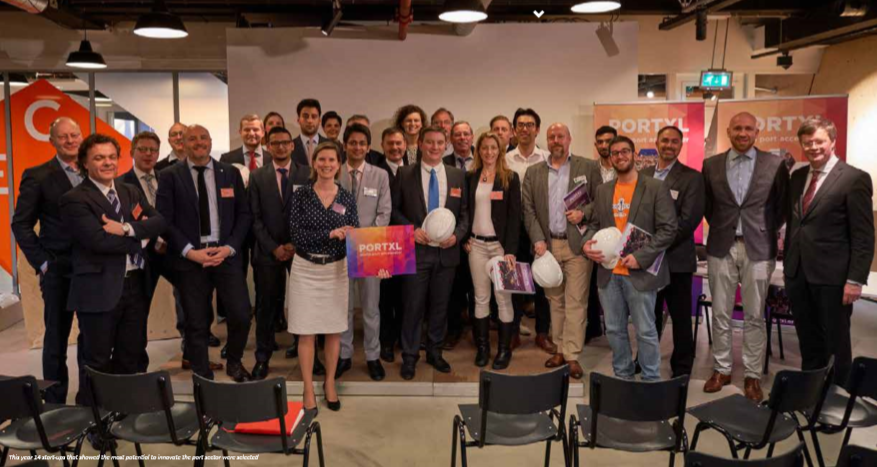 The acceleration program PortXL wants to boost promising start-ups. For Thinking Green, we highlighted this year's start-ups with ideas that can benefit the environment.
For the third edition, PortXL scouted one-thousand start-ups and scale-ups relevant for the sector. The search is global in order to bring the best companies to Rotterdam. 25 promising start-ups and scale-ups were invited to participate in the PortXL Selection Days to earn a spot in the three-month acceleration program.
During the selection ways, the 25 companies had the opportunity to present themselves before 150 port and innovation experts. Following the two-day event, the 14 companies that showed the most potential to innovate the port sector were selected. The selected companies and the technologies are active in the sectors of logistics, maritime and energy.
Sustainable solutions are the focus of a third of the selected start-ups — from concrete structures that provide bio-habitats, to technologies that inject air bubbles in the boundary layer of the vessel to reduce viscous drag.
Econcrete
Econcrete technology provides sustainable solutions for the construction of ecologically active infrastructures, in the coastal and marine environment. The innovative concrete products are designed for enhancing the biological and ecological value of coastal and marine infrastructures.
Ionada
Ionada manufactures membrane scrubbers that allow power plants and ship owners to continue burning low-cost heavy fuel oils and comply with emission regulations. Ionada is the first to market membrane scrubbers, offering ship owners zero discharge and 30 per cent higher efficiency than competitive seawater scrubbers.
BDB Greenpower
Everyone loves windpower, but not in their backyard. They are too big and are noisy. BDB Greenpower provides a medium height wind power system with a low noise level. The wind power system can be installed in places where traditional wind turbines are not accepted and solar is often the only available sustainable power source.
Marine Bubble Flow
Marine Bubble Flow reduces the viscous drag of vessels by controlled injection of air bubbles in the boundary layer of the vessel, using an innovative fluidic technology. The innovative technology impacts fuel consumption and environmental footprint of the global shipping industry.
OndaVia
Time counts for chemical analysis. Fast, accurate monitoring improves safety, increases yields and reduces costs. OndaVia was founded in 2009 to commercialize a fast, accurate water analysis technology that enables real-time, trace-level chemical analysis. This system is ideally suited for chemical analysis needed in a variety of industries-from oil and gas to the chemical, environmental, and agricultural industries.
This edition started in Rotterdam on March 12. The startups will be supported for three months to accelerate their technology to the market and find a first or second customer. PortXL focuses on building the ecosystem that creates value for all stakeholders with an intense mentorship driven program focusing on port related industries. The ecosystem consists of founders, investors and corporate partners.
Participants are Van Oord, Port of Rotterdam, EY, ECE, Vopak, Boskalis, Uniper, Rabobank, Rotterdam Port Fund, InnovationQuarter, City of Rotterdam, Thales and Rotterdam The Hague Airport. Together they support and accelerate the entrepreneurial journey. On 14 June, the companies showed their progress during the closing event Shakedown.
PortXL has accumulated an impressive network of maritime start-ups in recent years. By means of a thorough screening process, the network is expanding yearly with start-ups that are considered to be most promising.
"We support these start-ups, bringing them in contact with port companies that see potential in the business case of specific start-ups," explains Mare Straetmans, managing director of PortXL.
"For the companies in the port, this cooperation offers the advantage that they come into contact with the most progressive and newest ideas and technologies, allowing them to for example accelerate and improve their business processes considerably," states Straetmans.
The program was created in the Port of Rotterdam, but PortXL is spreading its wings. A similar program will be launched in Singapore, no later than early 2019. Last February, the Port of Antwerp signed a contract with PortXL International for a PortXL Antwerp.
---
This article was originally published in the second edition of Maritime Holland 2018.